---
Conexus CEO Eric Dillon on Spy Hill closure
June 10, 2019, 7:50 am
Kevin Weedmark
---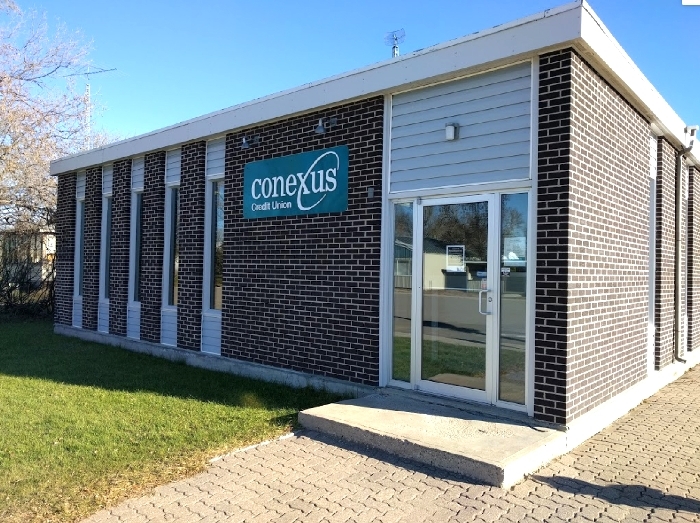 World-Spectator Editor Kevin Weedmark interviewed Conexus Credit Union CEO Eric Dillon last week on the planned closure of the Spy Hill branch this October.

What process do you go through to determine if you need to close branches? Is there an ongoing review?
Well, as you can appreciate, banking has been changing and I don't think this announcement is the start of the change. We've been undergoing these changes for some time.

Our board asks us from time to time to review all of the channels that our members use, whether that's online, or our seven-day-a-week call centre, or in this case, the branches.

And what we found, surprisingly, was in Spy Hill, for instance, about 95 per cent of the transactions that our members in Spy Hill are doing are not in the four walls of the branch.

So clearly people are doing banking differently, and in our press release we talked about how it's no longer a place you go, ie. a branch. Banking is more now just a thing you do, and I think people are expecting their credit union, Conexus, to keep up and make sure that it delivers services when and where they want, and we're just finding increasingly that that's not in a branch.

How did you determine the list of branches slated for closure?
What we tried to do is think about the proximity to other communities, we look at 27 or 28 attributes about the community and about our members in that community and how they're accessing service, and how close would it be to another Conexus location.

What we find is on one hand, members want convenient access to their money and that's largely through cell phones or internet or whatever.

And then on the other hand, when they're dealing with something more significant like their retirement plan or their farm, or buying a house, they expect our advisors to come right to them, whether that's at their kitchen table or at their farm gate or whatever.

So what we're trying to do is free up our people from having to be in a branch to be more mobile to go out to where and when our members expect us to be.

For the employees affected, would they be offered positions at other branches?
Absolutely. There are 38 employees affected across the province and it is our expectation that those 38 people are experts at what they do and we are hoping that they will be in the neighbouring branches serving our members just like today, albeit from a different place, or being more mobile themselves and being out in the community, or in a seniors center if somebody is less mobile or what have you, to make sure that we can deliver service to our members as opposed to vice versa have our members come to us.

Does Conexus own or lease the space in Spy Hill?
We own the building. There was a point when we had 200 credit unions in communities across Saskatchewan, and you can appreciate that's changed over the years.

What we have done in other circumstances when we have made a difficult decision like this is we work with the community, if we own the branch, to try and find a community use, because our view is that the members in that community would have been the ones that paid for that branch, so if we can find a great community use for the facility that's what we would intend to do.

What sort of reaction have you had from people about this so far, or what sort of reaction do you anticipate?
Expectedly, some of our members are disappointed because they certainly loved having access to the branch right in their community, but I would say at the same time they are maybe not so surprised.

I think when people sit back and think about how they access their banking information and their services today, they realize that increasingly, less and less of that is being done in a branch. So not surprised but still disappointed.

As a credit union, we appreciate that we're owned by members, and so these decisions are probably among the hardest that we ever have to make as a credit union.

At the same time, I think our members expect that we are continuing to ensure that we are relevant and we are building the credit union that is going to serve our members for the next 85 years.

Is this part of an ongoing process? Should other people in rural Saskatchewan expect similar closures two, four, six years down the road?
I sure hope not. I've worked in the credit union industry a very long time and these are difficult things to announce, but at the same time, when you're a member-owned company, we have to make sure that we are delivering and building the services that our members want, so if their habits and behaviours and the way they access banking continues to change, our goal is to continue to evolve right along with them.

Do you often get some pretty strong reactions when it's a small community where you're closing a branch? Sometimes in a small community, it's more than just a place to do your banking. In my case in Moosomin, for instance, Conexus isn't just one of the places I bank, it's my tenant for some commercial space, it's an advertising customer for my business, Conexus employees volunteer with our Chamber of Commerce, your vice-president serves with me on our Board of Revision—it's part of the community.
Well I appreciate all of those comments because I agree with you.

I think that the case is we are part of the fabric of the community, and at the unfortunate times in our history when we've had to do things like this, what we found is we can continue to be part of the fabric of the community.

If we've got the same staff serving that community and the members there, participating in the community, if the profits that are earned from people's banking business end up still in that community, which has been the case for Conexus and in other communities.

We have today about 20,000 of our members that live in communities that are not served by a branch, but we are still returning profits, we're still engaged with those communities, we still participate in financial literacy education in those communities.

And our hope would be that that would be true in Spy Hill as well.

You have a community meeting coming up in Spy Hill on the 13th. What sort of information will be presented there and what sort of format will that take?
Well it will just be basically a bit of a chat with the community, it's not a big formal presentation.

It's just to talk about the change that we are making and then about what members can expect from us in terms of the reach-out between now and October, because unlike other institutions, non-credit unions in particular, between now and October we will reach out to every single member that we do business with, we will have all of their information on how they've done banking in the past, and our goal is to walk them through ways in which we will continue to serve them, and when we've done that in other communities in our history, we have done a really good job of showing people that there are options that maybe they didn't know or appreciate, that are available, and we just walk them through that to make the change, while challenging, as easy as it can be.

How difficult of a decision is it to make?
Like I said, I've been in the credit union industry for 25 years and these are the single most difficult decisions we make because it's built and owned by members, and we have this tension between serving our existing members that have built our credit union into what it is today, and at the same time, having to invest in the next generation of Conexus to serve what we hope will be members going forward.

You can appreciate there is tension between what young people—the emerging members of the credit union—might want and what the existing members might want and we are trying to balance that tension and do a great job delivering for both, but it has changed nonetheless for our members and it is hard for us, the board, and our staff in those communities.

It's hard for other members even in communities that maybe don't have branches that are closing because they appreciate what role the credit union has in their community.


Tweet