---
Hope in the Darkness walk across Canada to raise mental health awareness
August 6, 2020, 4:10 pm
Rob Paul Local Journalism Initiative Reporter
---
Hope in the Darkness is a not-for-profit initiative that was founded in 2018 by Kevin and Harmony Redsky to help bring awareness to mental health in Canada.

In 2018, Redsky began the walk in Cape Spear, Newfoundland—the eastern most point in Canada—and walked to Winnipeg and in 2020 he's completing his cross-country walk. On July 15, Redsky started in Winnipeg with the plan to finish the cross-country walk to B.C. over a 90-day period.

The walk from Newfoundland to Manitoba in 2018 took 125 days with Hope in the Darkness bringing together youth, communities, and police officers with the idea of creating an open conversation for young people and officers to share their experiences and struggles with mental health.

With the increasing need for mental health awareness, Kevin and Harmony Redsky wanted to continue to lead a Hope in the Darkness National Walk for 2020 with a focus on creating safe spaces and continuing and expanding the conversation on the importance of youth mental health and other issues.

Hope in the Darkness is a community-supported initiative and ask that organizations who want to show support do so through partnership and their fundraising campaign. Support towards Hope in the Darkness will help bring attention and provide a platform for young people who are struggling with mental health issues.

On July 28, Redsky reached Saskatchewan, it was day 14 of the Hope in the Darkness National Walk for 2020. Redsky says he's been walking an average of about 30 kilometres every day which usually takes seven hours, his best time was six hours and 10 minutes.

Redsky, who has served 16 years as a police officer, wanted to launch a platform that unites young people in communities and police officers to normalize talking about mental health and build on the important conversation.

"I founded Hope in the Darkness in 2018," he said. "We launched the initiative to send a message of hope and empowerment for our youth. We all know it's a crisis in this country when it comes to youth and mental health.

"What we did is challenge police officers of all levels across Canada to step up for our youth, give them a voice, give them a platform. We know there's a stigma around mental health, we know the stories going on right now when it comes to policing south of the border with the Black Lives Matter movement, and we hear about our own indigenous community members and their dealings with police.

"Our youth are seeing that and it's not a great message to be sending," he said. "Again, the challenge is to the police. Let's walk the talk, let's engage with the youth, and send a message of hope for them. The interaction is what we're asking for out here and we've had some great conversations already and we're only two weeks in."

Having experienced firsthand the impact mental health can have on youth, Redsky says, he was motivated to do something and help create change in Canada.

"On a personal side, I lost my niece to suicide," he said. "She was caught in the child welfare system in Winnipeg. That was seven years ago now. The frustration and guilt laid with my family for all these years, so I was out for a walk one day and told my wife that I was going to walk across Canada for my niece and she said, 'great, let's do this.' We thought it would be great to challenge police officers while we do it.

"Having 16 years of policing, I've seen the frustrations and been in the hospitals with youth at three in the morning. The common phrase that I remember from a youth in Nova Scotia was, she said, 'I needed help yesterday, not four months from now.' We're out here, as well, to challenge the systems. More needs to be done for our youth and hopefully the more attention Hope in the Darkness gets and what we're trying to accomplish will help us reach that goal."

Walking 30 kilometres for seven hours every day is not something more people could handle mentally and physically, Redsky says there are good days and bad days, but knowing the importance of spreading the message is what drives him.

"The walk from Cape Spear to Winnipeg in 2018 was about 40 kilometres a day so we've scaled back a little bit with this one to 30 kilometres a day with some rest on Sunday's and we're off to a great start. We've had a lot of support from the police and communities. We actually hit Sioux Valley the other day in Manitoba so we got to walk with our youth and engage, which is our ultimate goal. We're offering virtual sessions, and anybody who wants to sign up for those we'll share what we're doing out here for Hope in the Darkness and give them a tour of what it's like on our walk everyday.

"We're finalizing our completion date—which is October 12—of the 90-day journey and we'll arrive at our final destination Thanksgiving weekend. We're still in discussions, but right now we're thinking we'll finish at the UBC campus.

"For the first 12 weeks we'll be taking Sundays off," he said. "It's great to have that relief for sure. It's like life really, you have your ups and downs. You feel so strong somedays and somedays so sluggish. But it's the ultimate goal of what we're trying to accomplish out here that really keeps us going. While I'm walking there's a lot of reflection, a lot of relating my childhood experiences to what I've seen in the policing world, a lot of prayer.

"It's emotional and up and down, there's great days full of laughter and some days you're crying out here. I think a lot about my family and my communities, the struggle is real and we need to address mental health. I keep praying for change and that's mostly what I do out here."

The logo for Hope in the Darkness is four lit matches, Redsky says, each represents a different issue that needs to addressed in Canada.

"This is for everybody," he said. "Me being a First Nations man, I think I'm accepted a little bit more when you talk about the issues. With the issues in Canada, our logo has four matches. The first one we lit in Newfoundland and represents the start of the conversation about youth mental health, the second one we lit in B.C.—we had a group of walkers meet us in Winnipeg last time and they walked the Highway of Tears which is dedicated to our missing and murdered indigenous women and girls, we all knows that's a huge issue—the third one we lit in Thunder Bay for racism—we call it ground zero for racism in this country and there's so many issues with community and police there, that's a huge concern that needs to be addressed and it kind of ties in now with the whole systemic racism in the policing community which hits home for us—and the last one is for child welfare systems and how they're failing and we need to change policies and better the overall service for child welfare.

"It's four matches only, but we could have had more. Human trafficking, opioids, and so many other issues that are impacting our youth and we're seeing it everyday."

Redsky says the support system he has had through his journey with Hope in the Darkness has helped push him.

"It's been excellent," he said. "My wife is behind the scenes, she's at home right now and doing a lot of the behind-the-scenes work. We have Clayton Tait—he's a member of the Manitoba First Nations Police Service—he's been with me up until today, this is his last day today after two weeks with me.

"We're so appreciative of his input, as well as the First Nations Police Service. We also have Mitchel Boulette with us—he's from the Treaty Three Police Service in Ontario—he's joining me today as my support vehicle driver if we don't have a police escort. He'll be with me for the next two weeks and then we'll find somebody else willing to step up.

"In Manitoba in particular with the First Nations Police Service, they've pretty much been with us every day with an escort vehicle.

"We understand there's shortages with detachments and a lack of man power so all we ask is if you can't come out to escort for the day then just stop in and say hello. That type of support fuels the drive and motivates us even more.

"There's 70,000 police officers in this country and we're calling everybody out. At the Human Rights Museum in Winnipeg we had 25 police officers with us that escorted us through the city and we kind of shut down the west side of Winnipeg there for a bit.

"We've been posting our estimated arrival times for communities," he said.

"We give two or three weeks of notice so if they want to reach out to us and arrange a walk of some sort, we're more than happy to oblige. For people who want to show support, we do daily blogs, we're also in fundraising mode and have a GoFundMe, and we have some swag with us—hoodies, t-shirts, hats—as part of our fundraising efforts.

"In 2018 we had several agencies across Canada, mental health organizations, schools, child welfare systems, just folks come in on the side of the road to donate water and gatorade. The walks in communities have been fabulous and we hear stories of what's working and what's not working in the child welfare system for our youth overall. It's nice to hear that, what we did is compile a list from our 2018 walk and everybody who wanted a copy of that report had access to it through our website, hopeinthedarkness.ca. We're out here learning and the support has just been unbelievable."

Manitoba First Nations Police officer Clayton Tait was moved by Redsky's efforts to make a change in communities.

"I started out with Kevin in 2018," he said. "I found it very interesting because of the exposure to youth and the troubles they're having and the kids falling through the cracks with child welfare. Is it a police matter? Is it a child welfare matter? These kids are being forgotten about and it's absolutely heartbreaking.


"When I heard Kevin's message, I jumped right on board. I walked from Portage (where he's stationed) to Winnipeg this year and when he said he wanted to do this I said, 'absolutely.' Manitoba First Nations have been gracious enough to give me a couple weeks to walk from Winnipeg right to the Saskatchewan border and I'm continuing into Saskatchewan as long as I can.
"Since I'm not going as far as Kevin, so today I threw on a 30-pound pack just because I want to feel it. I want to feel what he's feeling. I want to be a part of that experience and I want to know what he's feeling. I've also walked with my full police gear on—everything from my boots to my hat—to represent the force and show that we want to be a part of change.
"It's a complete honour to do this," he said. "On this journey you find yourself with spiritual growth and reflection. It's just good for the soul. Kevin's the man, the myth, the guy who started this all. Kevin is an amazing man doing incredible things and I just love his dream and just want to help out.
"There's a lot of work ahead of us, but we're talking with stakeholders and meeting people on the way—everybody's got a story—and through all of this we can and will find a better way. When you see something that resonates with you, you've just got to grab it and you know it's a good thing.
"You don't know what's going to happen every day, there was a group that stopped and sang Kevin an honour song and it was just chilling. It was about warriors walking the red road and how you have to concentrate on the mission and that honour song just blew me away.
"Having the full support of my police service has been awesome, too," he said. "There's nothing like having fifty guys behind you saying you're doing the right thing. The police family is strong and people come together for the right things. We're all police officers out here and you hear brother blue ask for something, you give it."
With Tait returning back to his detachment, Treaty Three Police officer Mitchell Boulette is joining Redsky as he goes through Saskatchewan.
"Kevin's a good friend of mine," he said. "We used to work together with Treaty Three Police and he moved on to a different police service, but in 2018 he told me about the initiative with Hope in the Darkness. Then one of the officers that took part could only do so for a certain amount of time, and while he was waiting for another officer to step up I said I'll use my vacation days to walk with you for a little bit.
"I used the last of my eight vacation days and walked with him for the eight days. When I was done I went back to my service, but Kevin got ahold of me again and said, 'hey man, would you be able to finish the walk?' I told him I didn't have any vacation days left, but he talked me into doing an unpaid leave of absence from work to finish the walk.
"The walk has really hit home for me. I suffered from PTSD and felt like taking my own life. I've had family members who have taken their own life. This was really important to me and it was an officer initiative so my chief granted my unpaid leave of absence to walk to Winnipeg in 2018. When I got to the Manitoba border a police chief met me there and I was told my unpaid leave of absence was going to be paid and thanked me for what I was doing.
"It was amazing. I walked for a total of 30 days—nowhere near what Kevin walked. I grew up in Alberta and we would always drive the Trans-Canada Highway, I never imagined I'd be walking it!
"I now hold the position of youth mental health officer with our service," he said. So my job is dealing with youth who struggle with depression, have either threatened or attempted suicide, or have any type of mental illness. I work with a councillor and everyday Monday to Friday I deal with people who are struggling. It's a large part of my life.
"So this time Kevin contacted my chief and he granted me a week, but I ended up talking him into letting me do this for two weeks and work is covering everything.
"It's pretty amazing. All because Kevin wanted to create change and wanted to change how we deal with mental illness and wanted to create awareness.
"In 2018 I had my brother Ervin Boulette with me for eight days and then my other brother Nick Boulette with me for the remaining 22 days. It's something that hits close to home with our family and it's amazing to be a part of it. I'm glad I'm a part of it again in 2020."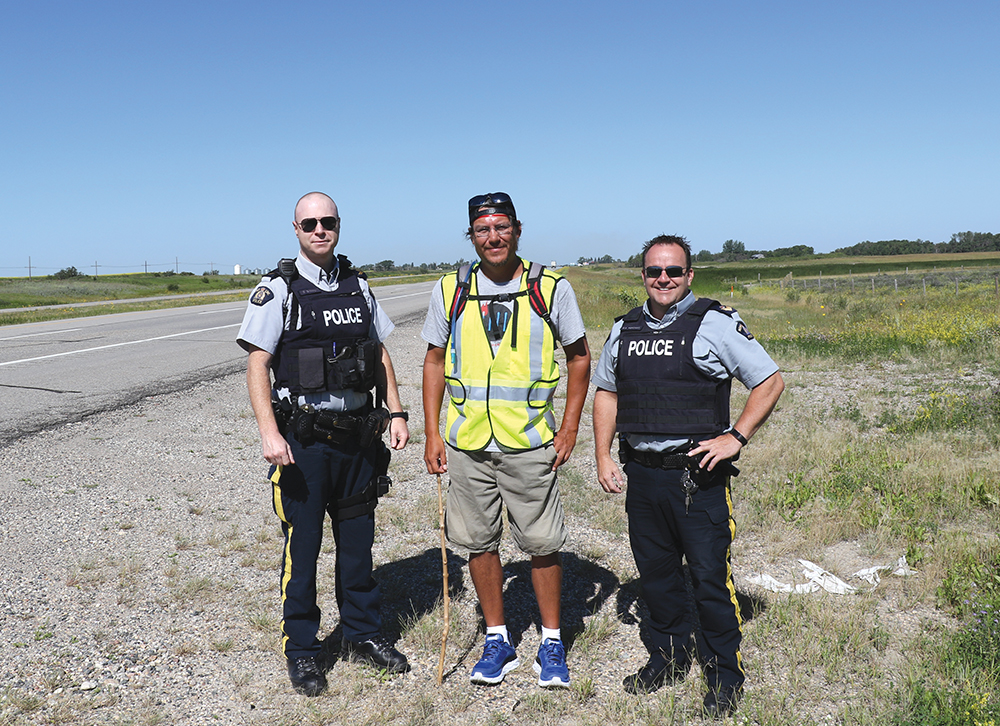 Tweet