2016 harvest under way
August 15, 2016 • By Kara Kinna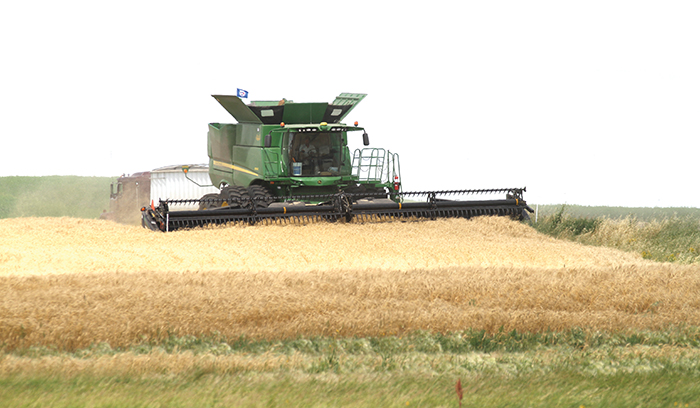 Craig Roy was harvesting this crop of winter wheat near Moosomin on Friday, August 5. Andrea Jaenen photo
---
Harvest is under way across the region. According to Saskatchewan agriculture, harvest is most advanced in the southeast corner of the province.

Local farmers say it looks like a good crop, but wheat prices are less than ideal, and moisture has been a challenge.

Bruce Hutchinson farms near Rocanville and was getting ready to start harvest late last week. Hutchinson grew wheat and canola this year.

"We've been holding off with the showers and we're going to be starting in the next couple of days," says Hutchinson.

"I guess I'm being optimistic. I think it's going to be a decent crop. We are going to be battling some diseases I think. We did spray for disease with fungicide on wheat and canola this year. There's still some showing up out there. How severe it's going to be, we won't know until we get into it.

"We had so much moisture in July, and high humidity days, and that's ideal conditions for disease to develop."

Hutchinson says everyone is hoping for dry harvest weather.

"Sunshine and no rain would be perfect. In a perfect world that would be great," he says.

He says it would take him about two weeks to take off.

"We'll need two weeks for sure with ideal conditions, but whether we can get ideal conditions or not, it's hard to say. They are still calling for showers next week already again."The hay producers have had a real struggle this summer getting the hay crop in and I'm just hoping that doesn't carry on into cereal crops too.

"We need to get this crop off in decent shape because with the decline in the pricing, we need to try and get top quality if we can."


Wheat prices are low this year, and Hutchinson says canola has dropped from $2 a bushel in May down to $1.50 a bushel.

"Luckily we have some locked in but it's never enough. It's too bad we didn't have more locked in," he says.

"The other challenge is that everyone's talking a big crop. Hopefully the elevator system and the railroads can move this stuff once we get it off. That will be the next challenge.

"The crop looks decent. I don't think it's going to be the best crop we've grown ever. I don't think it's going to be a 2013 crop, but it's going to be pretty decent."

Craig Roy farms 8,600 acres near Moosomin. Roy just finished taking off his winter wheat and has started to harvest his barley. He also has canola and spring wheat.

He says his harvest is about 10 per cent done.

"The yield is average to slightly above average, and the quality is the same, average to slightly above, and the price is terrible," says Roy.

"We're taking off bumper crops and still losing money. Especially in the wheat—wheat is the worst.

"It's just going to amount to a break even I think. We'll make a little on the canola and lose on the wheat. The barley will make some money if it makes malt. If it doesn't make malt it will lose money."

Roy says moisture has been an issue this year.

"We haven't harvested a dry kernel of grain yet. With these rains and showers, the humidity is high. We need a month of dry weather.

"The ground is so saturated, it's just kind of wet from the bottom up. And then you get these dewy mornings and showers in the afternoon and that makes for tough grain."

If conditions turn ideal, he says he should be done harvest in about a month. He says overall he's pleased with his crops but wishes prices were better this year.

"So far the yields have been average to above average if it was just worth a little more. It just seems a little futile, you put all this into it and get bumper yields and are losing money. It's a bit discouraging."

Across the southeast, Eighty-two per cent of the winter wheat, 53 per cent of the fall rye, 16 per cent of the peas and two per cent of the lentils are in the bin. Six per cent of the canola has been swathed. Peas and lentils are being desiccated and other crops are turning quickly. Many areas of the region received little rainfall, which allowed harvest and haying operations to continue.

Eighty-five per cent of the hay crop is baled and nine per cent has been cut. Hay quality is rated as 85 per cent good and 15 per cent fair.

It was a dry week in the region compared to the rest of the province.

The Carnduff area received 31 mm, Maryfield 6 mm, Weyburn 17 mm, Marquis 40 mm and Ceylon 8 mm. The Lampman, Kisbey and Stoughton areas reported no rain for the week. Some fields have begun to dry up. Crops in the Stoughton and Weyburn areas are reported to be in good condition.

Cropland topsoil moisture is rated as 19 per cent surplus, 71 per cent adequate and 10 per cent short. Hay land and pasture topsoil moisture is rated as nine per cent surplus, 72 per cent adequate and 19 per cent short. Crop District 1B is reporting that 26 per cent of cropland acres have surplus topsoil moisture at this time. Twenty-four per cent of hay land and pasture in CD 1B has surplus topsoil moisture. Crops have been lost to flooding and disease.

Crop damage last week was mainly caused by lodging and disease. Hail was reported in the Oxbow and Indian Head areas. A wet growing season has resulted in some crop loss from disease. Some producers have commented that they are unsure of lentil yields as the excess moisture throughout the growing season has resulted in poor podding.

Producers are trying to finish haying, desiccating, swathing and combining.
---