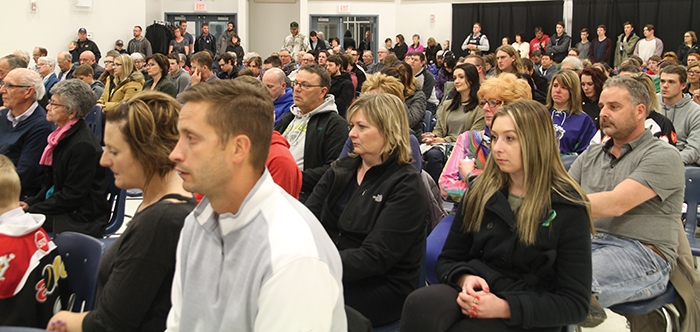 In wake of Humboldt Broncos tragedy: Moosomin comes through for Humboldt
April 16, 2018 7:48 am
Kevin Weedmark
---
The community of Moosomin has come through for the people of Humboldt, reeling from the tragic death of 16 people on the Humboldt Broncos bus on their way to a playoff game on Friday, April 6.

The 16 who perished in the crash included players, coaches, the bus driver, the team's athletic therapist and the play-by-play announcer.

Moosomin's response started with a show of moral support, when hundreds of Moosomin residents attended a vigil for Humboldt on Sunday, April 8.

The Moosomin Fire Department and EMS organized the Sunday night vigil, where Moosomin residents watched the vigil taking place at the same time in Humboldt, then offered their own thoughts and prayers.

Vigils were also held in other communities (see photos from Whitewood's vigil on page 27)

Then, on Friday, April 13, Moosomin hosted a massive benefit for Humboldt.

The plans for a fundraising hockey game grew through the week as more and more players signed on.

In the end, 101 current and former junior hockey players took part in the game at the Communiplex Friday night.

Moosomin Rec Director Mike Schwean started organizing the game on Sunday, emailing current and former junior players he knows.

Within half an hour he had a dozen players committed to taking part in the game. By Sunday evening there were 20 players committed, and by Monday evening there were 60 on the roster. The roster kept growing through the week.

A silent auction was organized as part of the benefit, and a barbecue supper was planned.

Mike says the idea for the fundraiser was raised by two hockey moms who wanted to do something to help.

"I had a call from Verna Cherry and Randi Thorn on Saturday and they asked if I thought of anything, and then they were looking at the Midgets playing, which would have been fine, but then I got thinking and I thought I knew enough guys who played junior that I could start a list. I started Sunday morning and I knew right away we had lots of guys who would be willing to do it, so we went ahead and started planning the game," he says.

How much bigger was the game than what Schwean initially had in mind?

"I was hoping to get the local ex-juniors and juniors—hopefully get enough to play," he says. "I was hoping to get 20-30 guys. Now it looks like we will probably end up at 100. It's obviously grown legs in a good way."

He said the players he has talked to were looking forward to the game as a chance to hang out with some fellow players and make a difference for Humboldt.

"One of the benefits for these hockey players is to get together and heal a bit," Schwean said. "It is amazing at how upset they are. It's hard on them because they've all driven the bus a thousand—tens of thousands of miles­­­­­—so they can relate. It's bonding for the community and bonding for these hockey guys, and it will raise some money as well, obviously."

Schwean said the players he spoke with started talking to other players, and the plan snowballed.

"I started with the local guys and there were some guys in particular who helped a lot.

"Devon McMullen is away at school, but he probably found 20 guys. Jeff Cole probably found 20 guys he knows, so there were a few cornerstone guys who went out and got a few more and then when the media started covering it then there was another wave of people.

"An official called me from the SJHL and he said he had 12 guys wanting to come out. There are two guys from Vancouver who are flying out—they're making arrangements to get out here by Friday. It is certainly bigger than I imagined but that is a good thing."

Schwean said a lot of people put a lot of work into making the event a success.

"Verna and Randi are taking care of the supper—they're organizing that—I'm not involved at all. I've had people come up to me and say 'I can't believe you put this together' and I say 'it's not me!' "

"Verna and Randi did the supper, Jolene Banga and Michelle Hayhurst are doing the silent auction. Devon and Jeff are finding the players.

"It's just a community doing what they think is the right thing, which is always the best type of events.

"I've had lots of people call and ask if they can volunteer, and that helps as well.

"NHL Scout Mike Rooney was helping as well.

"Mike Rooney is a scout for the Buffalo Sabres. He is lining up the jerseys. Mike is looking after that end of things. So we have just a whole bunch of different people doing the big jobs."

What does it say to Schwean that the benefit came together the way it did?

"It tells me a lot of things," he says. "It tells me we have a pretty good community. It tells me generally speaking hockey people are fantastic people and it's a community in itself. When guys go out to look for players it's like a fraternity, it seems insane to some people. You can put 100 people together in three days but that doesn't really honestly shock me with the way the hockey community is. And community-wise, Moosomin has always been amazing. It's just a good community."

Schwean was expecting a massive crows Friday night.

"We had people phoning about tickets because they were scared they were not going to get in," he says. "I was surprised at the vigil—at how many people were there. Obviously people feel a need to come out, to be together."

Schwean says the players he has spoken with are all happy to be included.

"They all say thanks for including them. I appreciate them coming out and I thank them as well. Sometimes they cry. I think they are pretty grateful for the opportunity. They all want to support Humboldt and a lot of them know some of the kids who were in the accident.

"Take Mike Rooney for example. He gets very emotional when he's talking about it. He knew the kids, so it's tough."

Throughout the area, people showed that they want to help in any way they can.

The Moosomin Tim Hortons sold out of Humboldt Strong Donuts—green and yellow donuts with all proceeds going to the Broncos—after just one day, with 850 donuts sold Monday. Donut lovers had to wait a couple of days for another shipment of supplies for the Humboldt Strong Donuts. Other businesses did what they could to help. Mullett's RONA accepted donations for Humboldt, and many people, from students to workers, wore jerseys on Thursday in a show of solidarity.

On Friday, a group of local women gathered at Shirley's Sewing Room in Moosomin to make quilts to share with affected families in Humboldt.

The Moosomin Rangers senior hockey team, every team in the North Central Hockey League, and the NCHL itself are each donating $500 to the Humboldt Broncos and are challenging other leagues to do the same.
Tweet