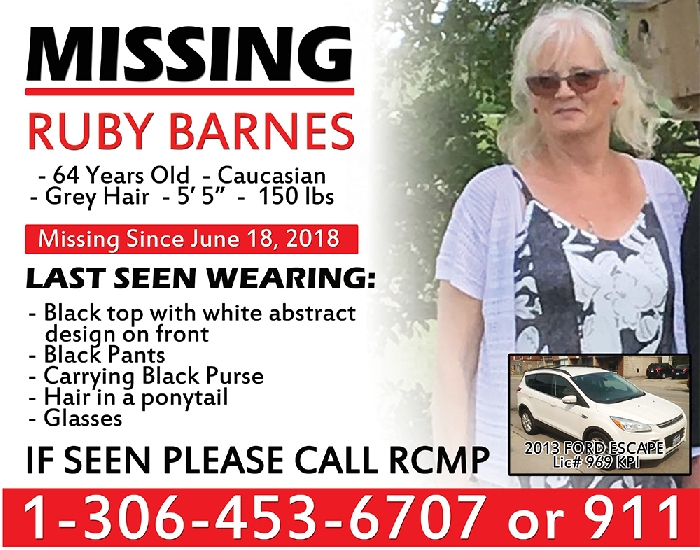 Family still searching for Ruby Barnes
June 30, 2018 11:48 am
Kevin Weedmark
---
The search continues for Ruby Barnes, who vanished without a trace from her home at White Bear on Monday, June 18

Her daughter said in an interview with the World-Spectator that the family is hoping that someone will see her.

64-year-old Ruby Barnes. Barnes was last seen at a business on the 200 block of Main Street in Carlyle at approximately 9:30 a.m. Monday, June 18.

She appears to have been home after that.

She was reported missing to the RCMP at approximately 9:40 p.m. on June 18, after her husband returned home from work and found her missing.

There is concern for her well-being as she has health concerns.

Lee-Ann Chicoine is Ruby's daughter. She is beside herself trying to understand what might have happened to her mom.

"My mom is wonderful," she said in an interview Friday. "She is just one of those people that everyone likes. She is nice to everybody she meets. She loves kids. Her grandkids are her life and she is my best friend. I talked to my mom everyday, sometimes two to three times a day before she disappeared."

Lee-Ann says her Mom usually stayed close to the family's home at White Bear. "My parents moved here in 2014," she said. "They retired here, although my dad still works."

Ruby was last seen on the morning of June 18. "She went to Carlyle to pay a couple of bills and so she was last seen at the Carlyle Credit Union at 9:31 in the morning," says Lee-Ann.

"My dad got home from work at between 5:15-5:30 pm and the receipts for the bills she paid were on the island but she wasn't here. So he was kind of worried because my mom doesn't usually go too far and so he called me and I said well maybe we should call the RCMP. And he said well maybe she just ran an errand and she will be back within an hour. She wasn't back so we contacted my other sister and we made the decision to call it in. She hasn't been seen or heard from since."

Her Mom was usually very easy to get in touch with, says Lee-Ann.

"Sometimes she doesn't answer the phone but she will call you back. She is not the type of person that would go away without telling anybody. She just wouldn't do that."

The only clue the family has is that a ping came from Ruby's phone in the Broadview area on the day she disappeared.

"That was the last ping, at 1 pm on Monday was the last time the police were able to ping her phone, and it has been either shut off or dead since. There has been no activity on her Facebook page or cell phone, no bank activity, nothing at this point," says Lee-Ann.

Lee-Ann says the RCMP have been putting a lot of effort into the search.

"The Carlyle RCMP detachment has been working with us very closely and they have been following any leads that they've got. They've sent search planes up a couple times. There was a possible sighting of her and they sent the planes up. They have been very good on this case. They have really worked well with us."

The family is also searching.

"We've been out searching and we've had friends of ours who own planes who have been up in the air. There have been hundreds of people helping us search. At this point we are almost two weeks in, and so now we've just kind of got ourselves sitting and waiting and hoping that she is seen. We have searched everywhere—from where she grew up as a kid to where we used to live, a farm that we used to raise pigs on, we've searched everywhere and we've come up with nothing."

There were a couple of possible sightings reported at Grenfell, but "Grenfell was extensively searched and they came up with nothing," says Lee-Ann.

The search has covered a large area.

"We've searched right from the southeast corner of Saskatchewan all the way up to northern Saskatchewan towards the Nipawin area," says Lee-Ann.

"My mom has a sister and other family that live in Arborfield and we thought with the ping she may have been on her way there so we've been waiting and no she is not there and the family up there have been searching and they've come up with nothing."

Lee-Ann said the family has no theories on what might have happened.

"It's just two weeks in and everything when through your head I guess we don't know if she maybe drove off somewhere and got lost, but we have no idea—we just hope she is okay wherever she is."
Lee-Ann said her mom was driving a white Ford Escape the day she disappeared.

"She was driving a white 2013 Ford Escape with the plate number 969 KPI. The vehicle has not been located," she says.

She said at this point all the family can do is hope that Ruby is seen by someone.

"We're hoping that somebody somewhere will see her. We've had concerns coming in from across Canada actually from people, complete strangers even, and it's just been amazing the concern that has been shown to our family.

"I'm just hoping with that somebody out there will see something and will call the RCMP. I know a few people have contacted us directly, but we're just urging the public that if they see anything suspicious or out of the ordinary in their area to please contact the RCMP because anything at this point is something."

She said the entire family is focused on the search for Ruby.

"We are trying to just stay focused and strong right now, and we are all working together and trying to bring her home to us."

Barnes is described as:
· Caucasian
· 5'8"
· 135 lbs
· Grey hair

When she went missing she was wearing:
· Black top with a white abstract design on the front
· Black pants
· Carrying a black purse
· Her hair in a ponytail
· Glasses

She may be driving a white 2013 Ford Escape with Saskatchewan license plate 969 KPI. The last ping from her phone was in the Broadview area on June 18.

Anyone with information regarding the whereabouts of Ruby Barnes is asked to call Carlyle RCMP at 306-453-6707, their local police service, or Crime Stoppers at 1-800-222-TIPS (8477).
Tweet