---
Pools prepare to open for 2021 swimming season
May 17, 2021, 1:56 pm
Spencer Kemp, Local Journalism Initiative Reporter
---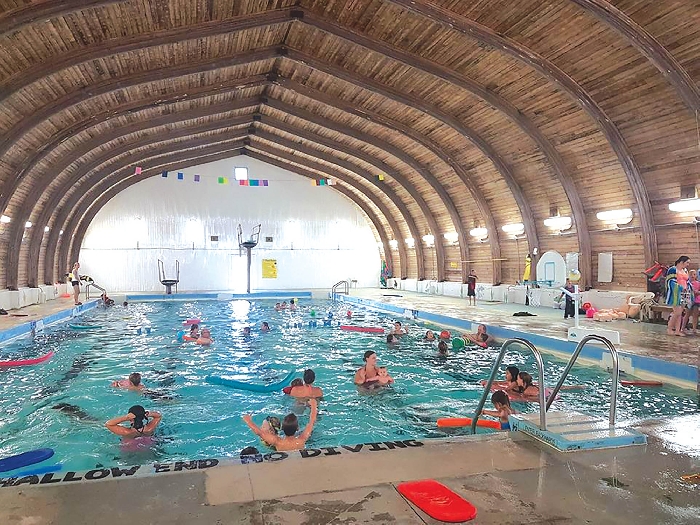 Pool managers and rec directors across Saskatchewan are preparing to open for the 2021 swimming season.

In 2020 pools across the province were unable to open their doors at the start of the swimming season due to emergting COVID-19 restrictions and guidelines. While some pools were able to open later in the season, many kept their doors shut.

This year, rec directors and pool managers across the province have a better idea of what to expect and are preparing to adjust pool services accordingly.

Rocanville Pool open and operating
The Rocanville Pool has already opened for the season and intends on holding a regular schedule with some changes to fit in with the ongoing COVID-19 restrictions.

Recreation Director Andrea Logan with the Town of Rocanville says the pool has taken the necessary steps to safely swim.

"Our schedule is fairly normal to any typical year. We have a full calendar but it's limited capacity for all of our events," said Logan.

"We have sneeze guards up, we have signage up, everybody must wear masks in the facility, our guards wear masks the entire time unless they're in the water, then masks can come off. We are upping our cleaning, we have hand sanitizer available to anybody who enters the facility and limited capacity depending on what the event is."

Logan says that staffing is not an issue.

"I have a good staff this year. Staffing hasn't been a problem but it's just been a little difficult getting everybody current with their qualifications, that was the challenge. But we were able to open and run training courses so we were able to get our staff all trained with the proper qualifications.

"We have an instructor on staff who was able to do some of the training, so that was super helpful. So we've had no issues with staffing."

Logan says that she has heard of other pools having difficulty getting staff qualified.

"I know that there are a lot of pools that are having issues because they're having a hard time getting their staff certified. There are not enough courses available to get all the staff certified, but we were lucky because we were able to open early for basically just training and we have an instructor on staff that was able to get everybody up to date,
"We had to limit the capacity, limit the numbers, and follow the COVID guidelines to offer the training, but we were able to do it."

Logan notes that there are restrictions that are in effect for those looking to swim.

While the pool is not offering swimming lessons yet, registration is open with intent to hold classes in July and August.

She says the pool is offering classes at a restricted capacity, including Parent and Tot swimming lessons, a Lifeguard Boot Camp, and Aquafit classes.

She says the pool is also open for public swims, lane swims, and senior swims.

"It depends on what event you're wanting to attend. Whether you're coming for an Aqua Deep class, a lane swim, or a public swim, that's where the rules change depending on what event you're wanting to attend.

"If you're wanting to attend a public swim, for example, then we have a limit of 30 people in our pool and we suggest people call ahead to see how many are currently in the pool to limit disappointment if you show up and you're number 31 and we have to turn you away."

With the pool being open, Logan says the public has done well to follow the rules and regulations put in place.

"The public is so used to rules that nobody has given us any grief over any of the rules. The public has been super good with the rules," Logan said.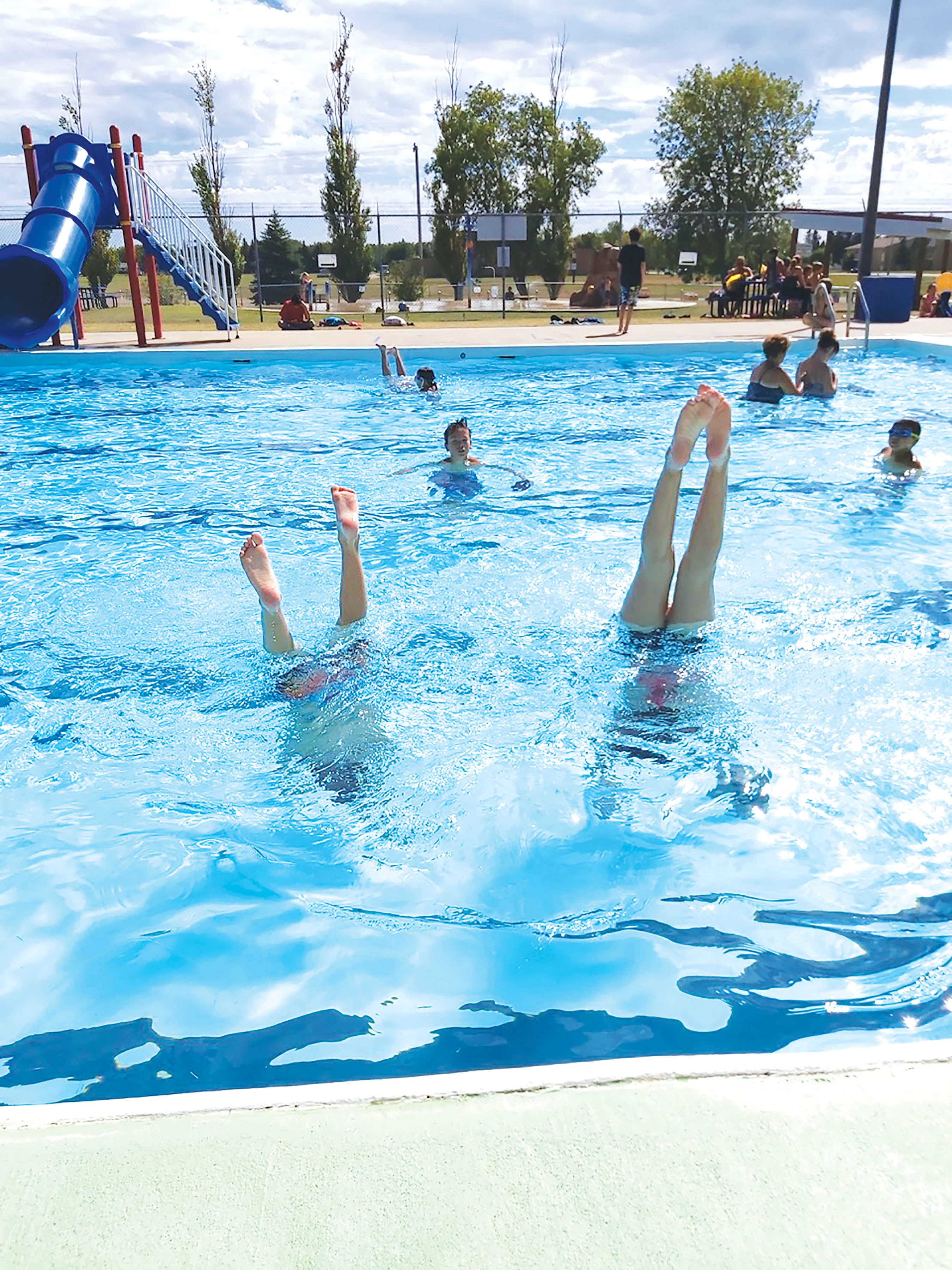 Esterhazy Pool finalizing opening plans
The Esterhazy Pool is still in the planning stages and is hoping to open its doors in June.
Brenda Redman, Community Development and Recreation Director for the town of Esterhazy says there will be restrictions in place and swimming spaces will likely be limited.
"For us, we are going full speed ahead and thinking very positive that will be opening our pool for the 2021 season. We opened it last year with regulations and we're going to do the same thing this year. We're going to go ahead and we hope to have our pool open for June 15 and we're also hoping to run a full set of swimming lessons. We plan to follow all the COVID-19 restrictions to a T and we'll modify whatever setting we have to in order to have a successful pool year," Redman said.
Redman explained that her next steps are to go through the current COVID-19 restrictions and set up guidelines for the pool to follow accordingly.
"We haven't started too much planning this year. We will be sitting down to go through the COVID-19 restrictions to see what the government has lined up and make sure that our staff and anybody in the pool will be safe. Right now we know that the instructor will be on the deck with a mask."
She says that the 2020 season went well and she hopes the pool is able to do the same again for 2021.
"We opened and it was a very successful year. We did not offer swimming lessons, though but we did have public swimming and it was a busy pool. We had no COVID-19 cases, people respected the rules and guidelines and our community was just happy to have it open and have something to do. We allowed up to 65 people in attendance at our pool and it worked out really well. We didn't have the dressing rooms open so we just had the bathrooms so people were encouraged just to wear their bathing attire, bring their towel, and just go swimming. We monitored how many people were going in and out, we had staff members constantly cleaning and it was a good year."
Redman says the pool is fully staffed and ready to open up once COVID-19 guidelines are put in place.
"We're fortunate this year, we have a full staff hired again and our goal is to open for June 15, but we'll take it one day at a time here. We know that for swimming lessons, we'll only offer one smaller class at a time with a limit of five children plus an adult in the pool. We're not doubling up on lessons or anything. We're going to play it very safe and follow the regulations and hopefully it all goes well."
Whitewood Pool finds difficulty in certifying staff
The Whitewood Pool is hoping to open its doors to the public in mid-June after ensuring all staff has properly updated certifications.
Pool Manager Kendall Junek says the pool is working on making adequate guidelines to follow.
"Right now our aim to have the pool open by sometime in mid-June with everything surrounding COVID we need to figure out how everything can operate within what limits, which is always changing with everything else in our lives at the moment. We're working hard to meet and hopefully exceed all of the public health guidelines to ensure the safety of our patrons and our staff. Right now it's just a matter of keeping on top of what the guidelines are in the province right now and staying in communication with the Lifesaving Society to figure out what their best suggestions and recommendations are. It's just a matter of keeping on top of what the province is providing for us," Junek said.
She says the process has been a slow one as the Town of Whitewood is without a Recreation Director for time being.
Junek says that because of this, the task of creating COVID-19 guidelines for the pool has fallen on many shoulders.
"For the time being we're functioning without a recreation director, so the job is being shared among many people in the town staff, so it's a work in progress as of right now. I'm new to the pool management position, so as of right now everything in this position is new to me so we're in the process of planning swimming lessons with the guidelines and everything, there's a lot to consider when planning them. It's just a matter of getting our staff up to date with their certifications and getting on top of the guidelines to make sure that when we do release a schedule to the public everything is in accordance with what it should be."
Junek says that the Whitewood Pool is hoping to hold swimming lessons, but requires more time to make plans and ensure all staff has their appropriate certification.
"We haven't released registration dates yet because there are still a few things we need to iron out but the plan is for us to have public swimming and swimming lessons, but until we have those last few details ironed out its just public swimming. But we're fairly confident that we'll be able to offer swimming lessons in some capacity as other pools in our region have been doing," Junek says.
She says that there has been difficulty updating certification for staff as it has been difficult finding a pool in the region that can offer those services.
"Swimming certifications only remain valid for two years, so for anyone who may have needed to recertify last year or who expired last year finding a pool in our region that is offering recertifications or upgrading certifications is proving difficult. With the uncertainty surrounding what can happen with COVID, nobody is certain what they can offer.
"We have been in communication with Rocanville to try and get them what they need and hopefully the circumstances with COVID-19 will allow us to do those programs. If not, we'll have another hurdle to jump over."
Even with the difficulties ahead, Junek says she and her staff are ready to welcome the public to the pool once more.
"When we are ready to open, we're looking forward to welcoming our community back into our facility, our newly renovated facility. We're hoping to provide a safe and enjoyable facility for everyone for the next few months," Junek said.
Tweet