---
Moosomin Chamber of Commerce: Bonk thanks businesses for their role in the pandemic
June 7, 2021, 10:56 am
Spencer Kemp, Local Journalism Initiative Reporter
---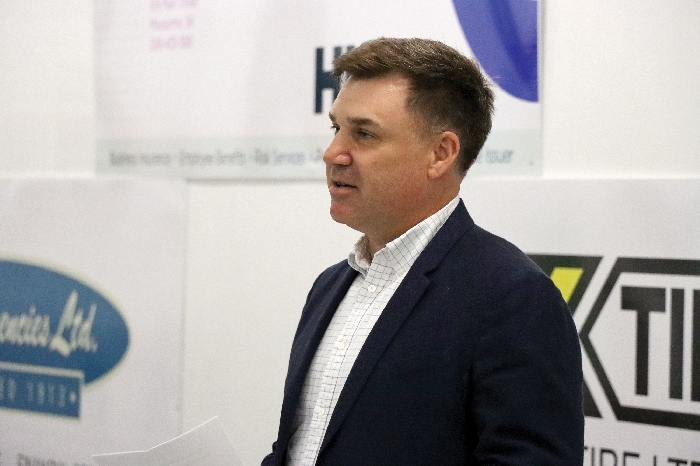 Moosomin MLA Steven Bonk attended last week's Moosomin Chamber of Commerce meeting.

Bonk began the meeting by thanking the members of the Chamber for their efforts that have been made through the ongoing pandemic.

"It's been a tough year for everyone, especially the business community we have in the province. I just want to thank everyone for not complaining too much, for pulling up your socks, getting through this, helping out, being community players, and we're going to get through this. We're going to get through this fairly soon. Once again, thank you, everyone, for the great job that you've done," Bonk said.

Bonk was given the opportunity during the meeting to share some completed and ongoing projects the Government of Saskatchewan has been working on in the past year.

"It's been a bit of a trying year, we've had a record budget and we've never spent as much money as we have this year, but it's unprecedented times, so I'll just highlight a few things, where your tax dollars are going.

"This year's provincial budget was designed to protect the health and safety of our people and the economy in the fight against the COVID-19 pandemic. To build through investments and new long-term care facilities, hospitals, schools, highways, and vital crown capital and municipal infrastructure projects.

"The other thing our budget wanted to do is grow, grow through incentives and key investments, keeping life affordable for families and fulfilling commitments from our election platform. The 2021-2022 budget provides historic investments through health, education, infrastructure, and economic recovery while working hard toward the government's commitment to balance the budget by '26-'27. And most importantly, Saskatchewan's net debt to GDP ratio is the lowest in Canada. Saskatchewan's credit rating is the second-highest in Canada and Saskatchewan has fared better than most through the pandemic with high levels of employment, growth and housing starts, exports, and wholesale trade. And we have a reopening roadmap. We were the first jurisdiction in Canada to have an actual systematic plan to reopen our economy.

"Based on high vaccination rates, this charts a course through the pandemic and provides a framework to ensure a strong economic recovery. We have Canada's best vaccination rollout and our healthcare workers have done a great job getting as many people vaccinated as quickly as possible. We have a plan to get Saskatchewan back to normal, and normal means a growing economy and more jobs.

"A number of companies have announced large economic projects in the past weeks, including Richardson's international expansion to double the capacity of the crush facility near Yorkton, Viterra's intention to develop the worlds largest canola crushing facility near Regina, Cargill developing a new state-of-the-art canola processing facility in Regina, North America Helium opening the largest helium facility in Canada in Battle Creek, and Saskatchewan Mining and Minerals significantly upgrading its sodium phosphate plant in Chaplin.

"Highlights from our budget and policy agenda in this past legislative sitting include; $3.1 billion to help our economy create jobs, enhancing police oversight and ensuring public trust through the creation of a civilian-led and independent model for police oversight, the lowest unemployment rate in Canada and nation-leading month-to-month job growth, and a re-opening plan with three steps for a gradual, measured approach to easing public health measures with phase one set to begin March 30.

"This legislative session also saw the government fulfill 14 of its campaign commitments, including restoring the Active Families Benefit, hiring more continuing care aids, the expansion of individualized funding for those on the autism spectrum, increasing seniors income, and reducing the financial cost of those living with diabetes. Saskatchewan's Economic Recovery Rebate has reduced electricity bills by over 10 per cent for all customers. The Auto Fund Recovery Rebate is arriving this month and next, providing added stimulus across the province. It's amazing how excited people got about getting money back from SGI. New international trade and export offices are opening up. Royalty Relief is helping oil and gas producers invest in methane emissions, reduction projects, and modernization and expansions of the High Water Cut program is making wells more available for producers.

"As Saskatchewan emerges from the pandemic, our government remains committed to the growth plan goals of a strong economy, a growing province, and new jobs over the next decade. Our government will focus on competitiveness, seeking new markets, increasing trade, and growing exports as well as ensuring that value is added to the Saskatchewan products that we sell around the world.

"There were a few things specific to the Moosomin constituency that was announced in this budget and one that I'm really happy with is that we're actually going to start building the nursing home in Grenfell. That is something that the people of Grenfell have been waiting for since the '80s for and they've been at the top of the priority list since. So it's really nice to see their community finally get a nursing home.

"As you see we are investing $3.1 billion in infrastructure projects, in capital projects. In any basic economic theory, there is a 3:1 return on any infrastructure projects. So with the historically low interest rates we have now I think it's a perfect time. Our overall debt has increased somewhat, but with the overall rate and return you can get off of infrastructure projects I think it's a very wise investment.

"I think we're faring the best out of any province," Bonk said.

Bonk opens the floor to questions
Member of the Moosomin Chamber of Commerce Kevin Weedmark asked Bonk about the rough stretch of road between Moosomin and Rocanville and if there are any plans for permanent fixes.

"That's on the list of the projects that we're going to get to this year, from what I understand. Also the 308, I've been trying to get that road on a pilot project of some kind for quite a while because it's a nine-kilometre stretch, which is a perfect distance for a pilot project. I think they're going to get at it this year and I've been lobbying hard for it because I've been getting a fair bit of pressure," Bonk replied.

Weedmark followed up with another inquiry, asking Bonk if he had received any feedback from businesses about how Saskatchewan has been handling reopening when compared to Manitoba.

"We get very little feedback at our office about any business-related issues. To be honest with you, particularly in our corner of the province businesses have had the best year they've ever had. When things are going good, we don't hear too much. When there's a problem, we hear a lot.

"I think a big thing that's helping us now is that we've had such an efficient vaccine rollout plan and that hopefully will continue and that's why our numbers are going down so quickly," said Bonk.

"I think where things really turned the corner was when we did the Re-Opening Saskatchewan plan. It gave people hope, it gave them a couple of lines in the sand that gave people incentive to get vaccinated, which was also a great thing. So we could really see the mood of the province change when we came out with that plan."

Weedmark followed up with a third question, asking Bonk about an overall plan for development in the ag industry following the recent announcement of the construction of a new canola crushing plant near Regina.

"It's part of the growth plan. It's value-added in agriculture. It's not just in oilseeds, but also in intensive livestock operations. I've been the chair of the Provincial Livestock Producers group and that's also a big attraction to us. We're doing it in a different way than a lot of jurisdictions. We don't offer grants to attract companies. We don't hand out money to come here, but what we do is we make it very attractive for you to come here. We have low corporate income tax rats, the government burden on you is quite low, very business-friendly, and to us, that's a lot better than making a program and taxing the life out of you after," said Bonk.

Others took the opportunity to thank Bonk and the Saskatchewan government for their ongoing efforts in handling the COVID-19 pandemic.

"I do have to say you guys have built the best, balanced system to deal with the pandemic. There are things I like, things I don't like, but that's going to be true for anything. Compared to other provinces this is the best balance we probably could have gotten, so kudos to you guys for the efforts," said Jason Schenn, CEO of Borderlands Co-op.

Tyler Thorn of Celebration Ford also took the opportunity to share his appreciation regarding the Re-Opening Roadmap that was released by the Government of Saskatchewan.

"I just want to echo what Jason said about the plan that you guys put together. I really think that the incentive there to get vaccinated has really helped. So kudos to the province there. I spoke to a friend of mine in Manitoba and he's so fed up and frustrated that he started thinking about relocating to Saskatchewan," said Thorn.

"Tell him he's welcome," Bonk replied.

Following up on Thorn's statement, Bonk says that Saskatchewan is now in a prime position to begin strengthening its economy.

"I think the economy is poised to really move forward, and in Saskatchewan, we have the lowest debt to GDP ratio in the entire country, we have a AAA credit rating, we have access to cash, we have one of the lowest corporate income tax rates in Canada so we're in a very good spot to be competitive in any new economic development that's coming in, like new money coming to Canada, not just recycled money, new money. So that's part of our growth plan. We're pursuing value-added and resource extraction. I think it's a good time for us, as we're getting through this, to get things firing on all cylinders," concluded Bonk.
Tweet