---
100th birthday parade held in Virden for a D-Day Veteran
June 9, 2021, 9:02 am
Ed James
---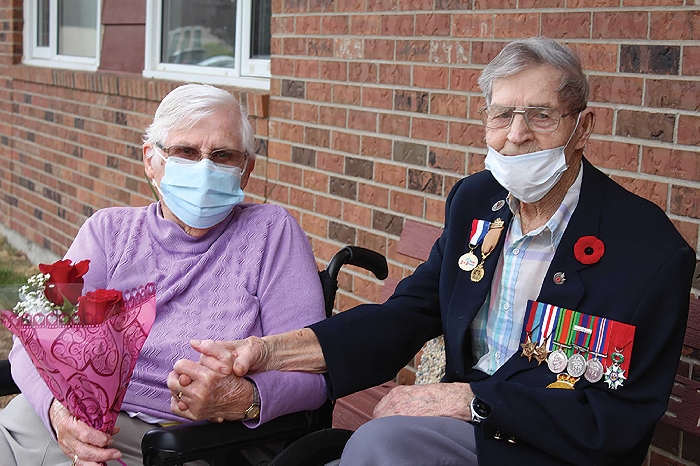 A 100th birthday parade was held in Virden for D-Day veteran Les Downing on June 1. Around 75 vehicles drove by downing's house that day, and military members from CFB Shilo attended in an armoured vehicle to pay tribute to Les. Downing has received a Legion of Honour Medal from France for his role in D-Day.

The celebration of 100-year event is always a major celebration for a community, but even more so for a community member. Such was the case during a recent drive-by parade for long-time Virden resident Les Downing, who can also be called Sir Les Downing as a few years ago he was awarded the French Government's "Legion of Honor" medal for his help in the liberation of France during the Second World War.

On June 6, 1944, Les was one of the thousands of Allied troops that stormed the beaches of Normandy to end the Nazi terror in Europe. Les joined the military in October 1942, leaving the family farm near Lenore, Manitoba. He trained in Shilo, Petawawa and England, with the 19th Battalion RCA.

He still has memories of D-Day and the friends he lost on D-Day and the following months. One he remembers well is a friend from Virden, who became a good friend who he would talk with about their plans after the war when they came home. He still remembers the young man who did not make it home.

In June 1946, H69677 Gunner Downing come home, and with the help of the Department of Veteran Affairs he was able to buy a farm south of Virden. A few years later, because of his fiddling skills, he was asked by a young school teacher if he would play at a local dance. Les said yes, if she might go to a movie with him. She did and after a few more dates, it would lead to marriage to Louise who would become a well-loved teacher at the old Mary Montgomery School for many years.

June 1, 2021 was Les's 100th birthday, so his caregivers and friends, John Fefchak, Kelvon Smith and Amanda Hrynko, hatched a plan to have something special for his birthday that works with the present Covid-19 restrictions. Plus, they had to do it on the QT, as Les did not want anything special for his 100th.



The birthday event was a drive-by parade past his home, with him agreeing to come outside and sit on the lawn.
The actual parade grew in numbers as word got around of the event in the media. On a beautiful warm day, it is estimated that as many as 75 vehicles of all types, many with colorful decorations, did a drive through town with a shoutout to some local schools they passed by. The parade represented a wide cross section of the community. There were vehicles from the RCMP, the fire department, local businesses, local Royal Canadian Legion branches, and many community vehicles with longtime friends.

However, some of the special vehicles that stood out were two LAV armored vehicles from CFB Shilo, and a Second World War-era Canadian army jeep that represented the Elkhorn Legion branch that flew the Canadian WWII Ensign flag that Les fought under during the war. Then along came a decorated and lively Fort La Bosse School bus filled with school children singing Happy Birthday from the open windows.


After the last vehicle came by, a number of presentations and best wishes were made to Les by the Town of Virden, the local Legion branches and MP Larry Maguire.
Two soldiers from the first RCHA out of Shilo took the longest time to talk to Les, soldier to soldier, about his service to Canada during the war, the life bond that exists between soldiers and the sharing of some of Les's wartime memories. As I watched, it was a moment of the special bond between all soldiers, young and old, as they held his hand. The soldiers were Captain James Lee and Warrant Officer Mike Jenkins who made a number of presentations, one which was an engraved 105 artillery shell, to Les, of the type that he and his gun crew fired during WWII.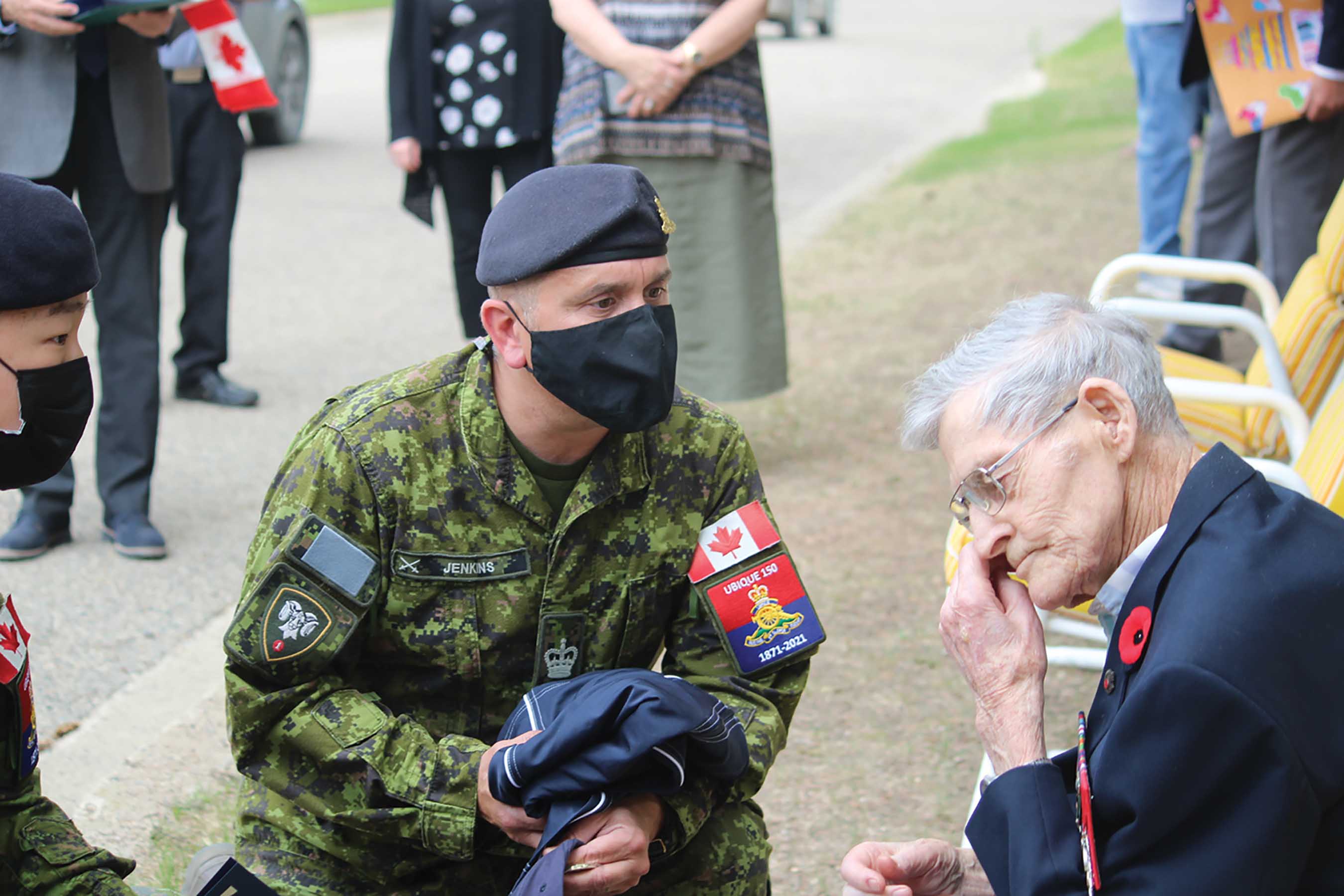 After the last of the presentations and car window visits, Les was taken by his friend John Fefchak up to the Westman Nursing Home where Louise, Les's wife, is a resident. Les brought with him a bouquet of red roses for his wife. With help of a staff member and modern technology, a computer tablet screen and speaker was set up so that Les and Louise could to talk to their daughter and other family members who were not able to attend the 100th birthday celebrations because of the Covid-19 restrictions.
In a quiet moment after the busy day for Sir Les, he told me that after the war, he realized how lucky he was to make it home and he remembers many in his unit that did not return. However, he also added how pleased he was with the turnout for the day and the many kind wishes and presentations he received.
Well done soldier! The changes you have seen over the last hundred years must be amazing! Lest we forget!
Tweet