---
One additional death, 43 new cases of Covid-19 in Saskatchewan July 26
356 active cases, 55 in hospital, 10 in intensive care
July 26, 2021, 2:53 pm

---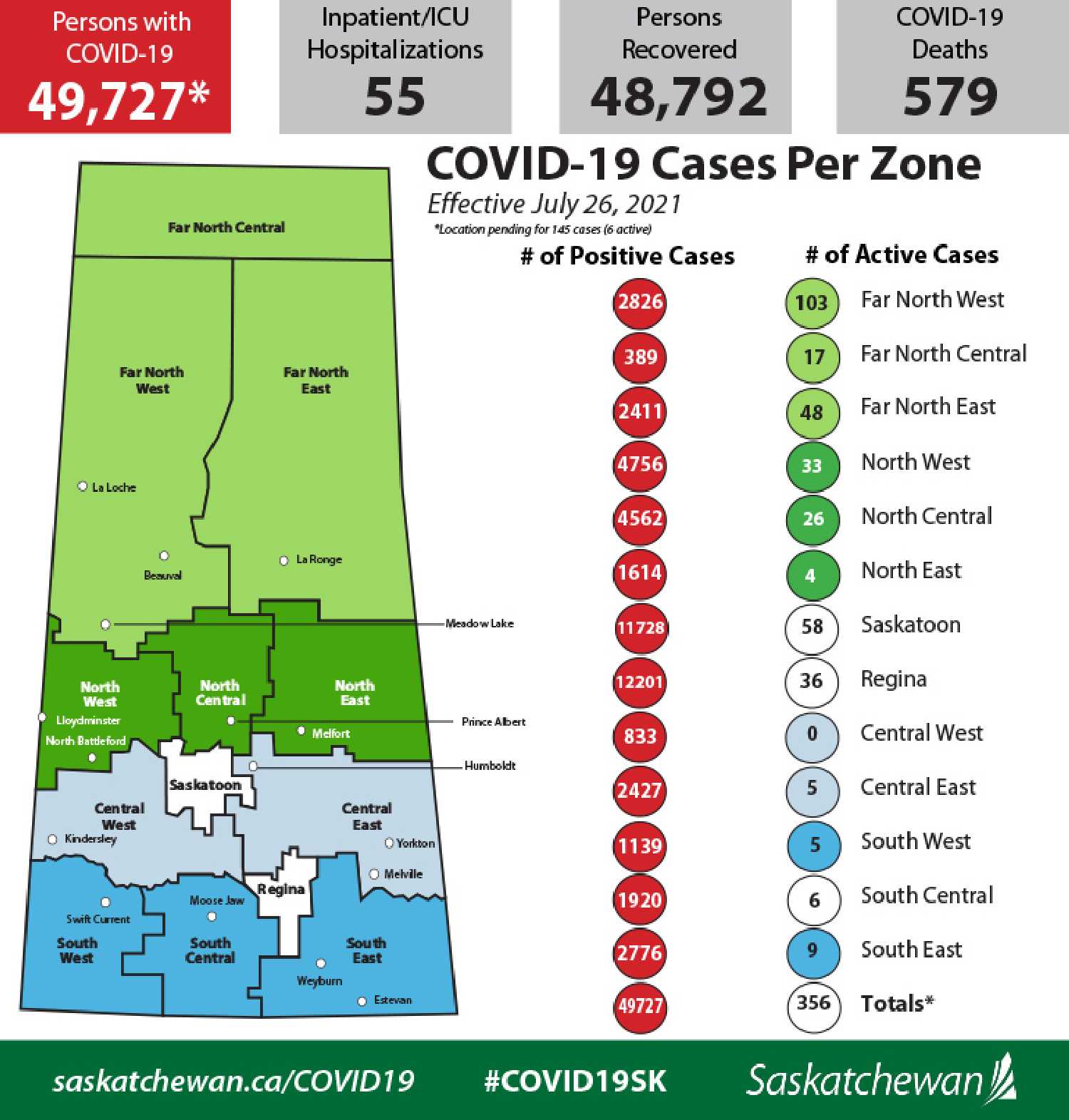 Daily COVID-19 Statistics
There are 43 new cases of COVID-19 to report in Saskatchewan on July 26, bringing the provincial total to 49,727 cases.

There are 0 active cases in Central East 5, including the Esterhazy and Melville areas

There are 2 active cases in South East 2, including the Moosomin, Rocanville, Whitewood and Kipling areas.

There are 2 active cases in South East 4, including the Redvers, Carlyle, and Estevan areas.

The new cases are located in the following zones: Far North West, 12; Far North Central, 1; Far North East, 20; North Central, 1; Saskatoon, 5; South Central, 1; and South West, 1. Two cases are pending residence information. One case tested out-of-province was added to the Saskatoon zone.

One new death was reported today in the 40 to 49 age group from the North West zone.

Recoveries total 48,792 and 356 cases are considered active.

There are 55 people in hospital. Forty-five are receiving inpatient care: Far North West, 1; North West, 6; North Central, 4; Saskatoon, 16; Regina, 15; South Central, 2; and South East, 1. Ten are in intensive care: North Central, 1; Saskatoon, 6; and Regina, 3.

The seven-day average of new COVID-19 case number is 38 (3.2 new cases per 100,000). A chart comparing today's average to data collected over the past several months is available at https://dashboard.saskatchewan.ca/health-wellness/covid-19/seven-day-average-of-new-covid-cases.

There were 931 COVID-19 tests processed in Saskatchewan on July 25, 2021.

To date, 954,126 COVID-19 tests have been processed in Saskatchewan. As of July 24, 2021, when other provincial and national numbers were available, Saskatchewan's per capita rate was 804,524 tests performed per million population. The national rate was 1,003,846.

No new lineage results were reported for Variants of Concern today. Of the 7,961 VOCs with lineages identified by whole genome sequencing in Saskatchewan, 7,027 are Alpha (B.1.1.7), 505 are Delta (B.1.617.2), 419 are Gamma (P.1), and 10 are Beta (B.1.351).

Provincial COVID-19 statistics on the total number of cases among health care workers, breakdowns of total cases by source of infection, age, sex and region, total tests to date, per capita testing rate and current numbers of confirmed variants of concern can be found at http://www.saskatchewan.ca/covid19-cases.

Living With COVID-19
For guidance on Living with COVID-19, including the requirements for self-isolation if you have a positive COVID-19 test, expectations around masking, information for businesses and workplaces and the visitation requirements for acute care as well as long term care and personal care homes, go to https://www.saskatchewan.ca/living-with-covid.

General COVID-19 Information
General public inquiries may be directed to COVID19@health.gov.sk.ca.
Tweet