---
Valley View Hotel fire big loss to Tantallon
April 29, 2019, 7:55 am
Kara Kinna
---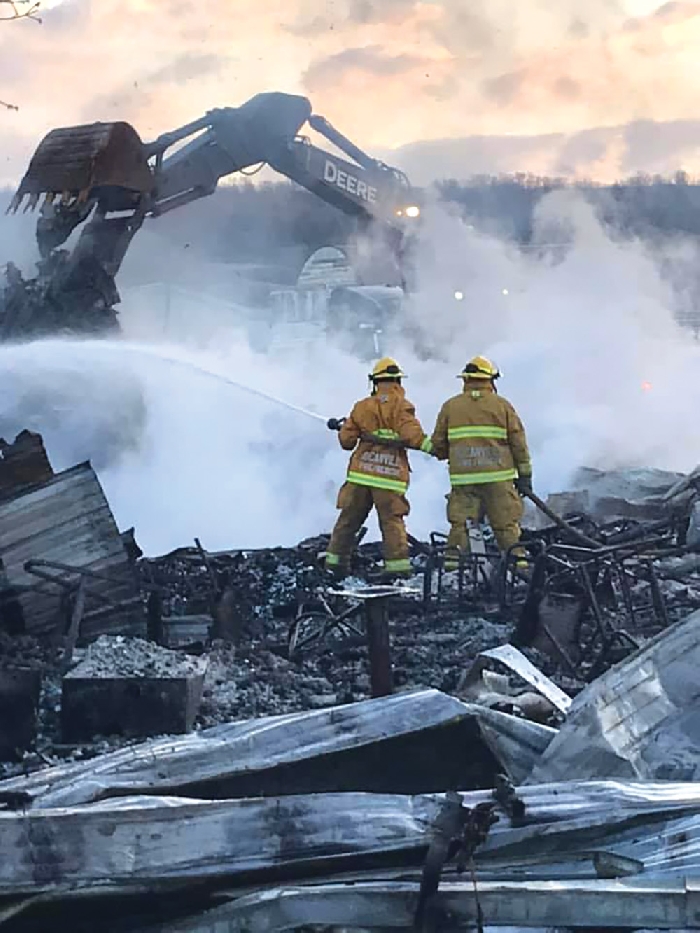 The business at the heart of the community of Tantallon—the Valley View Hotel—has completely burned to the ground.

The fire started some time late at night or in the early morning hours of Thursday, April 25. Owner Kyle Brule says he got a call from a village resident at around 2:30 am Thursday. By the time he got there, a large part of the building was up in flames, and the Rocanville Fire Department arrived shortly after.

"I locked up just before 11 and came home and got a call from another local in town around 2:30 this morning. He phoned and he said you could see flames out the roof. By the time I got there, the older part of the building was up in flames," says Brule.

"I went over to the closest house to make sure they were up and moving, and by then the fire department was coming.

"It's a complete loss. It's rubble right to the ground. When the fire department got there, they just told me they were going to try to contain the fire from spreading more than anything, that they wouldn't be able to save the building."


Fighting the Fire
The Rocanville Fire Department responded to the fire, taking the call at around 2:20 a.m. said Fire Chief Owen Wilson.
"When we showed up it was completely engulfed," he says. "When it's at that point, especially when it's a tin building and you aren't able to rip the tin off, it's an uphill climb trying to put that fire out.
"When we showed up, it was mostly just making sure nothing else starts burning. The way the wind was blowing, it was blowing all the embers and ashes across the road into a dry grassy field, so we kept a pretty close eye on that. There was a house trailer right behind the bar too, so we just kept an eye and made sure nobody got hurt or there was no property damage.
"The way there were ashes and sparks flying across the road, it was a total crapshoot. We were hoping it wouldn't light that grass up, but with it as dry as it's been lately, you never know."
The fire department had to use a trackhoe on the building to contain the fire and to put it out.
"It started collapsing down into itself. To peel away some of the tin we got a trackhoe in and picked away at it a little bit and doused as much as we could."
The fire department got back to the Rocanville fire hall at around 8 am, and a fire inspector came out on Thursday afternoon to see if he could determine the cause of the blaze.
"We sifted through some of the stuff and he looked around, and with the trackhoe in there tossing the tin around and the amount of damage, he wasn't able to come up with any definitive cause of the fire," says Wilson. "Right now it's still labelled as undetermined."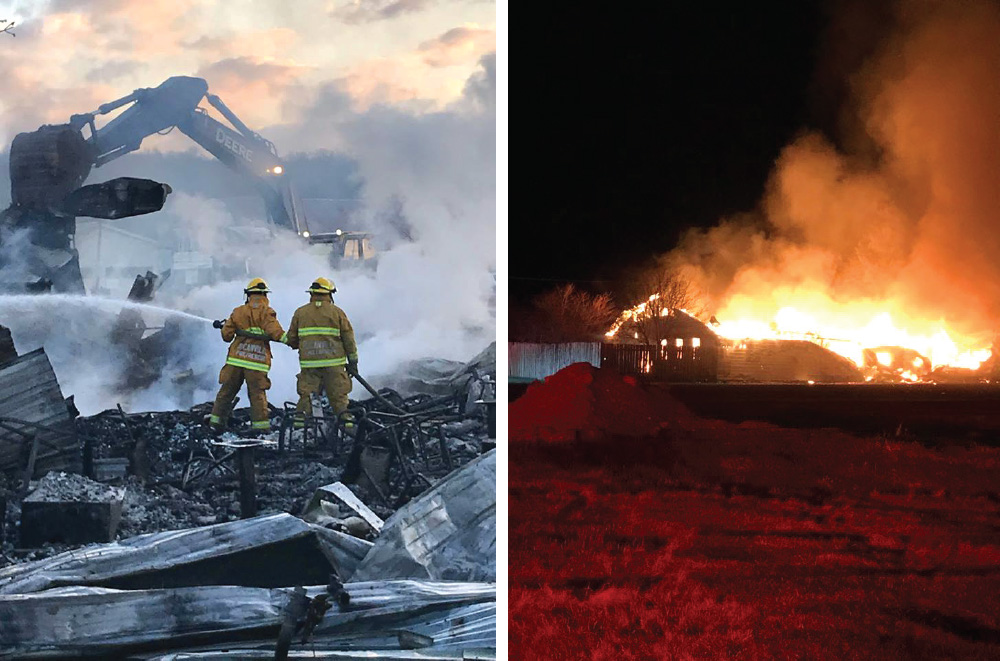 The heart of the village
The Valley View Hotel was a bar and restaurant located in the heart of the village of Tantallon, nestled at the bottom of the scenic Qu'Appelle Valley. The business was a popular gathering spot, not only for locals, but for people around Saskatchewan and Manitoba. People came from hours away to go to the Valley View, and the business was a popular spot for snowmobilers and quadders to stop and refresh on their way through the Qu'Appelle Valley.
The Valley View was especially popular on Thursday night wing nights and on Saturday night steak nights, often drawing hundreds of people.
"It's a major attraction," says Brule. "It's a scenic route. People come down with quads, with skidoos—you name it. Sunday drivers just out for a tour looking at the valley stop in for a meal. We've always had a major gathering on wing nights, it was always full. And steak nights as well.
"It was a gathering place for everything, from wedding receptions to funerals.
"We had a lot of town history with pictures on the walls, but they are all gone now."
"On a busy wing night, we could have a couple hundred come through. We would sell anywhere from 3,000 to 5,000 wings on a busy Thursday night.
"With the village only having roughly 100 people, Main Street would be rows and rows of cars all the way along on busy nights, and then same in the winter with skidoos, there would be rows and rows of skidoos parked outside, and with quads, the same thing."
What was it that people loved so much?
"It had its own atmosphere, its own little aura," says Brule. "I don't know how many bar owners can ask when's the last time they had a fight in your bar. It was always just a happy place to go. We had the family dining so kids could come in, people could bring their kids for a meal, for a night out."
The older part of the building dates to around the 1930s, and an addition was built in the early 2000s. Brule bought the business in September of 2006. He says it's been a great way to make a living.
"It's a good living for me. And it's good for the community, and it brings everyone from all over down here," he says.
"My parents, years ago, always talked about owning a bar, and when it came that I was able to purchase one, I asked mom if she'd want to do it with me a little bit, and that's kind of what started it. The previous owner who owned it before, he also owns West End Resort, and I was working for him there running a store at the resort for him and when the bar came available we kind of worked out a deal and that was it.
"And then once I got here, it's a nice place to live, it's a great great community, great support, I can't ask for better."
Brule says it's far too early to tell if he'll be able to rebuild.
"I'm dealing with my insurance right now. I do have insurance, but I'm not sure what will be covered and how that will work, or if it's feasible to rebuild. It's an option, but it's a little early to tell what can be done."
On Thursday afternoon, he says the tragedy of the fire was still sinking in.
"It's just been a long day," he said. "I've been on the phone most of the day and answering a lot of texts."
Village will feel the loss
Tantallon Mayor Jim Johnson says the loss of the Valley View Hotel is going to hit the village hard.
"I've got a feeling it's going to be kind of devastating really," he said Thursday. "It was the meeting place for everything. They had birthday parties, everything. It's the hub of the community—or was. There's not much left now.
"It's a big deal. There won't be any wing night tonight. Thursday is wing night and that's probably the most activity this town has. It's always Thursdays and the streets are packed. Thursday night is wing night, Saturday night was the steak special, and a lot of different things happened here at the bar.
"It draws people from all over. On long weekends, if people could come on Thursday, they'd be coming from all over. The people that are originally from here would come and they'd try to gather for wing night or steak night on Saturdays, but it draws from a big big area. And we are close to Manitoba, so you'd see a lot of Manitoba cars. From Moosomin there are a lot of people who come. It's a large area it draws from.
"It will be a big blow to the town. It just seems to be that's where everyone gathered. It's going to be quite a blow, it's going to change things in the village for sure. It's hard enough keeping things alive here. That's a drawing card that's going to be gone.
"We are close to the bar where I live here and you'd look down and there would be people outside lined up waiting to get in, to get a seat.
"Between quadding and snowmobiling there were always people stopped—we've even had several horses tied up outside at the hitching rail there."
Tweet