World-Spectator Obituaries
---
The World-Spectator has started to keep an online archive of all obituaries as of January 2013. If you are looking for an obituary prior to January 2013 please contact The World-Spectator at 306-435-2445 for more information.
---
Leslie Mervin Roy
August 21, 1928– April 1, 2018
Leslie passed away at Deerview Lodge, Wawota on April 1, 2018 at the age of 89 years with his family at his side. He was chosen to continue his farming career in heaven. Leslie is survived by his wife Vera (Bujaczek), daughter Sharon (Doug) Moore—Jordan, Megan (Charles), Cody and son Jeff (Maureen)—Cassondra, Kirsten, Mariah and son C...
Michael Morrison Gadd
February 28, 1942-March 16, 2018
Michael Morrison Gadd, late of Saskatoon, passed away at Royal University Hospital in Saskatoon on March 16, 2018 at the age of 76. Mike was born in Sedgefield, County Durham, England on February 28, 1942 to Champ and Paddy Gadd. Mike went to teacher's college in Sheffield, where he met his wife, Jean Marsden. Mike and Jean were married on ...
Arnold "Glen" McGonigal
January 12, 1947- March 19, 2018
Glen passed away peacefully with his family at his side at Regina General Hospital at the age of 71. Glen was born in Moosomin, Saskatchewan and raised on their family farm in Coppice Hill District. He was the 16th child of 20 born to Isaac and Eliza McGonigal. He worked on Fred Fawcett's Farm in his younger years as well as for Jack Baker. ...
Gwenydd Eileen Bruce (Church)
July 22, 1927-March 22, 2018
In loving memory of Gwenydd Eileen Bruce (Church). Daughter, mother, grandmother. Born July 22, 1927 on farm north of Antler. Gwen passed away peacefully March 22, 2018 in Moosomin at the SEICC. Predeceased by her parents George and Elizabeth Church, siblings Reg, Betty and Jean, grandson Kiptyn, daughter-in-law Brenda and several broth...
Frances Isabella Strain
November 2, 1931 - March 24, 2018
Frances Isabella Strain (1931-2018), was born at Rocanville, Saskatchewan on November 2, 1931, the youngest daughter of David and Emma Gibson. She passed away March 24, 2018 peacefully with family by her side at Clover House Swift Current, Saskatchewan at the age of 86. She received her education in Rocanville and after graduation was employed ...
Vera Donaldson
March 14, 2018
Vera passed away peacefully, with family by her side, at the Southeast Integrated Care Centre on Wednesday, March 14, 2018 just hours before her 99th birthday. Vera was the second child of seven born to Frank and Olive Kirby of Spy Hill, SK. Vera will be lovingly remembered by her daughter-in-law Shirlene; her daughter Laurel (Joe) St.Onge; g...
James William Walker
June 26, 1928 - February 5, 2018
James William Walker, born June 26, 1928, Moosomin, passed away at Regina General Hospital, February 5, 2018. James was predeceased by his wife Muriel Graham in 2004; and Eva Haswell in 2016; his parents Samuel Walker and Florence Dodd; sisters Kelly Horsburgh and Dorothy Gillespie/Johnston. He is survived by sons Glen Walker of Regina, an...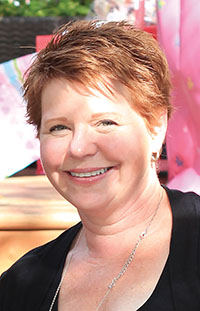 Tracy Dawn Huberdeau (nee McCutcheon)
December 27, 1966 – March 9, 2018
It is with great sadness that we announce the sudden passing of our mom, wife, memere, sister, daughter and friend Tracy Huberdeau (nee McCutcheon). Tracy passed away at the Health Sciences Center in Winnipeg, Manitoba peacefully and painlessly surrounded by her family on March 9, 2018 after a brief battle with an aggressive brain tumor that took h...
Gloria Jean Oliver
August 2, 1942 - March 18, 2018
Gloria Oliver of Maryfield, Sask., beloved wife of the late Ronald Oliver, passed away on Sunday March 18, 2018 in the Regina General Hospital. Gloria was born to Ted and Dorothy Adair. She attended Adair and Maryfield Schools before going to Regina to Business College. In November 1962 she married Ronald Oliver and had three children: Janice...