World-Spectator Obituaries
---
The World-Spectator has started to keep an online archive of all obituaries as of January 2013. If you are looking for an obituary prior to January 2013 please contact The World-Spectator at 306-435-2445 for more information.
---
Eleanor Elizabeth Hodgins
June 13, 1922-August 4, 2018
Eleanor was born June 13, 1922 on the family farm near Corning, Sask. to James and Esther McKay. She was the last surviving child of eight siblings with two sisters and five brothers. Eleanor passed away Saturday, August 4, 2018 in the Morris hospital in Morris, Manitoba. Eleanor attended Normal Shool in Regina.She was a school teacher in a ...
Olga Christina Crawford
March 15, 1927 - July 24, 2018
Olga was born at Piotrkow, Poland on March 15, 1927 to Adolph and Olga (Muller) Bock, the second of eight children. She came to the Wapella district with her parents and older sister Mary in May of 1928. She attended school at Kendalton and Cranbrook. When her father's health declined she took over a lot of the farming, working with livestoc...
Larry Gerald (Pike) Marsh
March 24, 1942 - July 16 2018
Larry Gerald (Pike) Marsh was born March 24, 1942 in Moosomin Hospital to Joe and Lauretta Marsh. He passed away peacefully with family by his side July 16, 2018 in Moosomin Hospital. At an early age Pike loved trucks. He began this career at an early age and continued until his health failed him. In 1992 Pike was diagnosed with MS, which ...
Shirley Isabell Frazer (nee Welcher)
March 18, 1932–July 18, 2018
Shirley Frazer passed away peacefully on July 18, 2018 in Calgary, Alberta. Shirley was born March 18, 1932 in Welwyn, Saskatchewan to Robert and Mary Welcher (nee Byers). She was the third of four children. Shirley married Alex Frazer in her home town in 1952 and shortly thereafter settled in the community of West Hillhurst in Calgary, Alber...
Wayne James Hirtle
April 20, 1943 - July 16, 2018
Wayne James Hirtle of Wawota, SK peacefully passed away on Monday, July 16th 2018 at the age of 75. Although diagnosed with cancer in November of 2013, Wayne faced his journey with great courage maintaining a positive outlook to the very end. His faith was strong. It gave him strength. Jehovah God was his guide. Wayne was born in Winnipeg, Manit...
Margaret Kathleen Preston (nee McQueen)
October 30, 1920 - July 6, 2018
Margaret Kathleen Preston was born to Donald and Blanche (Hall) McQueen on October 30, 1920, the eldest of three children. She was raised on the farm, going to elementary school at Riga and high school at Kelso, Saskatchewan. She married Arthur Preston on July 23, 1942 in Kelso United Church; they farmed at Kelso and Doonside. She became a memb...
Gavin Ronald Krieser
February 28, 2004 - June 7, 2018
Gavin Ronald Krieser passed away unexpectedly in an accident on June 7, 2018. Gavin was born February 28, 2004 in Brandon, Man. to proud parents Terrance and Cathy Krieser. He was the first born; a proud big brother to Carson, Mya, and Neelah and a wonderful grandson to Ron and Beth Canart of Elkhorn and Wayne and Roberta Krieser of Brand...
Bernice Elizabeth Poole (Anderson)
February 16, 1928 - June 21, 2018
Bernice Elizabeth Poole (Anderson) was born February 16, 1928 in the Manson district, where she was raised and educated. She spent a year teaching at a country school at Broomhill, Manitoba, and she also worked in the store in Manson. On October 28, 1948, she married the love of her life, Edward Arthur Poole. Together they farmed the origina...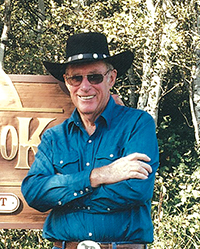 Grant Beckett
November 4, 1934 - June 26, 2018
Grant's life is lovingly remembered and celebrated by his wife Georgina of 62 years, Son Garry (Jacqui) granddaughters Aimee (Colin), great-granddaughters Sadie and Shae; Kari (partner Brennen) and Breanne. Son Wayne (Tammy) grandsons Kody (Monica), Kyler (partner Shania), granddaughter Chelan. Daughter Wendy (Terry), Gail (Lyle); Lori (Guy) grandd...