World-Spectator Obituaries
---
The World-Spectator has started to keep an online archive of all obituaries as of January 2013. If you are looking for an obituary prior to January 2013 please contact The World-Spectator at 306-435-2445 for more information.
---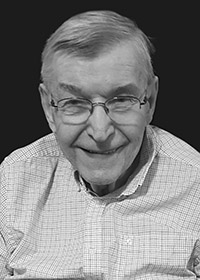 Wally Goliath
February 14, 2018
We are saddened to announce the death of Wally Goliath on Wednesday, February 14, 2018 after his heart condition worsened rapidly over the past month. Wally was predeceased by his loving wife Joyce; his parents Jim and Olga; as well as his brother Nick; sisters Edna and Audrey. His immediate family of sisters Joyce and Debbie; son James (wife...
Harold Kilpatrick
January 14, 1945-December 20, 2017
Harold Kilpatrick passed away on December 20, 2017 in the hospital at the age of 72. He is survived by his wife Edith, two daughters Shannon Churko (Rob), and Theresa Kilpatrick (Kevin Hughes). Two grandsons Patrick Collison-Kilpatrick and Noah Hughes. One granddaughter Zarina Hughes. There is no funeral service. There will be a come and go t...
Martin Mike Beitel
February 14, 2018
Martin passed away peacefully on Wednesday, February 14, 2018 at the age of 94 years. He is survived by his wife of 65 years, Emma; sons, Randy and Brian (Kim); daughter Linda; grandchildren, Jackie (Steve), Brittany (Corey), Jeffrey (Amanda), Stacey (Jordan), Lindsay (Brandon), and Shawn (Leanne); and seven great-grandchildren. Martin is also ...
Alfred Karl Steinke
August 19, 1931 - January 14, 2018
Our family announces with great sorrow the passing of Alfred on January 14, 2018. Alfred was born on August 19, 1931 to Adolf and Natalie Steinke at a farm near Wapella (34-15-32 W1). He attended Coot Hill School. Alfred and his brother Otto took over the family farm which they farmed together until Otto's passing in 1989. Alfred and ...
Bruno Pranke
February 2, 2018
Bruno Pranke passed away peacefully at the Whitewood Community Health Centre on Friday, February 2, 2018 at the age of 96 years. He was predeceased by his parents Peter and Martha (Kempin); one brother Arthur, his children's mother Hedwig and his son Wesley. Bruno is survived by his son Harvey, daughters Darlene and Jenny (Len) Sielecki; grandch...
Enid Marchant
September 14, 1928– January 23, 2018
Enid passed away Tuesday, January 23, 2018 in Saskatoon. She was predeceased by her husband Reg in 2012. A private family service will be held at a later date. Condolences may be left at www.prairieviewchapel.com. Arrangements entrusted to Prairieview Cremation and Memorial Services (306-242-7884)....
G. Merle Hambleton
September 3, 1920-January 27, 2018
Merle passed away at Pioneer Village Nursing Home in Regina with her family by her side. Born in Maryfield, Sask., Merle was the eldest of four children born to John and Margaret Hoey. In 1944 Merle married Allan Hambleton. Their daughter Beverley was born three years later. The family lived in Kelso and Kennedy before moving to Vandura i...
Clara Thelma Szafron (Eifler)
1932–2018
On Sunday, January 28, 2018, Clara Thelma Szafron of Moosomin, Sask. and formerly of Wapella, Sask. died at the age of 85 years. A celebration of life was held in St. Andrew's United Church, Wapella, Sask. on Thursday, February 1, 2018 at 11 am by celebrant Darlene Thomson. Reception followed the celebration in the Wapella School. Inte...
Pearl Wilson
1924 - 2018
Gladys Pearl Wilson passed away peacefully in her 94th year, on 18th of January 2018 at Deer View Lodge Nursing Home in Wawota, Saskatchewan. Pearl was born in Wolseley at her grandparents' home, first child of Elizabeth and John Lawrysyn. Her home was in Kipling where she lived with her parents and three brothers. After completing her scho...