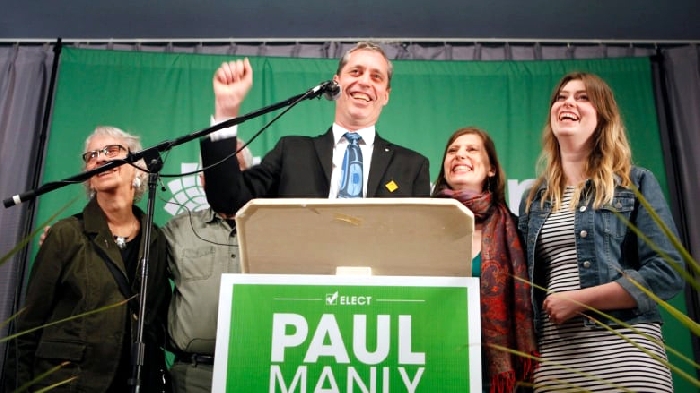 Greens win second seat with byelection win
May 7, 2019 1:33 pm

---
The Green Party has a second MP in the House of Commons after a byelection win in Nanaimo-Ladysmith, a riding on Vancouver Island, last night.

Paul Manly will join Elizabeth May as Canada's second Green Member of Parliament, marking the latest in a string of breakthroughs for the Greens.

Nanaimo-Ladysmith was formerly held by the NDP.

Sheila Malcolmson, who held the riding for the NDP before stepping down to run for MLA in provincial politics, won the federal riding in 2015 with only 33 per cent of the vote; the Liberals and Conservatives tied at about 23 per cent each, and the Greens were fourth at 20 per cent.

On Monday night, Manly's 37.3 per cent of the vote almost doubled the Green results from 2015, partly at the expense of the NDP, which dropped to around 23 per cent.

While the Conservatives slightly improved their vote, to 25 per cent, the Liberal vote collapsed, falling by more than half to 11 per cent – a fourth-place finish for the Liberals.

Maxime Bernier's People's Party won only 3 per cent of the vote in Nanaimo-Ladysmith.
Tweet