---
Gehl making his mark in mixed martial arts
November 20, 2019, 1:25 pm
Kara Kinna
---
Esterhazy's Zach Gehl is only 18 years old, but already the young adult is making his mark on the mixed martial arts scene.

Gehl has earned three world medals for his skills, and has had 97 titles or podium places since 2014 at various provincial, national and international competitions. He's also the first ever Saskatchewan martial arts sports hall of fame competitor inductee. And when he's not practicing his skills during the week, he's off to competitions on the weekends.

Gehl says he started into mixed martial arts when he was 13 years old as a way to give himself more confidence.

"In the last four years I've competed in mainly Brazilian jiu-jitsu, kick boxing, wrestling, and I have done a couple of tournaments with mixed martial arts," he says.

"I started when I was 13 because I was having some trouble at school getting bullied. My parents thought that it would be a good idea for me get into martial arts for the self-defense aspect and the self-confidence.

"I started it and really loved it and I've been doing it for four years now, and I'm at 97 medals after the whole journey, so it's been a great journey."


Gehl has taken his passion so far as to earn medals at the international level.
"I've competed on the world stage. I started provincially, then nationally, and now I'm competing internationally. My last fight was in Reno and I've been to Vegas, Minneapolis, New Orleans, Chicago—all over."
Gehl graduated this spring, and says his plan is to work towards going pro.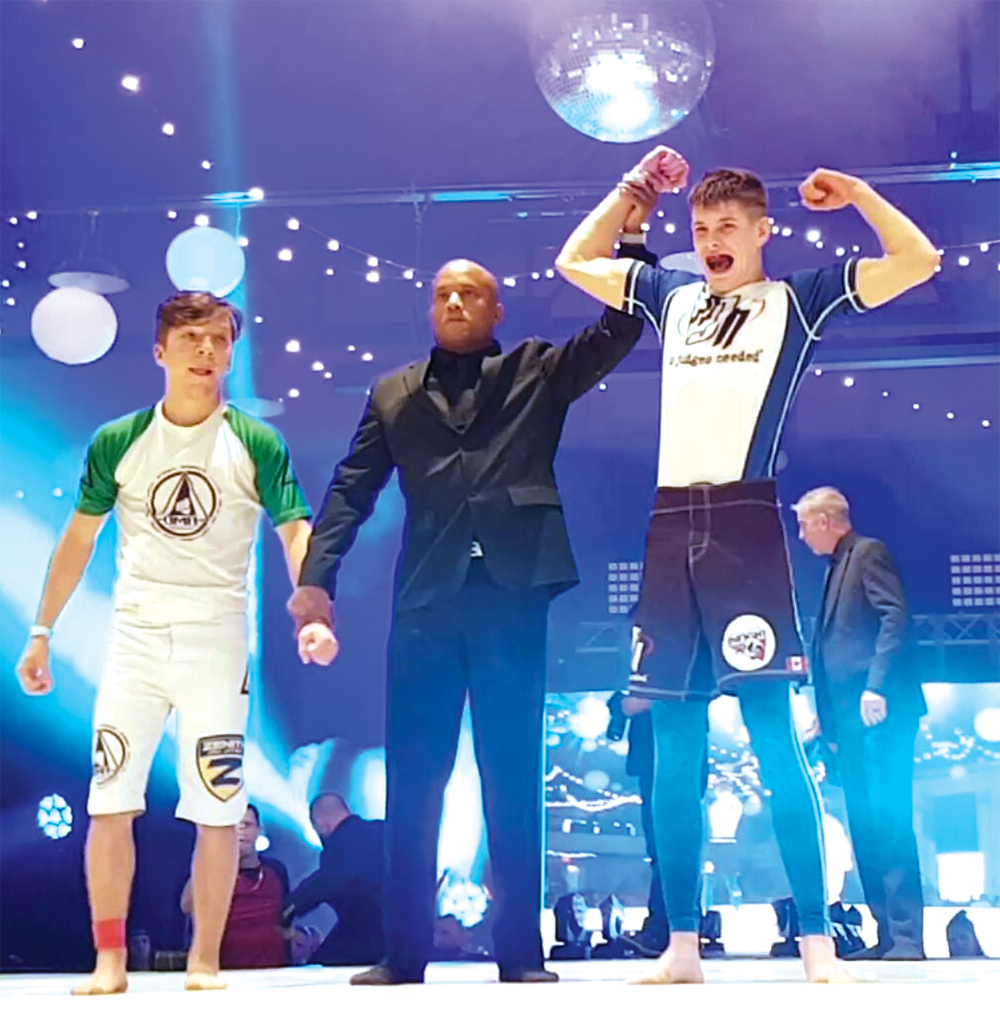 "After high school I'm definitely wanting to bring it to the next stage where hopefully I can become professional and hopefully get to the UFC—that level is the goal," he says.
What is it that Zach loves about martial arts so much?
"I was originally in team sports like football and that never really clicked with me, but getting into martial arts, it's an individual sport, so there is no way that someone can lose for you or win for you," he says. "It's only you against another opponent, but you have complete control of what happened, so that's definitely been a huge reason why I've decided to take this path, because it's just one-on-one competition and it's just something that really jives with me."
Gehl says, like any other sport, he started small and built up his skill level.
"My first year of competitions was all local tournaments. This is kind of like the story where you start at the bottom, because the first year I didn't win one match or win any medals. Eventually you start figuring things out and just keep training, and training five days a week, and you kind of just get to a point where you start learning.
"It was tough for me because I'm a really bad dyslexic so that really threw a wrench into learning because it is hard with the co-ordination, but after a year it really helped, and martial arts started clicking and I was able to figure it out, and I'm here now."
Gehl says he knew right from his first class that he liked the sport.
"Obviously the first class you don't know what you're doing but after it I was like 'you know, this is really great.' It was something that I need to keep doing. You find what you like to do and you just stick with it."
Gehl says his biggest accomplishments to date are three world medals. He says some of his latest fights, like the one in Reno recently, were also big accomplishments for him. Even though he didn't win, his competitor was 10 years older than him, and fighting at a high level, which makes him realize he has the potential to compete.
"Just being able to compete in this level is amazing, and then to win medals at it is even better," he says.
Gehl says his fight in Reno was the fourth of its type—an invitational fight in the adult bracket. "They call you and put you up against the best guy that they can find," he says.
What kind of training and time commitment is needed to compete at this level?
"In an entire week, I actually did calculate this, and it was 27 hours a week that I train, and that's including grappling, striking, mixed martial arts and strength and conditioning training.
"My school has been very accommodating because in the afternoon, after lunch for the last three years, I have correspondence classes on the computer, and I can do that and work around my schedule.
"Any time that there is a competition, pretty much anywhere, in jiu-jitsu or kick boxing or another martial art, we're going to it. In the past three years we've put 336,000 km on our car just driving to all these competitions and training. Basically almost every weekend I'm doing some sort of competition."
What is the ultimate goal for Gehl?
"Definitely it would be to get to the highest level, which would be the UFC, to be one of the best in the world in fighting—that's definitely the level I would like to be at," he says.
Gehl knows that more training will be needed to get to that level, which is why, now that he's graduated, he's planning to head south for more training in the States.
"To get to a level like that you definitely have to have amazing training camps. I've already decided where were going to go for it, and it will be the MMA Lab in Phoenix, Arizona. I've already been there once for a week, so I'll be travelling there for each one of my big fights when they come up.
"After I graduate high school, then I'll have time to train even more, and down there (at the MMA Lab) it is a super high level gym. There are UFC fighters in every class and there are classes all day where you train, and it is one of the best schools to go to to learn martial arts."
Gehl says he'll be travelling there about once a month.
From a kid with a lack of confidence to where he is today, Gehl says he's learned a lot since embracing mixed martial arts.
"Dedication to something really pays off," he says. "I've also learned that hard work beats natural talent and skill, because as I said, I started as a small guy with dyslexia that was getting bullied and I'm at this level now. So I guess the main thing is, if you dedicate yourself to something you can basically accomplish anything!"
Tweet
As of May 25, 2020, Saskatchewan has two new confirmed cases of COVID-19, bringing the provincial total to 634. One new case is in the Far North, and...
---