---
Plans made for Moonlight Madness, Santa Day
Moosomin Chamber of Commerce:
November 21, 2019, 6:54 pm
Kevin Weedmark
---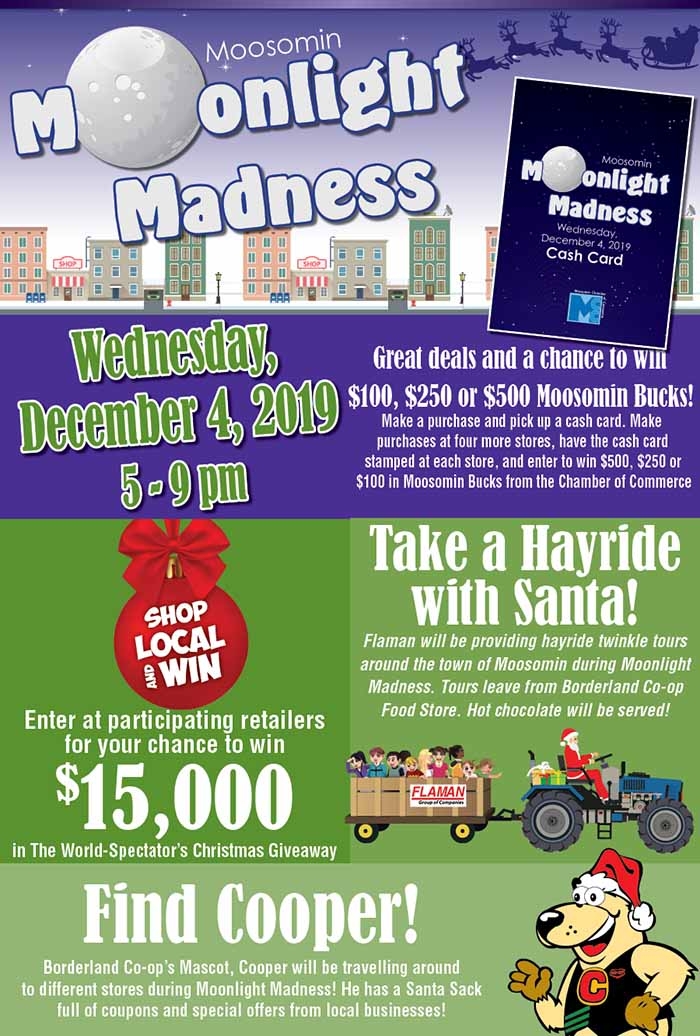 Upcoming events were discussed at the November meeting of the Moosomin Chamber of Commerce, held last Tuesday, November 12.

Moonlight Madness Dec. 4
Moonlight Madness is coming up Wednesday, December 4.

Chamber manager Kevin Weedmark told chamber members that posters and cash cards are ready for any businesses that want to pick them up and start promoting Moonlight Madness, which is set for 5-9 pm on Wednesday, December 4.

Customers can pick up a cash card at any participating business, such as a restaurant or retail store, and have it stamped with their first purchase.

Shoppers can then get their card stamped at each additional business where they make a purchase. Once they have filled their card, they can enter to win $500, $250 or $100 in Moosomin Bucks.

As well, Flaman will be organizing a hayride with Santa. Santa's haywagon will be leaving from in front of the Borderland Co-op Food Store. Hot chocolate will be served.


As well, Borderland Co-op's mascot Cooper will be travelling around Moosomin during Moonlight Madness with a Santa sack full of coupons and special offers from local businesses.
Weedmark asked business owners to let the chamber know if they are planning to be open for Moonlight Madness and he will ensure that they have cash cards and posters to participate. Interested businesses can contact kevin@world-spectator.com if they will be open for Moonlight Madness.
Santa Day Dec. 7
Santa Day on Saturday, December 7 will feature Santa photos in the morning, and a free movie at the Community Theatre in the afternoon.
The Kinettes will also host their comedy night that evening at the Armoury Hall.
Alyssa Jeannot of the Kinette Club told chamber members that Right At Home Decor will provide the backdrop, Debra Mavin Photography will be taking the photos, and Borderland Co-op will provide the Santa Day treats.
The cost of Santa Day photos will be $10 per photo to $25 for three poses.
Photos will be available from 9 am to 12 noon, and everyone who has their photo taken with Santa will also receive a pass for the afternoon matinee of Arctic Dogs at the Moosomin Community Theatre, and a free small popcorn, all sponsored by the Chamber of Commerce.
Chamber manager Kevin Weedmark said there are posters made up to help promote the Santa Day photos and they will be distributed to businesses or businesses can pick them up from the World-Spectator office.
Keeping Lenox Safe
Alyssa Jeannot spoke about the Keeping Lenox Safe Committee's plan for a fundraising online auction.
The group is raising funds for initiatives to keep the community safe for Lenox Nosterud, who will be immune compromised when he returns from leukemia treatments in Saskatoon.
Donations for an online auction are being accepted until November 25, and the auction will begin November 29.
"In Moosomin we haven't had a whole lot of experience with young people and leukaemia," Jeannot told chamber members. "Our school is wonderful, our community is wonderful, but they're not really set up to keep someone who is immunocompromised safe."
"We hope to be able to sponsor a blood donor clinic in Moosomin, and the money raised might also be used for things like hand sanitizers in public places to help keep anyone who is immunocompromised safe.
"Lenox's prognosis is good, it's 98 per cent curable leukaemia and that other two per cent is risk factors of him getting sick with something like a common cold that wouldn't hurt you or me, but would affect him drastically.
"We want to make things safe not only for Lenox but for future students who are immunocompromised."
Kevin Weedmark told chamber members donations for the online auction can be dropped off at Conexus Credit Union in Moosomin or the World-Spectator office.
Spookarama a success
RCMP Cst Trina Brace attended the November Chamber of Commerce meeting to thank business owners for their support of the Spookarama initiative.
Spookarama is a school dance organized by the community on Halloween night. Businesses donate prizes that are drawn for over the course of the night.
"For everyone who donated, thank you so much, the kids really appreciate it," Brace told chamber members.
She said more than 75 per cent of all high school students in Moosomin attended the dance.
"From an RCMP perspective, it was a great night," she said. "There was no interaction with the youth in our community, so that's always a plus.
"We had a lot of adults volunteer their time toward it and that was fantastic. It made the evening a lot easier with so many adults there supporting it.
"We want to say thank you, thank you, thank you to everyone in the community because if we didn't have the support of the businesses and members of the community we wouldn't have been able to do this for the kids."
Kevin Weedmark thanked Brace for her work chairing the committee. "You and your committee did a great job organizing this, so thanks, thanks, thanks for the work that you and your committee do to organize this for the community each year."
Need for cyberinsurance
Lindsay Oliver of Hub Insurance in Moosomin spoke about the need for insurance against cyberattacks.
"Theft has changed," she said. "Cybertheft is on the rise and we can no longer afford to be unprotected.
"No matter how much a company invests in cybersecurity, they will never be 100 per cent secure. The purpose of an insurance policy is to respond in the event that the worst happens.
"Even if you outsource your IT, you are still liable.
"Any business that relies on computer systems to operate has a very real cyberexposure. Cybercriminals target the most vulnerable companies, not just the most valuable."
She said a specific cybercrime policy is an important thing to consider for many businesses.
"The number of cyberclaims continues to rise in both frequency and severity, and insurers are paying out," she said. "It is a sad reality that this is happening in the world today. It is very important to know how to protect your business from this risk."
Tweet