---
Opposition, business groups call for more business supports
March 23, 2020, 10:48 am

---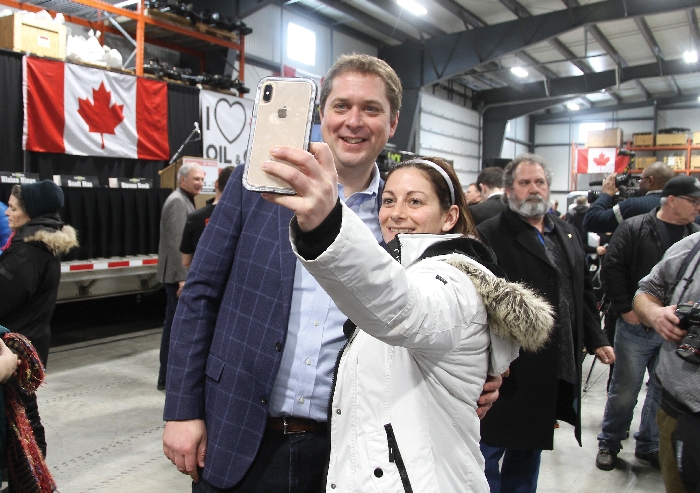 The Official Opposition and four national business groups are calling on the federal government to assist small businesses with more support during the Covid-19 crisis.

While some businesses have closed temporarily due to the pandemic, others, such as those serving industries such as agriculture that has to get moving this spring, are saying they need to find a way to keep operating despite the pandemic.

Four of Canada's leading business organizations are calling on governments to support a national effort to protect jobs and to postpone non-essential new measures.

The Business Council of Canada, the Canadian Chamber of Commerce, the Canadian Federation of Independent Business and the Canadian Manufacturers & Exporters Association

"Canadian businesses are ready and able to step up to overcome the challenge of COVID-19. We will work to ensure that Canadians have the food to feed their families, the fuel to heat our homes and to keep essential services moving, the equipment and facilities to treat the sick and the communications systems that unite us even as we are kept apart from one another," the four business groups said in a statement issued this weekend.

"To win this fight, we need every possible human and financial resource and we must be able to focus all of our attention on this struggle. The proposed 10 per cent wage subsidy for small businesses was a step in the right direction by the government. But more needs to be done to help businesses and workers through this crisis and maintain the connection between employers and employees.

"We call on governments to provide more direct funding for employees. Other countries have recognized this need and are offering to cover as much as 80 per cent of the incomes of workers who are laid off as a result of the health emergency. We encourage the government to backstop the economy by implementing income supports at similar levels as Denmark and the United Kingdom.

"We also ask governments at all levels to support our efforts by postponing any increases in taxes, non-essential new regulations, and unnecessary consultations that take us away from this mission. Businesses and governments need to be focused 100 per cent on the current crisis, leaving other priorities aside until the crisis abates.

"We thank Canada's governments for their efforts to mobilize Canadian society to win this fight. The business community is ready to meet the challenges we will face in the coming weeks and months. For the first time in decades, the entire country and the entire world is focused on one problem. Governments and the business community must collaborate in new and innovative ways to support Canadian families while we try to solve it."

Opposition Leader Andrew Scheer also called on the federal government to increase the amount of support for businesses to help them make it through the Covid-19 pandemic.

"Conservatives will always support measures to put more money in Canadians' pockets during this unprecedented time and we are ready to return to Ottawa next week to pass the government's emergency legislation," Scheer said.

"Small businesses across the country are being particularly hard hit by this crisis and need urgent support. Employers are being forced to lay off workers and have no idea how or if they will survive. Unfortunately, the federal government's response to date has fallen far short of meeting their needs.

"Conservatives are calling on the federal government to increase support for small businesses and workers, by:

• Significantly increasing the wage subsidy to protect workers;

• Refunding all GST remittances to the small businesses that collected them in at least the last six months; and

• Backstopping banks that extend low interest loans to small businesses.

"To be clear, Conservatives will support the government's emergency legislation next week," Scheer said. "We will also continue to put forward constructive solutions to keep Canadians healthy and safe and to support them during this difficult time. Now more than ever, the government must provide answers and clear timelines so that Canadians know when they can expect to start receiving support."

Background on Conservative proposals:

Significantly increasing the wage subsidy to protect workers: Many small businesses have already seen catastrophic drops in revenue and are being forced to lay off staff. The 10% wage subsidy the federal government has announced is not adequate to keep workers employed and falls far short of what other countries like the UK are offering.

Refunding all GST remittances to the small businesses that collected them in at least the last six months: Half a million Canadians, or about 2.5% of the labour force, applied for Employment Insurance this week, smashing previous records. By returning GST to the small businesses that have collected it, employers will have the necessary cash flow to cover immediate expenses, including wages, and stay afloat.

Backstopping banks that extend low interest loans to small businesses: The $10 billion offered by EDC and BDC is wholly inadequate, given that Canada's banking system has $380 billion in outstanding business loans. Hundreds of thousands of small businesses are potentially facing financial distress and require support. The UK has already announced a 'Coronavirus Business Interruption Loan Scheme,' that offers attractive terms for both businesses and lenders, by providing a government-backed guarantee for 80% of the facility value.
Tweet