---
One killed, one injured in Snowbirds crash
May 18, 2020, 9:50 am

---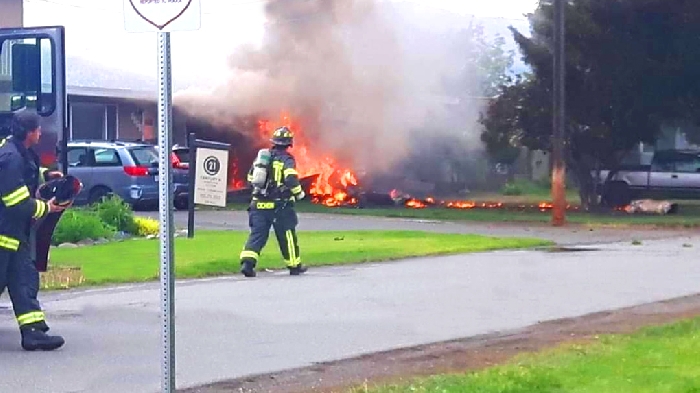 One of the Canadian Forces Snowbirds, which did a flypast in Moosomin Tuesday, crashed Sunday in Kamloops Sunday as the Snowbirds continued on their way across the country.

One person has died and another was seriously injured in the crash.

Capt. Jenn Casey lost her life in the crash.

The jet crashed and burst into flames in the front yard of a house in Kamloops.

The crash happened shortly after the jet took off from the Kamloops Airport.

Witnesses say it was following another jet when it appeared to veer upward and circle the tarmac before going into a nosedive.

Video shows two puffs of black smoke coming from the plane and appears to show the pilot ejecting from the jet shortly before it hit the ground in a residential area.

"This is a developing situation," the Department of National Defence said in a statement Sunday.

"Our number one priority at this time is determining the status of our personnel, the community and supporting emergency personnel."

Emergency crews from the Kamloops Airport are responding to the incident, the department said.

B.C. Health Minister Adrian Dix said one person was taken to hospital after the crash.

The Snowbirds had arrived in Kamloops on Saturday after flyovers in Manitoba, Saskatchewan and Alberta over the last few days.

The Snowbirds aerobatics team was scheduled to do a flyover of the Okanagan area Sunday as part of Operation Inspiration, a salute to Canadians and front-line workers during the COVID-19 pandemic that started earlier this month in Nova Scotia.

On Sunday morning the Snowbirds tweeted some mountain passes had low cloud cover, which would be unsafe to fly through.

In an Instagram story post on Saturday, a Snowbirds pilot said the team was in Kamloops and was dealing with some electrical malfunctions.

Video of two Snowbirds taking off on Sunday shows one jet veering into the sky before plummeting down shortly after takeoff.

This is the second crash for the Snowbirds in less than a year.

Another Snowbird crashed in Georgia last October, where the team was scheduled to perform an air show.

Capt. Kevin Domon-Grenier sustained minor injuries when he ejected from the plane, which crashed into a farmer's field. No one else was hurt.

The Tutor jets flown by the Snowbirds were bought by the RCAF in 1963 and have been used by the snowbirds since 1971.
Tweet