---
Hindley, Kaeding visit Esterhazy
Discussion on new health facility
July 20, 2022, 9:39 am
Kevin Weedmark
---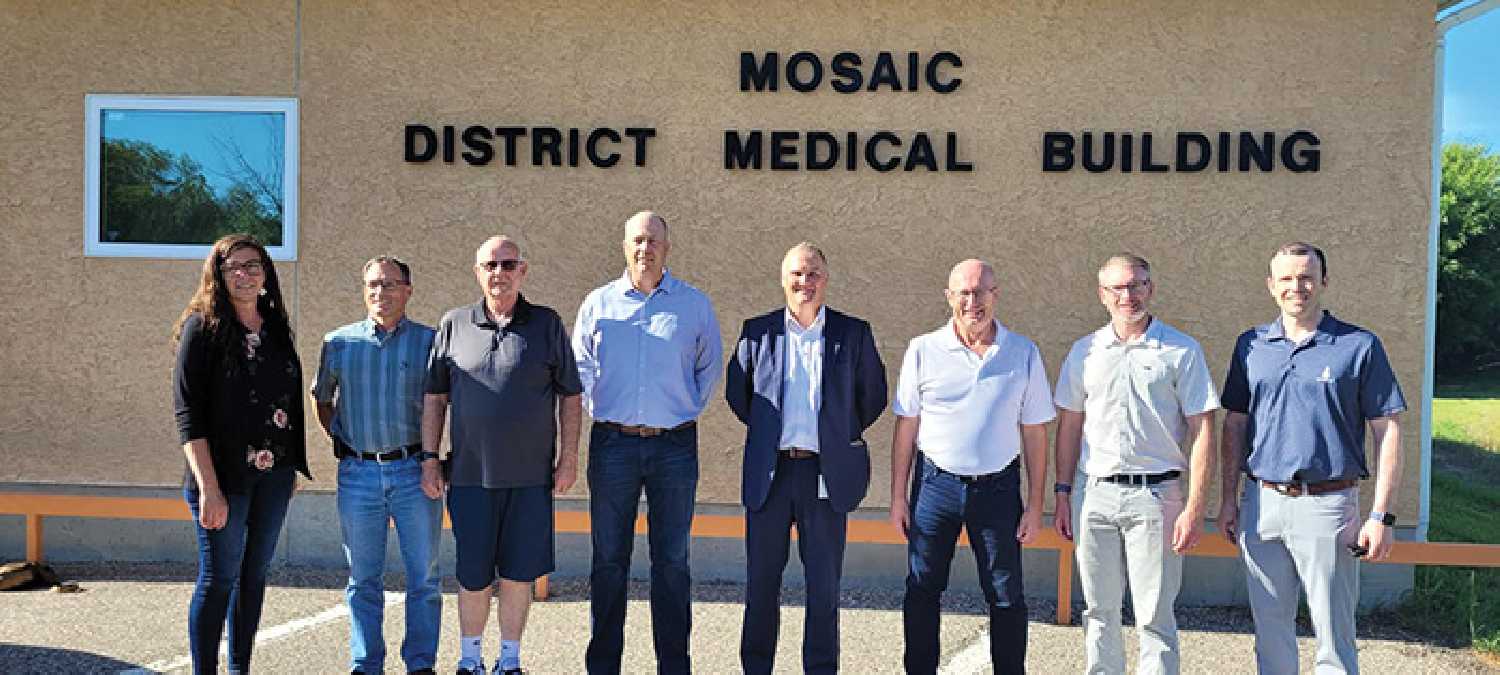 Saskatchewan Rural Health Minister Everett Hindley, Saskatchewan Health Authority officials and Melville-Saltcoats MLA Warren Kaeding visited Esterhazy Wednesday.

The community has raised funds for a new health care facility and is waiting on funding from the provincial government to proceed.

The officials toured The Mosaic Esterhazy mine and local Health facilities.

They met with St. Anthony's Health Foundation and Esterhazy Economic Development and Council to discuss Esterhazy and area growth potential and potential of a new integrated health facility.

Esterhazy Mayor Grant Forster said there has been an ongoing process to convince the provincial government it's time for a new health facility in Esterhazy.

"It's been an ongoing thing with our Health Foundation folks," he said. "They've been dealing with various levels of SHA people and government over the last couple of years and trying to get individuals of a certain level of responsibility to come out here and take a look at the town, to get a feel for who we are and what we have, the state of our facilities, and that sort of thing. The Foundation Chair, Don Hood, and Don Bernath, the vice-chair, gave us lots of advice. They were the big pushers on this. They've been dealing with Warren Kaeding, to have him facilitate a meeting with the minister.

"It's been a two year process, if not longer. It's been certainly two years since I've been involved and it's been going on. We were finally able to pull it together Wednesday thanks to Warren's efforts in getting a commitment from Health Minister Everett Hindley to come out, and the senior staff from Sask Health."

Forster said there was a tour of the Mosaic Esterhazy mine in addition to meetings in Esterhazy.




"In the morning, individuals went on a tour underground at Mosaic K3 just to get a feel for what an underground operation is and how a need for a hospital is paramount with an operation like that.
"Then there was a tour of some of the bigger farms, they looked at the surface operations of K1 and K2. Then they had a meeting with some Mosaic individuals to wrap up the morning and then for lunch they were joined by some members of council and staff. The presentation that we made was a joint effort of town and EDC. Then the Foundation did a presentation on behalf of the Foundation as well as a local girl, Claire Norek, who was in quite a horrendous accident here a couple years back where she got hit by a truck while she was on a side-by-side. She was there and she told her story of how if it wasn't for our hospital she wouldn't be here today.
"She kicked off the afternoon session after lunch, told her story, and then the Foundation had their presentation. We wrapped up the afternoon with our presentation and it basically said here's who we are and what we have in town, here's our demographics, our population is holding steady and the area population is holding steady. There are lots of kids, lots of seniors and why we need an upgraded or brand-new facility."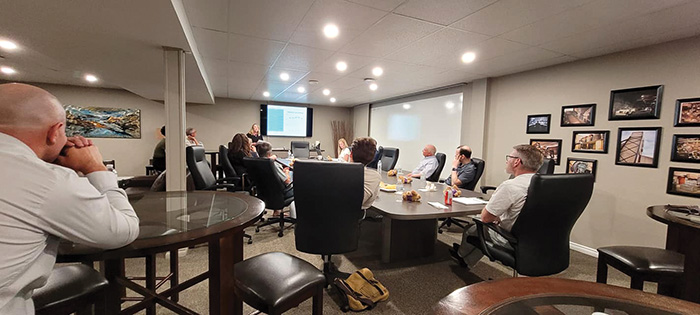 Forster says he thinks Esterhazy's message was heard by Hindley and the government officials.
"We felt we were very well-received by the minister as well as the senior staff," he said. "In fact, when the day ended everyone was smiling at how well it went. As we were making the presentation and watching the faces in the crowd and seeing the notes that they're taking at the specific points that we tried to make, we knew they caught the points that we were trying to make. That told us that we did a good job in that. Basically we're at that point where we're expecting some dialogue to happen between Sask Health and the Rural Health Minister, so I'm hoping that sometime soon—and realistically it's not going to happen until the next budget—but we're hoping that we've made a big enough impression between all the groups that spoke yesterday that we'll be able to get an announcement on some planning dollars, that says that the Esterhazy hospital is going to proceed."
Forster said fundraising for the facility has been going on for a long time. "The fundraising started with the charity golf tournament about 20 years ago. That was initially for raising money for equipment and then about 10 to 12 years ago the activity ramped up to start raising the money towards a new facility after Don Hood reached out and spoke to various members of government to just get some answers on what we need to do to get this going. Basically at that time it was determined that the standing requirement for any small town to be able to get an upgraded facility was a 20 per cent commitment. Our best guess is it's going to cost us somewhere in the neighborhood of $50-60 million and we've raised in excess of $10 million that we've raised locally. So we've met our 20 per cent commitment locally, so now we're just basically waiting on the next steps from the provincial government."
Forster said he believes Esterhazy made its case very well.
"The foundation people impressed on him that people are tired. They've been donating money, they've been donating time and things to the cause and they're frustrated because nothing has happened. He did acknowledge that he understands that there's burnout from people. They've been speaking with their wallets and nothing has been happening. To me, the fact that he made that comment tells me that he got it and understands where they're at.
"We understand that it takes a long time but we've come to that point where we need something concrete that we can take to the people and say 'look, it's going to happen. The government is committed. They've given us X number of dollars now to begin planning and designing a facility and what we expect to see in the facility and those sort of things. That's really what we're after at this point."
Forster said he's happy the community had a chance to make its case.
"We've had our opportunity, now let's give him an opportunity to digest it and meet with his staff and the Sask Health people. Hopefully they come up with the right answer for us. The good thing, in my mind, is that at least three of the staff that were there along with the Minister were all small-town people so we weren't a bunch of country-folk trying to convince the city-folk that you need to put a hospital in Esterhazy Saskatchewan."
Forster said he is happy to now leave the ball in the province's court.
"It's up to them, now. I believe that the next budget will be the time and I'm confident that it's going to happen. We have a lot more reason to be optimistic after yesterday's meeting than we had in the past."
Tweet