---
Monument created to remember the children of residential schools
September 25, 2023, 3:27 pm
Ashley Bochek
---

An 18-foot, 7,000-pound monument to children who suffered at Residential Schools is in Saskatchewan until October 2, as it makes its way from Vancouver Island to the Canadian Museum of History in the National Capital Region.

The monument is in front of the RCMP headquarters on Dewdney Avenue in Regina until October 2. There was a ceremony held there September 9.

"We represent the children. I want to give those children—our children—a voice," said Kwakiutl carver Stan Hunt at the ceremony.


"The monument tells the truth of Canada in a time that was very dark for us."
Hunt is a master carver who uses only traditional tools and methods to create his works of art.
The monument shows the faces of children, and is topped by a raven holding the "seed of life" in its beak.
The monument is black and orange—"the black for the dark time of history, and the orange for Every Child Matters," Hunt said.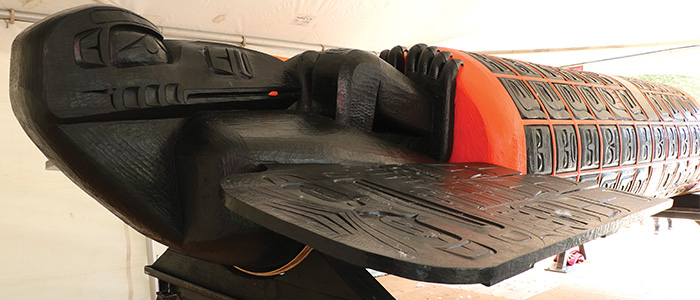 The faces of the children that cover most of the monument have anguished expressions.
Hunt said he wanted people across Canada to see those expressions, and to react to those faces.
"If you look closely at all the faces that are on that monument, no faces are smiling. They're all in different degrees of grief," he said.
It took four months to conceptualize and plan the monument before he could start to work on the months-long carving process, he said.
Federal RCMP Commissioner Mike Duheme was at the ceremony in Regina.
He said as the police service looks back on its 150-year history, those dark chapters are important to reflect on.
"We are committed to reconciliation," he said.
The monument will be on display until Oct. 2 outside the RCMP headquarters on Dewdney Avenue in Regina before it continues on to the Canadian History Museum.

Tweet