---
Saskatchewan's GDP growth to lead Canada in 2022
Alberta second highest, Manitoba third
June 7, 2022, 4:08 pm
Kevin Weedmark
---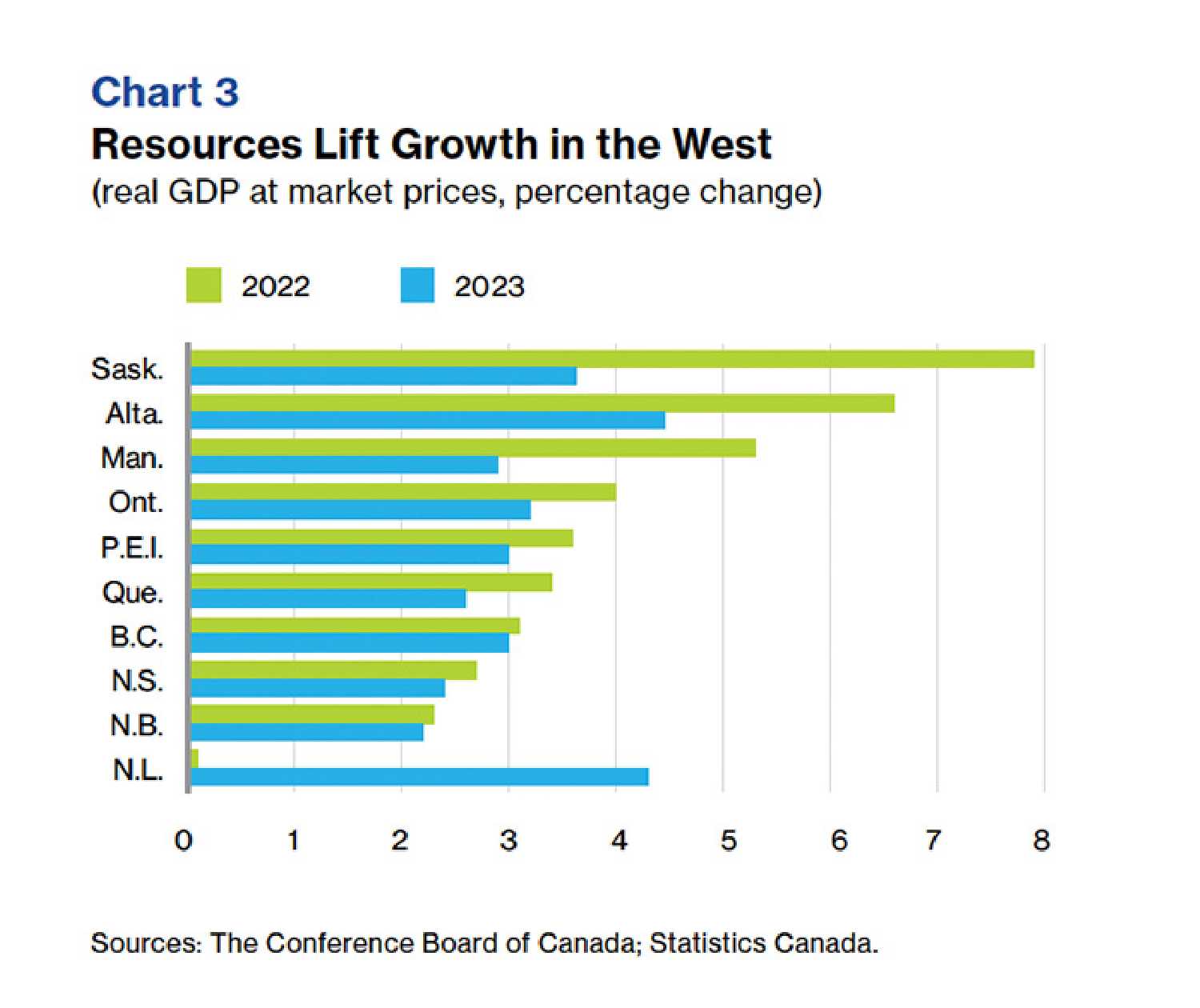 Real gross domestic product (GDP) is set to rise by four per cent in Canada in 2022 and 3.3 per cent in 2023 according to a report from the Conference Board of Canada released last week.

Saskatchewan, Alberta, and Manitoba are projected to lead GDP growth in Canada this year, driven by the energy sector and other key commodities that have all been affected to some extent by Russia's invasion of Ukraine.

The Conference Board of Canada anticipates significant growth in Saskatchewan's economy in 2022, with the provincial economy growing by 7.9 per cent. Although agricultural yields will be below average, soaring wheat prices will help the agriculture sector. The 7.9 per cent growth in 2022 will be followed by 3.5 per cent growth in 2023.

Excluding agriculture, Saskatchewan's economy grew by 4.1 per cent in 2021.

According to the Conference Board, "World markets for many of Saskatchewan's key resources (wheat, potash, oil, and uranium) have all been affected in some form or another by Russia's invasion of Ukraine."

That includes higher values for exports of agricultural products, minerals and oil.

"We expect widespread growth across the province's mining industries," says the Conference Board report. "Earlier this year, Nutrien announced production increases of one million metric tonnes across its six operating potash mines in the province.

"Oil production was relatively flat in 2021. But as prices picked up, drilling has followed suit, and we expect that to translate into output increases in 2022. Overall, mining output in the province will post an 8.3 per cent gain in 2022 and a 3.5 per cent increase in 2023.

"Multiple big-ticket investment projects are also set to break ground over the next two years. Three canola processing plants, an integrated canola processing and biodiesel facility, and a pulp mill are all on deck. And with two shafts nearly completed at BHP's Jansen potash project, construction on Stage 1 will soon begin in earnest, with production on track to begin in 2027. We expect the construction sector to grow by 7.4 per cent this year and another 5.3 per cent in 2023.

"Housing starts in Saskatchewan picked up over the past two years after a long stretch of low growth following 2014's commodity price crash.

"The rise in starts has kept the province's housing market balanced and avoided the dramatic price increases seen in many other Canadian real estate markets. With supply having risen to meet the elevated demand that arose over the course of the pandemic, we anticipate a pullback in housing starts in 2022 as interest rate hikes cool demand for new homes. That won't become a trend, however, as starts will pick back up in 2023 and post double-digit annual growth over the remainder of the forecast period."

Following a significant contraction in 2020, The Conference Board of Canada forecasts Alberta's GDP to grow 6.6 per cent in 2021 and 4.7 per cent in 2023. The oil and gas sector is anticipated to play a major role in the province's growth. Alberta is also set to see major investment in petrochemical manufacturing, with construction of three major facilities set to begin over the next two years.

Despite growing by just 1.2 per cent in 2021, The Conference Board of Canada expects Manitoba's real GDP to be in much better shape over the next two years. Spurred by a return to growth in the resource sector, increases in manufacturing, and a major jump in transportation and warehousing will see Manitoba's real GDP grow by 5.4 per cent in 2022, followed by another good year of 2.9 per cent growth in 2023.

Manufacturing will get a major boost from the first full year of production at the newly constructed pea processing plant in Portage la Prairie (a $600-million investment that produced the largest plant of its kind in the world) and from Maple Leaf Food's newly expanded meat processing plant. Both these projects came online in the fourth quarter of 2021.
Tweet