---
Mother and daughter are happy to arrive safely in Canada from Ukraine
November 14, 2022, 9:58 am
Sierra D'Souza Butts
---

After spending six months living in Ukraine during Russia's invasion of the country, Olha Volokh and her daughter, Zlata, have finally arrived in Canada safely.

The two arrived in Moosomin, Saskatchewan in the first week of November. They were picked up by a local Ukrainian community member, Roman Chernyk, at the airport in Regina on Nov. 4 and were brought to town.

"We are from Poltava, it's the region in the central part of Ukraine to the east of the Kharkiv region," said Olha.

"We are near the region Zaporizhzhia where there is this nuclear power plant. We were staying in Ukraine for six months just hoping for the better, that this war would end as soon as possible."

Russia's invasion of Ukraine has been going on since March of this year and unfortunately, no one knows when it will come to an end.

"The power stations were attacked," said Olha.

"Most of the time our country had no light and was out of electricity because all of the main electric stations just crashed. Our government has been doing emergency repairs, but it doesn't compare with the complete renovations that the stations need."

Although Poltava was not a direct target from Russia's missile attacks, Olha said she still witnessed explosions happening in the country.

"I saw one rocket just shoot at the mall, we saw the people inside and it was in my native city," she said.

"They hit right inside the mall. It's the central mall, there was a lot of people and I just froze that day because (I was thinking) my parents could be there, my friends could be there.

"You know the war makes you rethink all the things that happen in life and that all the materials things don't matter anymore.

"You just appreciate every morning. You appreciate when your parents pick up the phone. You appreciate when your child can smile again," she said tearfully.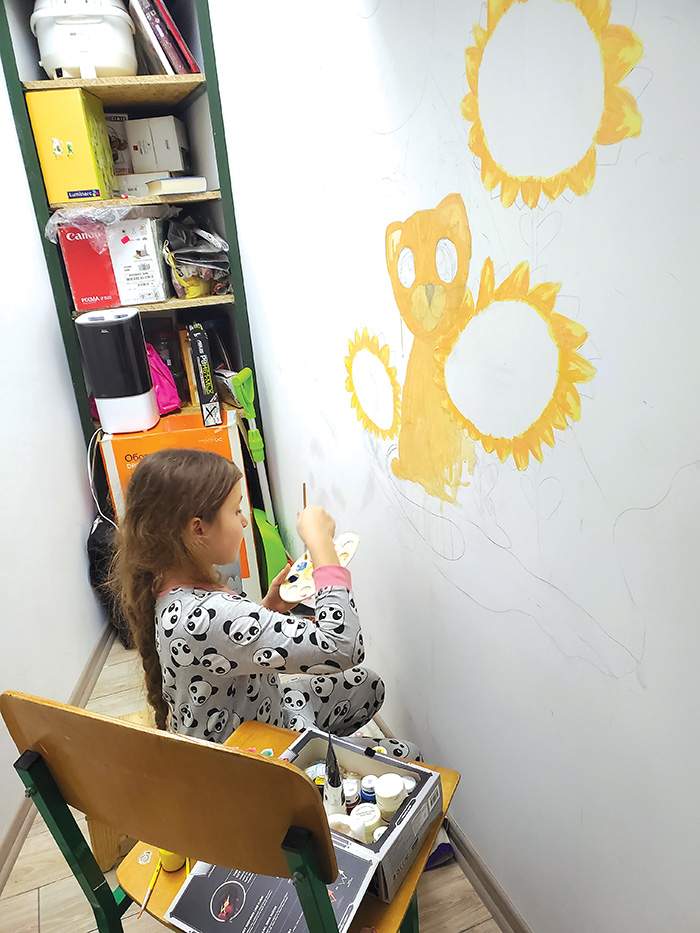 "Because my child used to sleep in a closet for six months. The walk-in closet (we stayed in) had no windows, and for the first few months we were hiding in the shelters, but it's really hard to run up and down to the shelter and be there for a couple of hours.
"We decided to stay in an apartment, in the room where there's no windows and if something explodes, you hope that you'll be safe.
"In this walk-in closet we drew pictures on the walls to make it feel like a cozy place. My daughter made a painting and I helped her.
"Time flies and you begin to get used this, and all these alarms, nine a day, it really inflames your brain. You have this anxiety all the time and you have this awful feeling of fear inside of you. It's like this stone that cannot be removed."

Being a parent while trying to survive the war
Olha was asked how it felt being a mother during these difficult times.
"You know when you become a mom you begin to have these super powers," she said.
"You're not allowed to be weak. You're not allowed to be afraid. You have to smile, you have to be confident, you have to be strong because your daughter is always mirroring you.
"I want her to be as mentally stable as she can be because she has her whole life ahead. I don't want her to be affected by this in the future because the war affects you a lot.
"The kids in Ukraine, they're afraid every time they hear a harsh sound, like a storm or an indication that something is falling down, they jump. It's painful to watch. "
The process to come from Ukraine to Canada was not easy for Olha and her daughter.
As soon as it was safe enough for women and children to leave Ukraine, Olha said she began to look for a job so that the two of them could leave the country.
"It was a sign for me that if I found a job, I could go anywhere and work there, but I wanted to be in a safe place," said Olha.
"I began to look for a job in Canada, and Kara and Kevin, they are precious people. I can't thank them enough.
"From the very first minute of the interview I was so impressed by their attitude. They emailed me just 10 minutes after the interview and I was just so nervous, but they said I was the perfect person for this position and I wanted to faint," she smiled.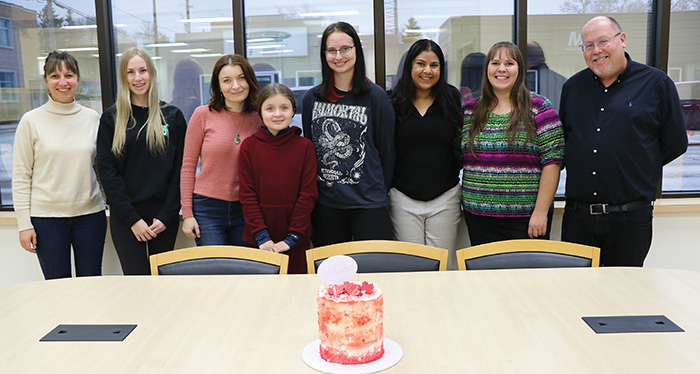 "My husband said, 'It''s a sign, you should go,' and he is very supportive. He stayed in Ukraine because he's not allowed to cross the border. My husband supports us a lot, mentally, emotionally, and financially."
Before arriving in Canada, Olha and Zlata had to travel to Poland to get their Canadian Visas.
She said because there are so many refugees, there are busses continually going to places like Czech Republic, Germany, France and others.
"We stayed in Poland when I visited the Visa centre in Warsaw," said Olha.
"I got my biometrics done and they said to wait for the results. We couldn't go back to Ukraine because they took our passports for the process."
While waiting for all of the paperwork to go through, Olha and Zlata stayed in Poland for two months before coming to Canada.
"I began to look for an apartment. We were staying in a hotel. It was good, but there was no kitchen there, we didn't have a fridge, it was hard with a kid to have those living conditions," she said.
"When I began to look for an apartment it was interesting because no one would rent you an apartment for a few months, they wanted you to be there for at least a year.
"We stayed in a hostel which was very friendly. Zlata liked it a lot, she even didn't want to leave, but when she came here from the very first evening, she said, 'I understand now why you and my father chose Canada.'
"Now, she understands because she was impressed from her very first step off the plane."
From the moment Olha and Zlata stepped foot off the plane in Canada, they were grateful to be here, Olha said.
"Every one of the flight attendants gave Zlata candies. They were smiling to her. This immigration officer from Toronto who was giving us work permits and visitor records, he was so friendly," she said.
" My daughter had red, sleepy eyes after the 20 hour flight and he offered her his chair to lie down, it was heart warming, really a touching experience."
Thankful to be a part of the community
Being in Moosomin for almost a week now, Olha said she is so grateful for her Zlata to be here.
"I'm so impressed by the hospitality and the friendly attitude everyone has," she said.
"From the very first moment we arrived, Roman Chernyk met us in Regina. He showed us where to buy warm boots and other stuff. Then he managed everything with the home, furniture, clothes and even kitchenware.
"I can't be thankful enough for all the help. We have this beautiful apartment, that Sheilagh from the housing authority gave us, and compared to living to Vancouver or Toronto, it's almost free. The rent is affordable, it's like $2,500 for rent in Vancouver, I would've never been able to handle that on my own."
Aside from Moosomin being more affordable to live in compared to other places in Canada, Olha said she enjoys how community-oriented the town is.
"This city is small, but it's like Stars Hollow from Gilmore Girls, it reminds me a lot of that," she smiled.
"It's really convenient that you can just reach your school, your workplace or the market in 10 minutes.

"We are just really enjoying this town. We have small towns in Ukraine, but there's not such a friendly community like here. We have friendships with other families there, but not like here where the whole town is like one big friend group.
"I was just enjoying coffee the other day and I was watching all the Canadians, they're incredible, really friendly."
Being in the community has brought back a sense of normalcy, she said.
"When the war started I lost all the trust in people, but here, I guess I found that trust again," Olha said.
"You know, we Ukrainians and Russians we are friendly nations because we are so united that you'll have relatives and family in Russia, or maybe in one family, there's a wife from Russia and the husband is from Ukraine.
"I never expected this situation from our neighbor, I could never imagine this to happen, it's awful.
"My advice is to never take the peaceful times for granted. We are blessed that we can enjoy our mornings, every morning is precious and I wish no one has to ever experience the war in their life."
A warm welcome to Moosomin
Olha and Zlata were given a warm welcome to Moosomin on Thursday, November 10 when they attended the Jess Moskaluke concert hosted by the Moosomin Shrine Club at the Conexus Convention Centre.
At the concert, an announcement was made welcoming them as the newest Moosomin Ukrainian residents, and the audience applauded as they stood to be introduced.
Jess Moskaluke also welcomed them before singing her song Mapdot at the concert. The song Mapdot talks about small-town life and Moskaluke welcomed Olha and Zlata before singing the song, then met with them after the concert for a photo and a visit back stage.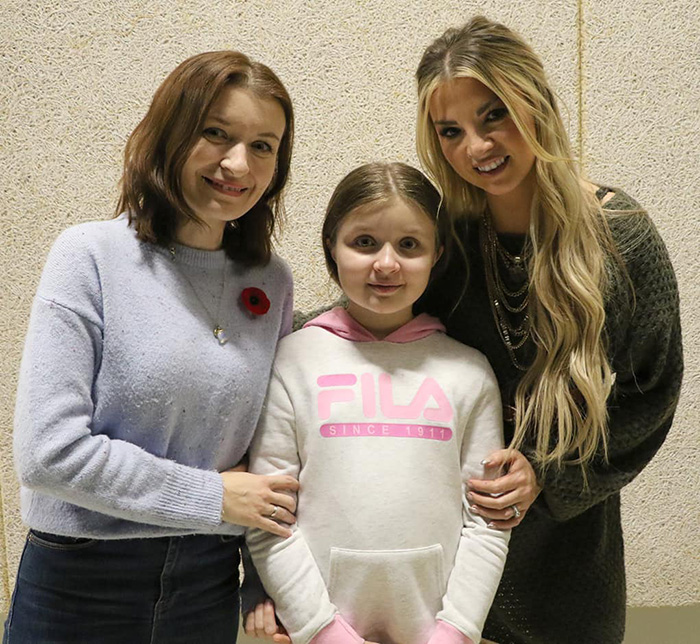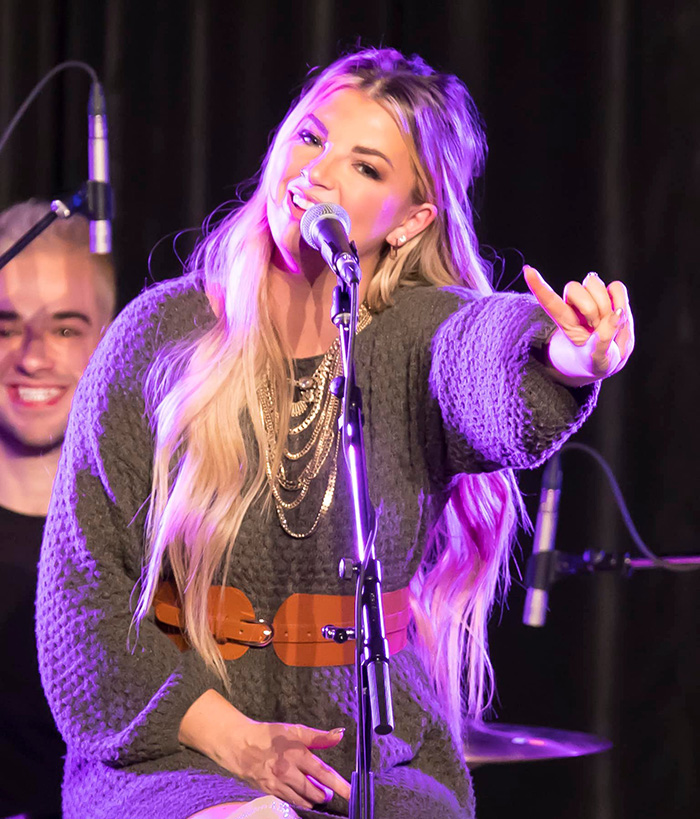 Tweet