---
Province makes post-secondary education affordable for Ukrainian newcomers
May 15, 2023, 8:52 am
Kevin Weedmark
---

Viktoriia Knyhnytska, a Grade 12 student at Wawota, will be going to the University of Saskatchewan this fall thanks to changes announced by the province Thursday.

After the World-Spectator broke the story two weeks ago that Ukrainian newcomers to Canada under the Canada-Ukraine Authorization for Emergency Travel (CUAET) program must pay international student fees, which are multiple times higher than Canadian fees, and do not qualify for student loans, the province announced Thursday that Ukrainians in Canada under CUAET will pay domestic tuition rates rather than international rates.

After hearing the provincial announcement of the changes, speaking to the provincial media about the impact of the changes, and being introduced in the Legislative Assembly, Viktoriia, who wants to go to university to become a dentist like her parents, said seeing the political system in action, and seeing an issue that affects her addressed, was "awesome."

Both refugees and Canadian residents pay domestic tuition rates, much lower than international student tuition fees. The CUAET program does not categorize Ukrainian arrivals as refugees. As a result, those who want to pursue post-secondary education would be required to pay the higher international student tuition rates, up to $35,000 a year.

"Our government remains committed to supporting Ukrainians who have come to Saskatchewan seeking refuge from war," Advanced Education Minister Gordon Wyant said Thursday.

"These students are in a unique situation. We want them to be able to continue living here to study at one of our excellent post-secondary institutions without causing severe financial hardship for their families."

Among those who may be eligible to pay domestic tuition are approximately two dozen Ukrainian students who will graduate from high school in Saskatchewan this spring. If they choose to pursue post-secondary education in the province, they will now pay the same tuition rates as domestic students.

"Ukrainian arrivals are contributing in many ways to our communities, our labour force, and the rich cultural fabric of Saskatchewan," Wyant said. "They deserve an opportunity to study in Saskatchewan, and hopefully become permanent residents and contribute to the growth and future of our province.

"Saskatchewan has welcomed around 4,000 Ukrainian citizens to the province over a number of months. It has been very gratifying to see our residents, your friends and your neighbours, open their arms and their hearts to help these newcomers get settled and adjust to life in this province.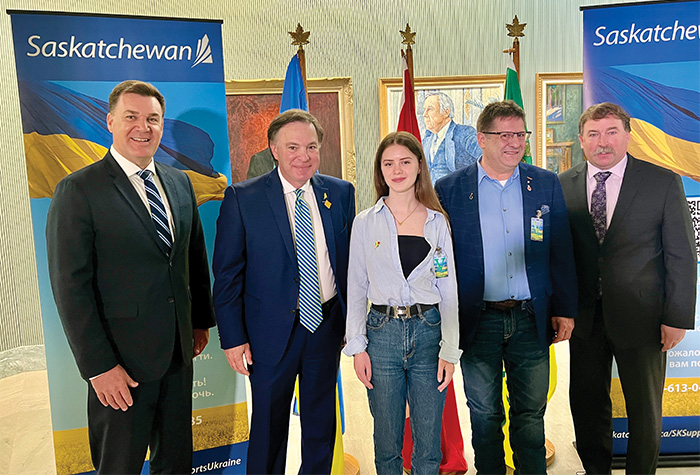 "We're announcing today that our government will be helping Ukrainian families contribute to our communities, our workforce and our culture.
"We're introducing a process that will help Ukrainian students access secondary education right here in Saskatchewan. Our government will provide funding to allow Ukrainian students to pay domestic tuition rates at Saskatchewan institutions rather than international ones.
"We all know that post secondary education is a significant investment for students and for their families. There are many financial supports made available to help most students manage the cost but those supports aren't available to Ukrainians who have come here to escape from the war.
"These students deserve a chance to get an education at one of our excellent post secondary institutions without experiencing significant financial hardship. Our government must give these students a chance to stay here near their families and further their education here in Saskatchewan.
"We know that about two dozen Ukrainian students who came to Canada under the Emergency Travel Program are graduating from Grade 12 this spring and about the same number will graduate next year.
"There may be others who come to Canada through that program who want to get a post secondary education but can't afford it. There are many opportunities available in Saskatchewan for high quality training and rewarding careers. This initiative will give them that chance by allowing them to pay the same tuition as our Saskatchewan residents.
"I also want to note that our government plans to provide some additional financial aid to these students.
"They will receive the same amount of grant funding that a low income Saskatchewan student would receive through the student loan program.
"To the students and to all Ukrainian arrivals, I want to convey our hope that you will be permanent residents in Canada. We want you to stay and we want you to be part of the growth and the future of Saskatchewan."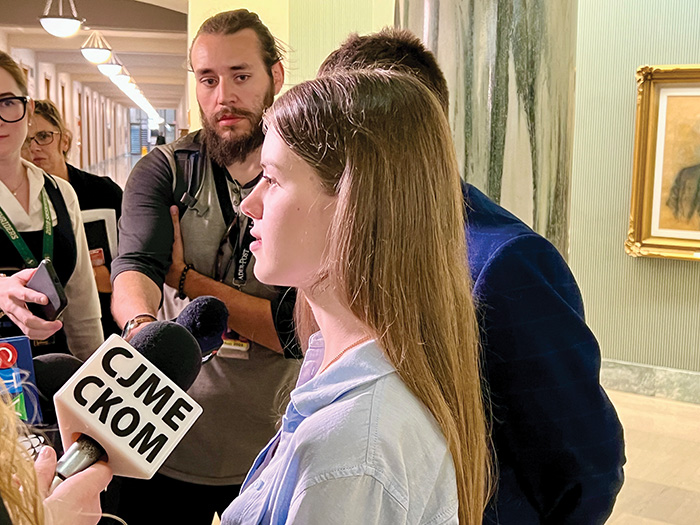 Program will make a difference for Viktoriia
Viktoriia said now that she will pay the same tuition fees as a Canadian, an education in Saskatchewan is attainable.
She has registered for the University of Saskatchewan to start this fall.
"I want to be a dentist like my Mom and Dad. For international students the cost is $35,000 for a year, for a domestic student it's $7,000, so it makes a big difference," she said.
"For us it's really good news to hear that, because we came from Ukraine where there is war, and we're just happy to hear this."
Kay says program may attract more families
Wawota Mayor Kevin Kay said he believes the program will result in more Ukrainian families choosing to locate in Saskatchewan.
"We have some that were looking at Saskatchewan, but tuition was an issue," he said. "Now that we have this program, I'm confident that they will be coming to Saskatchewan."
He said the announcement is important for Wawota, which has attracted a number of Ukrainian families. "We have welcomed 11 families to our community, and this is a very important announcement for us, because there are a number that have graduated high school, a number who are getting ready for higher education, which Ukrainians take very, very seriously, just like Canadians. We are welcoming more Ukrainians to Wawota and this will make a difference."
Kay said the Ukrainian newcomers have quickly become a vital part of the community.
"Several want to become volunteer firefighters now, which is huge for our community. They've started a chess club, they're involved in soccer, and several other community groups."
U of R, U of S presidents refuse to speak on issue
The World-Spectator reached out to both the University of Regina and the University of Saskatchewan, both when the issue of post-secondary education for Ukrainian students was first raised, and after the government made the announcement Thursday.
The World-Spectator requested interviews with both university presidents and both refused to speak on the issue.
Other universities have been more accommodating for Ukrainians under CUAET. Many universities decided on their own to charge Canadian tuition rates to CUAET students. The University of Alberta and Brandon University went farther, charging no tuition at all to Ukrainian students. And the University of Manitoba paid up to $36,000 to Ukrainian students to cover tuition, books, food, and accommodations, while the U of R and U of S chose to charge international student fees in the tens of thousands of dollars to those same students.
Heather Persson, Chief Communications Officer and Associate Vice-President, Strategic Communications at the U of S provided the following statement:
"We welcome the news announced May 11 from the Government of Saskatchewan and the Ministry of Advanced Education that the province will provide funding to ensure Ukrainian students who arrived in Saskatchewan over the past year under the CUAET program who wish to pursue post-secondary education will pay domestic tuition rates rather than international rates.
"As USask President Peter Stoicheff noted in his message to the campus community in February 2022, Saskatchewan is home to one of Canada's highest populations of people of Ukrainian descent. Our university conducts programming and research related to Ukrainian culture, language, politics, and history. We have partnerships and student exchanges with institutions in Ukraine. We have deep and strong relationships with Ukraine, and we are committed to continued discussions with all levels of government about how we can best support students coming to our province and country through CUAET."
The university refused to answer questions about why it took action by the provincial government to bring fees for CUAET students in line with other refugees and Canadian students, when other institutions reduced tuition fees for Ukrainian students on their own. The University of Regina would not arrange an interview with its president on the issue.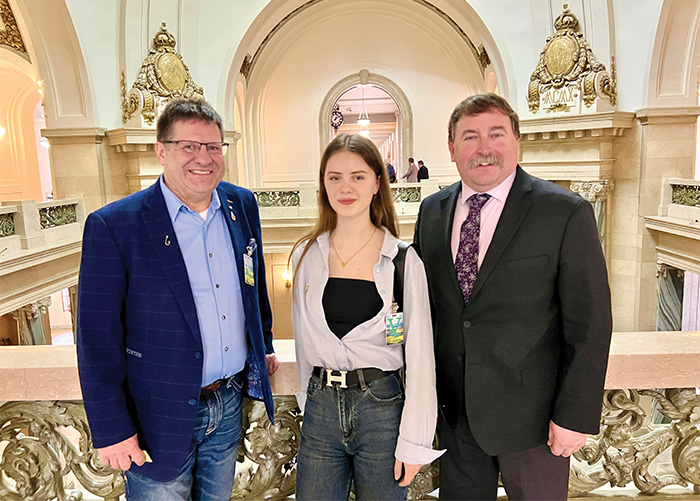 Kay, Knyhnytska, and Harrison above the rotunda in the Legislature.

Tweet