It is with great sadness that the family of Dale Gordon Desjarlais announces his peaceful passing on Sunday March 7, 2021 surrounded by his wife Lynda who he was married to for forty-five years.

His son Gordon and his daughter Renee along with his son-in-law Zane were there to comfort him on his last day after a courageous battle with Cancer. Dale was born to Edward and Rosline Desjarlais and was the oldest son of seven children.

He proudly worked in the mining industry from 1968-2007. He enjoyed the outdoors, especially hunting and fishing with friends and family, spending long days on the lake and in the bush trying to catch the "big one."

Dale was devoted to his two grandchildren Ryan and Sarah. He loved watching their various activities and spending quality time with them. Through his retirement years he volunteered to help anyone who needed it, whether they asked or not! He was able to travel to many different locations throughout the world with Lynda, experiencing different people and cultures throughout their time together.

He was not afraid to have a sip of hooch and smoke a cigar on his deck while spending time with his cats. He regularly attended his coffee dates with his buddies, where they would solve all the world's problems that had arisen that week. Dale loved the comradery that came with spending time with people that meant the most to him. His loss will be felt by the many people that he touched throughout his life. He will be missed.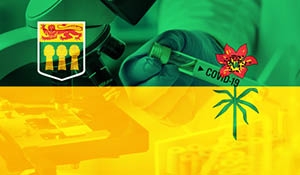 Daily COVID-19 Statistics There are 295 new cases of COVID-19 to report in Saskatchewan on May 7, bringing the provincial total to 42,695 case...
---