Marion Hoff, formerly of Redvers, Saskatchewan, passed away at Deer View Lodge, Wawota, Saskatchewan on Saturday, March 13, 2021 at the age of 93.

Marion (Bongfelt) was born in Winnipeg, Manitoba on Jan 4, 1928. She moved around Northern Ontario growing up, as her Dad was a trainman. When she left High School, she went to Nursing school in Winnipeg at St. Boniface Hospital. While growing up, her cousins and friends had a nickname for her, also Mom's nursing school friends were known to affectionately call her "Bing-Bong" and the mention of this name would bring a smile to her face for years to come. She remained friends with these pals and would get together with them whenever possible. Mom started her nursing career in Meadow Lake, Saskatchewan in 1951. She nursed at a few different hospitals, finally ending up in Redvers, where she met and married Ted Hoff in 1954 and they were together until his death in 1996. They had six children together. Mom had a deep interest in books and reading and loved all of the farm animals and pets. Mom was an avid supporter of the church and other charities. Every year Mom would faithfully prepare "shoebox" gifts that were sent to children in need around the world. Mom continued to nurse until 1996. In her retirement years, she enjoyed working in her yard and puttering around on different projects, as well as being able to see her grandchildren and great-grandchildren. Mom moved into Deer View Lodge in November of 2017 and was there until she finally got her wings that she had hoped for.

Marion was predeceased by her husband Ted Hoff and oldest daughter Marlys Kamp. She is survived by her remaining children: Pam (Ron) Gettling, Ward (Jan) Hoff, Tracy (Glenn) Astren, Richard (Dianna) Hoff and Melanie (Mark) Houston; 13 grandchildren and 13 great-grandchildren.

Mom will be greatly, and sadly missed by everyone that knew her.
Love you lots
Miss you more.

In keeping with Marion's wishes, cremation has taken place. A celebration of her life is being planned for the summertime. Details will be announced at a later date when the plans are finalized.

Those wishing to make donations in Marion's memory may do so directly to the Deer View Lodge Activity Department, Box 240, Wawota, Sask., S0G 5A0.

Hall Funeral Services in Redvers is caring for the Hoff family—Dustin Hall, Funeral Director.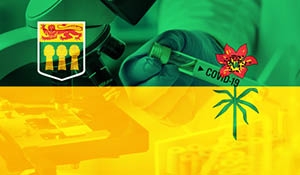 Daily COVID-19 Statistics There are 295 new cases of COVID-19 to report in Saskatchewan on May 7, bringing the provincial total to 42,695 case...
---