On March 8, 2021 Daniel Ivan Turk sadly passed away at the age of 56, in Edmonton, Alberta. He will be lovingly remembered and sorely missed by his wife Sally; son Milan; parents Stan and Muriel; brother Paul; nieces Bryna, Sofia and Samantha and his nephew Nolan. Daniel was predeceased by his brother Gary.

Daniel loved to travel and had an adventurous spirit. He loved games, puzzles and watching sports like curling "for the physics behind it." Daniel also enjoyed nature, hiking, camping, gardening, cross country and water skiing.

He especially loved spending time with his family. Daniel got a lot of satisfaction from his work as an engineer. He spent his entire 27-year career working for Dow Chemical.

Besides residing in Germany, the USA and England, Daniel also travelled to nearly every single country in Europe (his favourites being Greece and Croatia) as well as India, China, Cape Verde, Mexico, The Dominican Republic, Hawaii and all across Canada.

A Celebration of Life will be held at a later date when circumstances allow us to be together. A small private Time of Reflection took place on Monday, March 15, 2021 at Evergreen Funeral Home in Edmonton.
To view the recorded livestream and/or tribute video, please visit www.livememorialservices.com/Home/ServiceDetail/11519.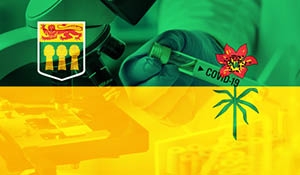 Daily COVID-19 Statistics There are 295 new cases of COVID-19 to report in Saskatchewan on May 7, bringing the provincial total to 42,695 case...
---