Freda was born on the family farm at Red Jacket, Saskatchewan to Sam and Emma Ablass. She attended Trafford School. Once she was married she lived in several different provinces. Freda always had friends wherever she was. Her greatest passion was her flower gardens. She had the gift to make anything grow. She was very devoted to her entire family and she was a true friend to everyone who knew her.

Freda was a wonderful mother, wife, grandmother, great-grandmother, aunt, neighbour and friend.

She has come to the end of her life but we have years of memories to share.

Freda was predeceased by her first husband Robert Restau, her second husband Jim Fletcher, her parents Sam and Emma Ablass, brothers Albert and Otto Ablass and sister Linda Schmidt.

She is survived by her children Irene Schmidt (Robert Pitts), Lillian McGonigal (Allan Williams), Ernie Restau (Sylvia), Marion Eccles (Vaughn), Heinrich Restau (Gitte), Marilyn Weir, her grandchildren and great-grandchildren.

Due to Covid-19, a private family service was held. A celebration of Freda's life will be held at a later date.
In lieu of flowers, memorial tributes may be made to the Moosomin & District Health Care Foundation for Moosomin Long Term Care, in memory of Freda.

Sign the online book of condolences at www.carscaddenfuneralchapel.com.

Special Letter

The times we live in at present have forced change on all of us in many ways.

Restrictions have not allowed us to get together and acknowledge a life well lived. For that reason I am writing this personal letter to say Thank You to the people I would have seen at my Mom's funeral.

My mother, Freda Fletcher, passed away on March 21, 2021 at Moosomin, SK.

She lived to the wonderful age of 93-plus years. Mom lived in many locations in her lifetime. In the end she finished up back in the Moosomin, the area where she started. Throughout her life Mom had many roles of wife, sister, daughter, mother and grandmother. Becoming a Great-Grandmother (GG) was definitely a huge honour to her. We all know that Mom was very predictable about how certain some things should be. Her hair, her clothes, her flowerbeds and her house, were always in tip top shape.

Vaughn and I were lucky enough to have Mom spend extended time with us.

We made many trips together. But the best was when Mom came to visit us.

We spent extended time together in the RV going to different places.

Once we finished building our place in Vernon, Mom would come out to visit for weeks at a time. She even came down to Phoenix twice to visit us there for Christmas.

The trips made to visit us would have never been made possible if it was not for the help of a special person, Sherry Shire. Sherry drove Mom to the airport countless times. Mom looked forward to them having lunch together or even maybe an ice cream cone. Thank you Sherry. I will be forever grateful.

Mom had many friends that she met throughout her lifetime. Towards the end Mom had two very special friends, Lillian Moore and Darlene Marshall.

You all made each other's lives better.

A very special Thank You to Dr. Kerkhoff. Mom always enjoyed seeing him and loved his sense of humour. I was lucky enough to get to know him and some of the staff in his clinic. Victoria and Echo were always helpful and never too rushed to help me out with Mom.

Mom moved into Maryfield Sunrise Villas in November 2020. Even though her time there was short, she loved it. We thank Angela and all the staff there for taking such wonderful care of Mom.

Mom's final move was into Long Term Care in Moosomin. There we experienced another group of caregivers to help Mom along her journey. Special thanks to Abby, Ashley, Brianna and Kayla for taking numerous calls, always willing to take the time to talk about Mom.

We will miss Mom forever, but know in our heart, that she is in a better place.

Love You Mom,
—Vaughn and Marion Eccles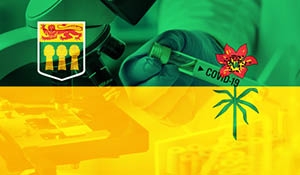 Daily COVID-19 Statistics There are 295 new cases of COVID-19 to report in Saskatchewan on May 7, bringing the provincial total to 42,695 case...
---