---
Saskatchewan announces $51 million for education on first day of school
September 8, 2020, 3:24 pm
Brian Zinchuk, Local Journalism Initiative reporter
---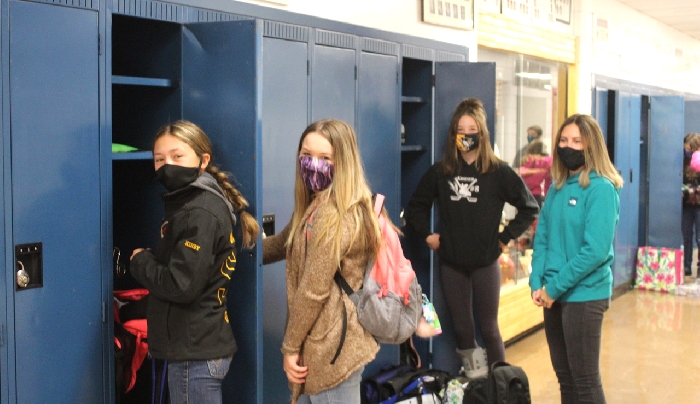 On the first day of the new school year, Deputy Premier and Minister of Education Gord Wyant announced $51 million in additional funding to assist schools in their operations under the restrictions of the COVID-19 pandemic.

Saskatchewan enters the new school year on Tuesday, Sept. 8 a week later than initially planned, as the provincial government decided in early August to delay schools starting to allow additional preparation time. Saskatchewan also enters the school year with 58 active COVID-19 cases across the province, some of its lowest numbers since the pandemic took hold. That number was as low as 29 active cases on Sept. 2.

The $51 million is for emergent, one-time expenses associated with a safe return to school.

The funding is from what Wyant referred to as a "pool" of $155 million in the COVID contingency fund for education from provincial, federal and school division savings.

He noted that of the $51 million approved Sept. 8, $41 million comes from provincial funding, and $10 million represents the expenditure of the remaining school division savings.

Wyant said 46 applications have been approved to provide new funding to school divisions, qualified independent schools and historical high schools.

In those applications, $19.1 million has been approved for sanitization, and includes 191 staff. There is $6.0 million for equipment and furniture. There is $13.2 million for supports for immunocompromised students, includes 150 teachers and staff. Additional distance learning capacity, includes 102 teachers and staff, will get $9.5 million. And finally, there will be $4 million for technology upgrades.

Wyant said, "As a result of this funding, a total of 443 custodial support teachers and staff are expected to be hired as an addition to the more than 200 staff projected to be hired as a result of the increased funding in the 2020-2021 budget. As a result of our combined funding increases, more than 600 new teachers and staff will be funded this school year."

School divisions will be working with the Saskatchewan Teachers Federation and other providers to make sure the staff are in place, he explained. It'll be up to the school divisions to determine reductions of class sizes. He pointed out that students taking distance learning will have an impact on class sizes.

The province will have another intake of applications in December for additional funds. Typically schools' funding is determined by its enrollment at the end of September. That enrollment determination date is being pushed back to January this year.

When asked if this new funding could have been announced earlier, Wyant replied that school divisions were already making plans for additional expenditures for personal protective equipment and sanitation. "The fact that the federal government had just announced the additional $75 million in funding, quite late, enabled us to be able to utilize those funds in the process that we had put in place for applications and so we wanted to make sure that those funds were available as quickly as possible.

"I think school divisions have done a remarkable job in preparing for back to school to ensure students and teachers are safe this additional funding will certainly enhance their ability in a number of areas and so we're quite pleased to see the investment that the federal government has made."

He said school divisions would likely have been anticipating receiving additional funding and had been making plans to ensure that they had staff or additional staff in place now that those funds have been confirmed.

With regards to some people seeking exemptions for their children wearing masks, even if they don't have underlying medical conditions, Wyant said, "Masks end up protecting everyone in the school and so to the extent that exemptions may well be granted, they need to be in exceptional circumstances."

The province has allocated $6 million for masks, and has spent $2.3 million on masks so far, the majority of which have been received and distributed, Wyant said. "A number of school divisions have already purchased masks and shields using their own resources. So that was one of the processes that we wanted to go through today and the balance of the week to see what their inventories are, and what their requirements will be, so that if there's additional resources, additional masks and shields that need to be ordered, they will be ordered immediately."

Wyant said, "We haven't received any federal money yet. Those funds are, as I understand, they're going to be distributed shortly, but we haven't received any of that yet. We do want to make sure that school divisions are aware of what the commitments that the province is prepared to make, both with respect to provincial funding, and federal funding, so that they can prepare and continue to work to prepare to ensure a safe return to school."

He said that's where the funds are coming from, in addition to the $10 million in savings from the suspension of school last year.

Tweet