---
ManSask Sliding Stars aims to provide a space for youth curling
January 25, 2023, 2:00 pm
Sierra D'Souza Butts
---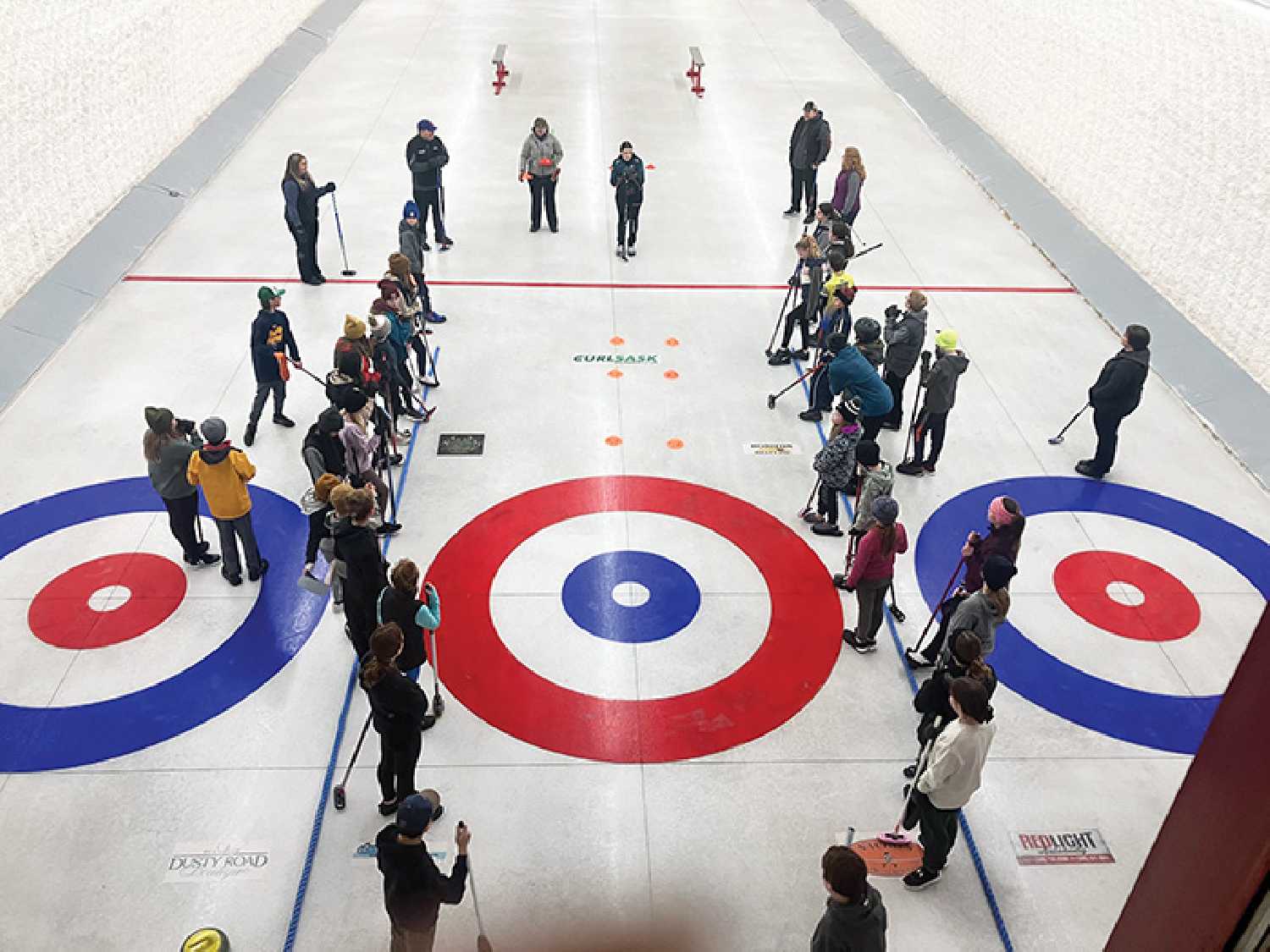 With the goal of providing the opportunity for youth in the area to practice and gain more experience in curling, ManSask Sliding Stars Junior Curling started a program this fall for young curlers.

"We just started this fall, we felt there was a need in the area to help and get kids that are curling in their town's junior program, to try to get them to curl more, other than what they were getting just at home," said Cory Barkley of Virden, organizer of program.

"I reached out to these other communities and there was a lot of them who felt the same way. We decided to try this inter-club league to see how it would go.

"The response has been pretty strong. We have between eight and 12 teams every week. We've done four weeks so far, and will be going to three more clubs. Then we have some ideas for next year as well."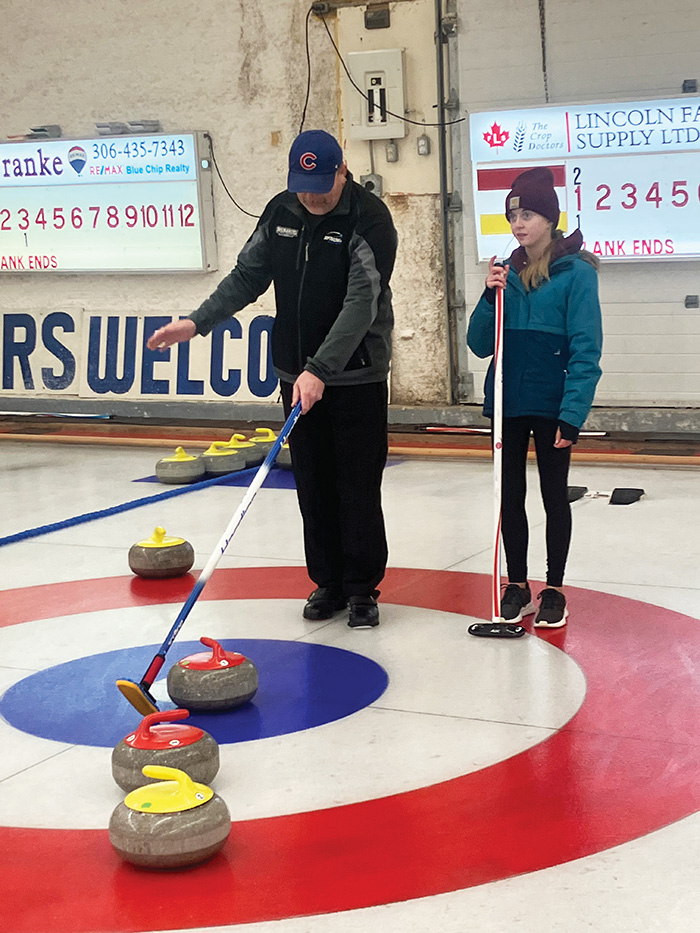 Cory Barkley helping coach a junior curler.

The travelling league includes junior curlers from Brandon, Hamiota, Minnedosa, Miniota, Virden and Maryfield.
Barkley spoke about why he felt it was important to offer more opportunities for curling to youth in the area.
"Speaking on behalf of myself, I got started with it when I was a young kid and became more involved with it when I was 13," he said.
"Personally, I love the sport. I think of all the people I've met through curling over the years, and the amount of fun that I've had on a social aspect and on the ice competitively.
"Ideally, if all of these clubs have great junior programs, and if that gets kids more interested, then I want to see other kids have that. I think that's the main thing for me.
"Curling is such a great social sport, and whether you do it down the road competitively or recreationally, I would love to see more kids playing the sport, as well getting the chance to enjoy what I've enjoyed in my 30 years plus of curling.
Paul Bickerton helping a curler get ready to deliver her rock.

"I think it's a really great social sport. For my own kids, I hope they experience a part of what I have experienced over the years."
Being the first trial run for the program, Barkley said he hopes ManSask Sliding Stars Junior Curling will continue down the road.
"We're really hopeful. The response has been strong, it's what I hoped for it to be," he said.
"We hope we can grow it and keep it going. Right now it's sort of 9-15 year old age group, and when my kids have moved on past it, I hope it's still going strong and that someone else will take it on and run with it.
"I have to give full kudos to the all of the clubs that are participating and their volunteers as well, there are strong junior co-ordinators in each club that have really been helping and pushing for it. We couldn't do it without them."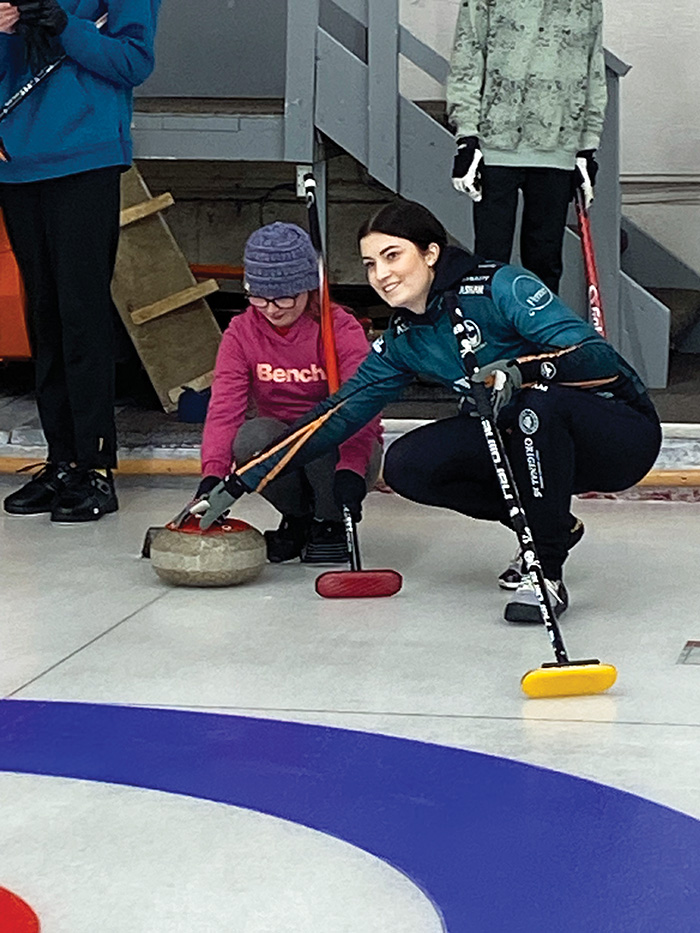 Rachel Erickson helping a curler prepare to deliver her rock.

Barkley was asked what he thinks can be done to attract more youth towards curling.
"It's a competitive area right now with getting kids into it," he said.
"You've got hockey, figure skating which sort of rule the roost in the winter. I think it just boils down to each club really doing a great job of promoting youth curling and getting kids on the ice. It's been said that way for probably forever, but we're really in a stage where if they try it and they like it, then we have to get them back out again.
"Curling is one of those things where you can, legit, do it for your whole life and I don't know if all sports can claim that. To keep our clubs going we're going to need the kids, that's for sure."
For the next few weeks, ManSask Sliding Stars Junior Curling will be wrapping up their program with a few more stops left on their travel list.
"We'll be going to Miniota curling club on Jan. 29, and we'll be going to Riverview Curling Club in Brandon on Feb. 5," he said.
"Then it'll wind up in Virden on Feb. 26. If we can sustain this program and grow it, I'd be very happy with that. I think we have some things we would like to tweak for next fall, but ultimately if the league kept going I would be thrilled. I just hope it continues and we get more kids out on the ice.
"We've been lucky to have some world champions come out to the clinics with them. I think the kids have enjoyed that."
Cory Barkley helping coach young curlers.

Tweet