Leslie Donald Gerhardt, age 85, passed away unexpectedly on March 6, 2021 at the Southeast Integrated Care Centre, Moosomin. Les was predeceased by his wife Nora, in 2017 with whom he shared a wonderful life and raised four children. Les is survived by eldest daughter Suzanne Gerhardt living in France, daughter Cathie Fafard, her husband Scott, their five children Andrew, Johanna, Daniel, Paul and Matthew (each with growing families of their own that Les adored spending time with) living in Kenora Ontario, eldest son Geoff and his wife Lana, Geoff's boys Anthony and Thomas living in Massachusetts, and youngest son Graham, his wife Catherine and their beautiful daughters Saskia and Lindsay living in Australia. Also, by sister Joan, her husband Willie (Broadview, Saskatchewan) and brother Gerry and his wife Jill (Kipling, Saskatchewan).

Les was born in Kipling, Saskatchewan to Charlie and Carrie Gerhardt. After high school, Les left Kipling for the University of Manitoba where he obtained a degree in Mechanical Engineering and met the love of his life, Nora. A chance meeting on a train with the owner of an air conditioning company landed Les a job with E.H. Price, and industrial HVAC company. That job took Les, Nora and the family from Regina to Calgary, Montreal then back to Edmonton. Time in Montreal solidified Les as a Montreal Canadiens and Expos fan (that even survived when they were uprooted to Washington). After years of life in the city and moving for his job, Les and Nora decided to return to their roots in farming. In the early 1970's the family moved back to Kipling where Les joined brother Gerry to take over their father's farm.

It was an adjustment for Nora, who had become accustomed to stylish city life and interior decorating, but the Gerhardt family grew and thrived in Kipling. Les and Gerry quickly expanded the farming operation. Nora became the Kipling High School librarian and embedded in the local arts community. Les coached Geoff's hockey and Graham's scouts, played goalie for the Kipling oldtimers and kick-started the Kipling Golf course.

As revenue from farming became less reliable in the 1980's both Les and Gerry became more involved with Investors Group. Les established himself as a trusted financial advisor to many in the Moosomin region he covered for Investors. When it ultimately came time to sell the farm and think about retiring, Les and Nora moved from Kipling to Moosomin where he wound down his Investors career but quickly became part of the Moosomin community. Les became involved in the local Shriners and Masons; Nora the arts council. A left-handed golfer, Les eventually accepted and played for his wicked slice (fellow golfers marveled as the ball veered wildly to the right only to eventually, usually, sometimes end back up in the middle of the fairway). The golf course could also bring out Les' strong character—low flying birds or poorly located trees would occasionally find themselves involved in the action on those days his swing wasn't quite in the groove.

Les and Nora traveled the world to see their children, making regular trips to Kenora, Ontario to see Cathie and Scott and their growing family, multiple trips to Australia to have Graham, Cathy and their girls show them Australian culture, France where Suzanne would immerse them in the French lifestyle, and California and Massachusetts to see Geoff and his boys.

When Nora was diagnosed with Alzheimer's, their roles reversed. After spending a lifetime caring for her family, Nora was cared for by Les who devoted his life to making her remaining years as comfortable as possible.

The family would like to thank the staff of the Moosomin Long-term care facility for their care of both Nora and Les. In particular, Zelda Myburgh who provided a compassionate hand for Les to hold when the family could not be there in those final moments.

Les and Nora leave a rich legacy of friends and family. While Covid-19 makes it difficult for us to gather, let's all remember them both for the wonderful friends, siblings, grandparents, mother and father they were to all of us.

Friends can sign the online book of condolences and also follow the link at the bottom to view photos of the Gerhardt family at www.carscaddenfuneralchapel.com.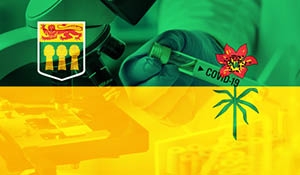 Daily COVID-19 Statistics There are 295 new cases of COVID-19 to report in Saskatchewan on May 7, bringing the provincial total to 42,695 case...
---