Joan was born October 22, 1926 in Kilkampton, Cornwall, England. At the age of two, along with her parents, Charles and Lily Webber and her two sisters Edna and Dorothy the family travelled by boat to Canada, landing in Halifax on April 12, 1929. They travelled to Regina by train then to Moosomin and finally to the Pipestone Valley where they settled to farm. There the fourth daughter, Ida, was born, completing the family.

Joan grew up a farm girl and went to school at Woodlands. She loved to milk cows and raise chickens, turkeys, geese and she even drove the tractor! She loved to garden.

On December 4, 1948, she married Fred Switzer. Together they had two children, Lily Darlene and Leslie Emil. They were later divorced and Joan and the children moved to the home farm South of Moosomin, where she resided until moving into Moosomin, then moved to Centennial Manor where she lived for several years and met many of her friends.

She was predeceased by her parents, Charlie and Lily Webber, Fred Switzer, her three sisters Edna, Dorothy and Ida, brothers-in-law Secord Sheane and Joe Buck, good friend Bill Young and son-in-law Jim Fehr.

She leaves to mourn her two children Darlene and her family of Shelley (Eric), Karlee (Steve) Ryley and Kellen, Ryan (Nadine), Lynden (Danielle) Cruz, Jamey (Jonelle), Alyssa, Tilynn, Brody, Emma, Tammy (Kelly) Kelsey, Kayla and Logan; Leslie (Iris) Switzer and their family of Kevin (Hope), Alisha and Austin, Rhonda, Rebecca and Keiran, close friends Ingrid Underhill and families of Chilliwack, B.C., numerous nieces, nephews, cousins and friends. She also leaves to mourn her relatives in England.

Due to Covid-19 restrictions a private funeral was held. In lieu of flowers memorial tributes may be made to the Moosomin and District Health Care Foundation for Moosomin Long Term Care in memory of Joan.

Please sign the online book of condolences at www.carscaddenfuneralchapel.com.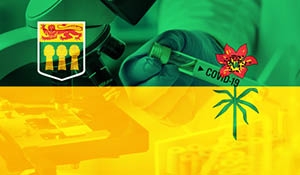 Daily COVID-19 Statistics There are 295 new cases of COVID-19 to report in Saskatchewan on May 7, bringing the provincial total to 42,695 case...
---