---
Barrel racing event in honor of Jacey Lee
July 28, 2021, 9:35 am
Kara Kinna
---

March 4, 2021 was a tragic day for the family and friends of Jacey Lee. The seemingly healthy 25-year-old went to bed at her home in Spy Hill on March 3 but didn't wake up the next morning.

Her mother, Michelle Fredbjornson, says the doctors think Jacey passed away from an adult version of SIDS (Sudden Infant Death Syndrome) known as Sudden Adult Death Syndrome (SADS) or Sudden Unexplained Nocturnal Death Syndrome (SUNDS) when it happens in adults while they sleep.

While the death left a sudden, unexpected and gaping hole in the lives of those who knew Jacey, Fredbjornson says Jacey's spirit and love of life was so strong that something needed to be done to commemorate her. The 25-year-old was deeply passionate about many things—music, family, friends, hunting, woodworking—but her love of barrel racing, horse riding, rodeo, and rounding up cattle were so strong that she lived and breathed the cowgirl life.

For that reason, the Jacey Lee Memorial Race will be held in Spy Hill on Saturday, August 28 in memory of Jacey.

Organized by Fredbjornson with lots of help and donations from family, friends and acquaintances—people who knew and loved Jacey—the event will consist of Open 5D, Youth 3D, and PeeWee barrel racing with prizes up for grabs in each category.

"The barrel racing is an event where family, friends and competitors can come and enjoy a sporting event that Jacey loved to compete in. This is a day to honour her, share some memories, have some laughs and watch people have fun barrel racing," says Fredbjornson.

"Jacey was my greatest fan. She made me step out of my comfort zone and believed in me, and now I love competing in barrel racing."

Fredbjornson says her daughter was one of those rare people who was good at almost anything she tried.

"She was 25 and she was very talented in anything she did. She enjoyed working with cattle, she enjoyed riding her horses, she'd build wooden tables, she loved to hunt—she was a trophy hunter. She was passionate about music and loved to sing.

"She grew up at Virden and Spy Hill community pastures, that is where she spent most of her childhood and adult life riding horses, checking cows.

"In Grade 5 she started in the Manitoba High School Rodeo Association and competed there along with the Manitoba Rodeo Association. She was always riding, checking cows, she enjoyed fall roundup, bringing cows home, practicing in the arena all the time, going on trail rides. She was very active.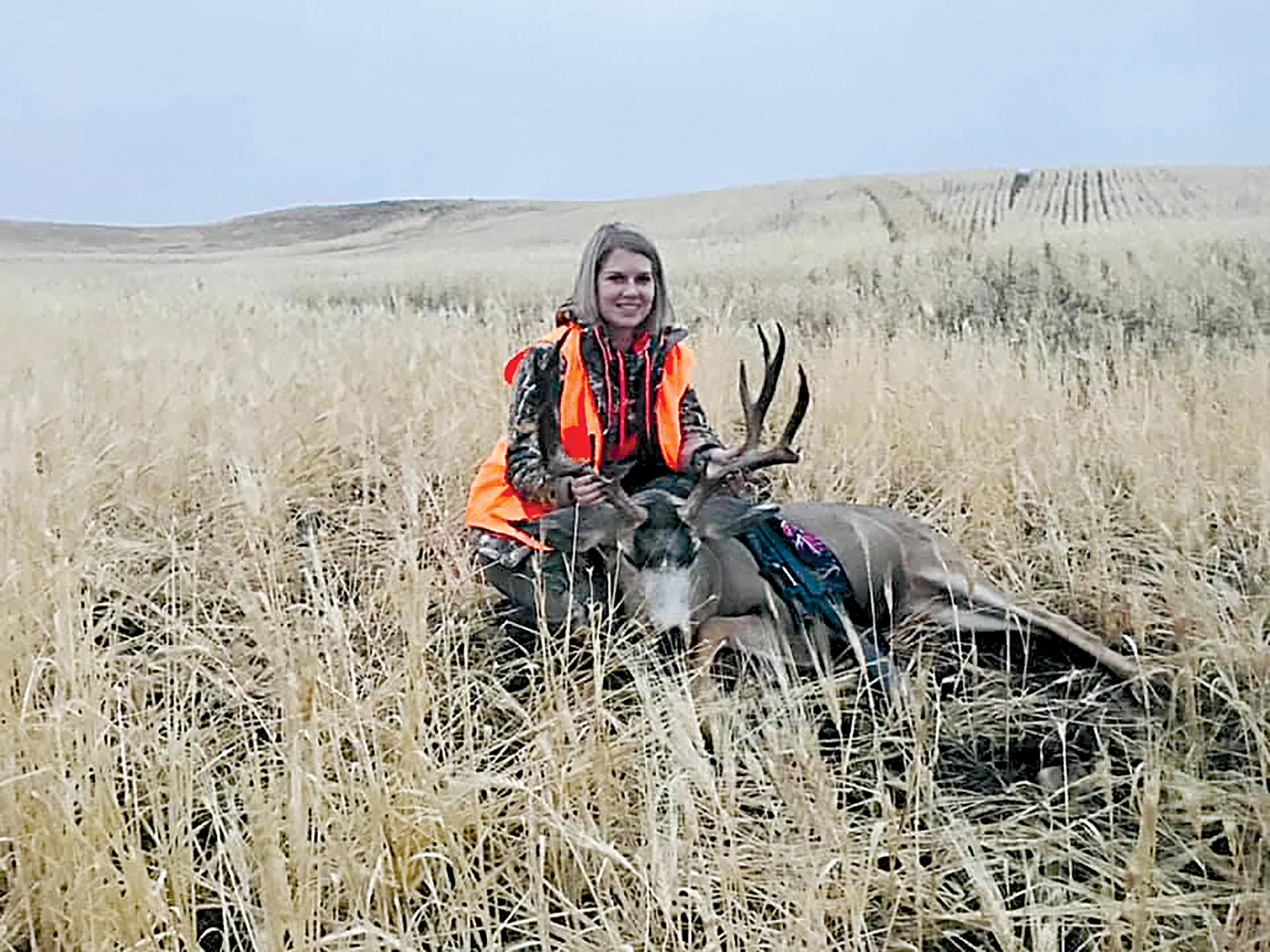 "Her celebration of life was held at our ranch and we put out her saddle and her deer horns that she had. We had pictures of everything and it was very well done.
"She loved watching her niece learn to ride. Anything a boy could do she could do, that is always what she said. She just had a gift for everything she did, and she loved to do it."
Fredbjornson says the Jacey Lee Memorial Race was her idea after Jacey passed away.
"It was my idea to honour her passion for doing barrels and for all of her friends and family to get together in a way of honoring her and giving back to all her friends and competitors in prizes and donations," she says.
"She was a very fun person and she really liked to get people going and doing things, and she started me barrel racing a few years ago. She pushed me out of my comfort zone many times."
Since announcing the event Fredbjornson says there has been an overwhelming amount of support for the event, and people from all over Saskatchewan and Manitoba signing up to participate in it. She says that's because Jacey was so well known in the rodeo world, and because it's a close-knit group.
"It's a family," she says. "People support each other in that world, it's close. She knew tons of people all over Manitoba and Saskatchewan. Her dad has rodeoed his whole life. Rodeo families have a special bond. There have been so many people contact us to enter that I don't even know.
"She was young so she had lots of rodeo acquaintances from all over, she was a likable person, she had friends everywhere."
Fredbjornson says the event on August 28 is meant to be a fun day.
"This Race is for all levels of competitors," she says. "It will be a 5D, top five in each D come back to the short go. The winner of the saddles will be the top two that run closest to their first run.
"We are so very thankful for all the donations and sponsorship that has been coming in to make this day a success.
"There are buckles for the winner in each D in the open and youth. Then there will be pick a prize and a cash payout.
"Peewees have a buckle for fastest run along with some great prizes for everyone.

"So there will be lots of different unique prizes. There's short go for the saddles and in the short go the winner of the saddle has to run closest to their original time. So it doesn't mean you have to be the fastest time, it just means the most consistent run wins the saddle, and there are two saddles that have been donated.
"We want to give back to everyone. There will be prizes for people that are just coming to watch. We want to make it reach out to everyone and we're so thankful for the support from everyone that's come in to honor her.
"We will have opening ceremonies and we will do them in honour of Jacey. I did her eulogy so I will probably read what I wrote at her eulogy. We have a flag that has been made and my granddaughter will probably carry the flag. And there will be the Cowboy Prayer and O Canada.
"And she was a prankster too, so we have a lot of good little fun things. For example, the first 20 knocked barrels will each get a bottle of wine—just different things like that.
"So there will be lots of fun prizes, lots of Jacey prizes. Anything she loved she was very passionate about and there's so much gratitude in my heart for all the donations and volunteers and everything that people are doing to make this day a great success.
"A lot of friends and family are all pitching in and the Spy Hill Sports Committee has been amazing and they're working with us and they will have the canteen and beer gardens on site. Friends from the town are just willing to volunteer and help in any way they can."
Fredbjornson says her daughter would be pleased to see the event take place.
"She would be so honoured. She wasn't shy, but she didn't like to be put on the spot, so now she's on the spot and she's shining and she'd be pretty honoured that the support is coming from places all over."
While nothing can replace the loss of a daughter, Fredbjornson says holding something like this in Jacey's memory does provide some comfort.
"I feel like I'm keeping her spirit alive by having this to just really honor her, what she liked and what she did. And it gives me a purpose.
"I started thinking about this after she passed—what can I do to honour her? And I can't give her her wedding day, but I can give her barrel racing."
Fredbjornson says the Jacey Lee Memorial Race will likely become an annual event.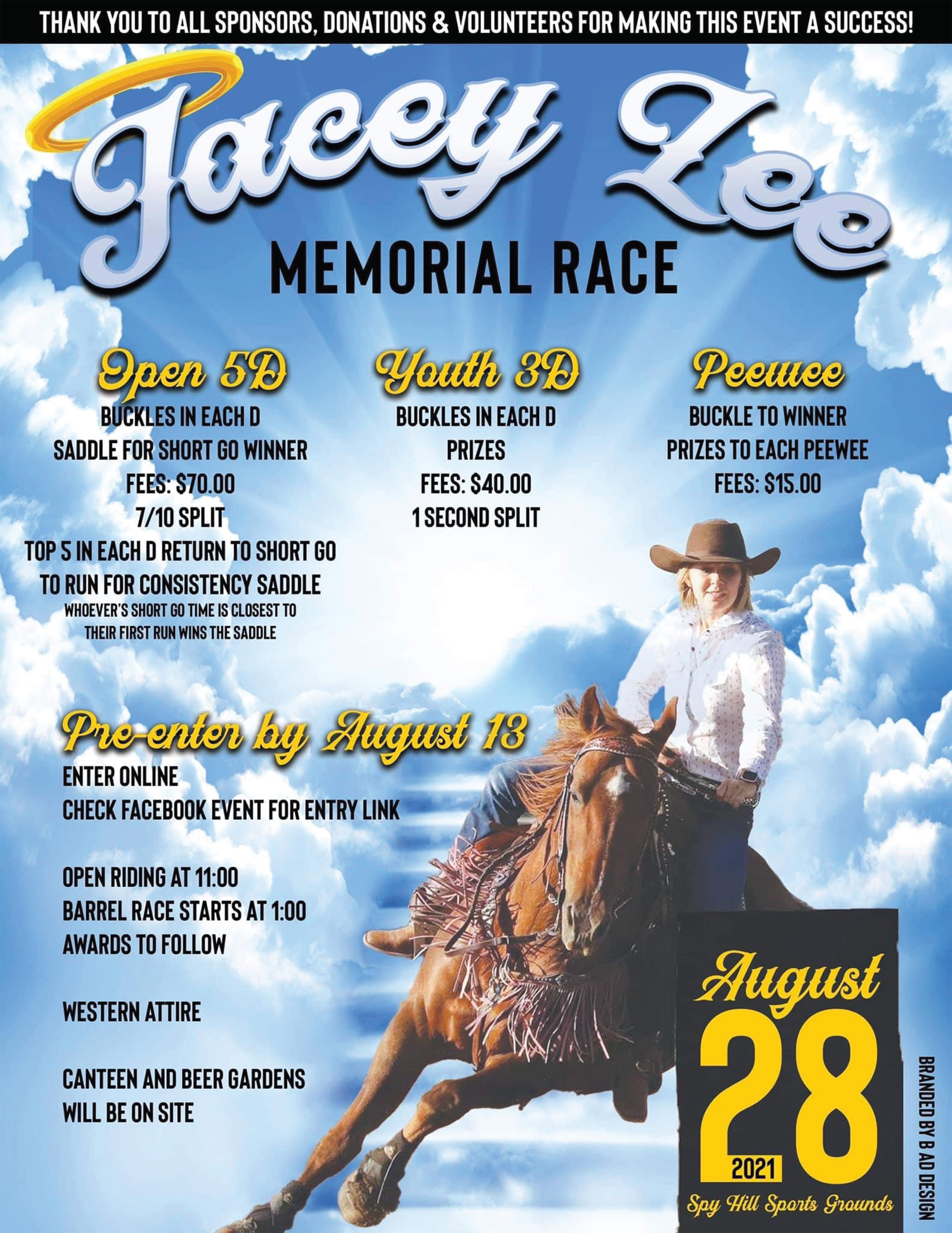 Tweet