---
Feasibility study approved for future multiplex
Moosomin Town Council
July 29, 2022, 11:04 am
Kevin Weedmark
---

Town council voted to move forward with a feasibility study on a future multiplex for Moosomin, although two councillors voted against the motion.

The town will enter into an agreement with AODBT Architecture to complete a feasibility study for a multiplex.

Mayor Larry Tomlinson and Councillors Murray Gray, Chris Davidson, Garry Towler and Greg Nosterud voted in favor of the feasibility study, while Councillors Ron Fisk and Kyla Fingas voted against it.

Councillor Murray Gray said the quote from AODBT was far lower than two other quotes for the feasibility study.

"The original quote of $25,000 is half of the second best quote and a third of the third best quote. I believe we should enter into the agreement with them," he said.

"The inflation is what worries me—if we don't do this now it's only going to cost more—plus the fact that we said that we would do it. I would like to get it started this year."

At the conceptual phase, the multiplex would include a second ice surface, a curling rink and a fieldhouse.

The multiplex was identified as a long-term priority at a joint planning session of the town of Moosomin, RM of Moosomin, and Community Builders Alliance. The project may be several years from becoming reality, but the plan was to start with a feasibility study this year so the project can be ready for any grants that may come available once the town is in a financial position to consider the multiplex.

The next major capital project for the town in the immediate term is a new water treatment plant. ICIP funding has been approved for that project, and it should be completed by 2026.

Mayor Larry Tomlinson and Councillors Murray Gray, Chris Davidson, Garry Towler and Greg Nosterud voted in favor of the feasibility study, while Councillors Ron Fisk and Kyla Fingas voted against.

"The budget worries me, and I worry about having a feasibility study so far ahead that it could be outdated and we have to do another study," Fingas told council.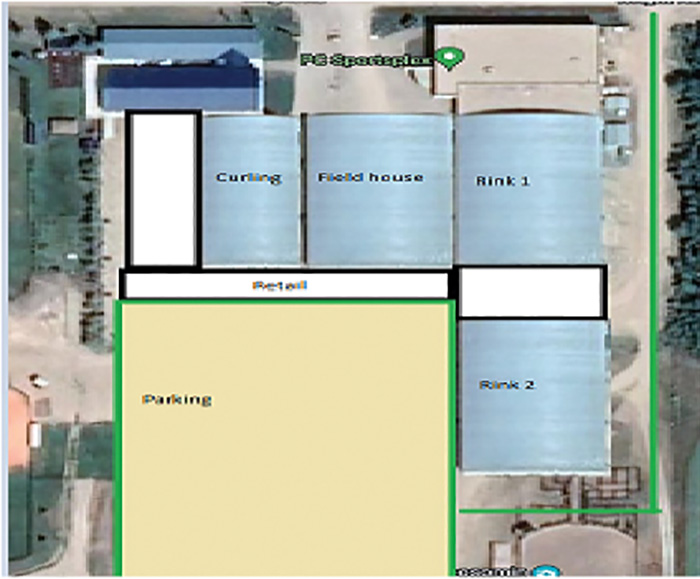 Town water sought for development at Fieldstone site
Wayne Beckett attended Wednesday's council meeting to ask if it would be possible to secure town water for a housing development planned for the former site of Fielstone Campground. "I'm here on behalf of my wife Tammy and my sons Kody and Kyler," said Beckett. "We've ventured into this business together.
"A while ago, the boys and I discussed some business opportunities, looking around the community. I always look for what might be out there that might be an opportunity. Fieldstone came up in the conversation, it was for sale. We thought about it as a campground, but the more we looked into that, the less feasible it looked. I liked the property and thought if we could do something with it, it would be a nice addition for the community. The subdivision idea came up and we started forging ahead. I talked to several people in the community about it, and got lots of good information and good feedback. I talked to other developers as well with similar projects, one at Blackstrap Lake near Saskatoon, one at Outlook, one at Yorkton.
"We're trying to promote this as urban living in the country. It's close to town, it's only a kilometre north. I think we can appeal to people who want to live in a rural setting but close to town. We're trying to appeal to quite a few different demographics, including new families, professionals, and retired people as well. We're hoping to get somewhere between 20 and 25 lots out there, from half an acre up to three acres.
"Some of the amenities we're offering with the property are the proximity to the town of Moosomin, the paved road to the property, lots of mature trees, winding roads throughout the property, security in the fact that we would be putting up a security gate at the entrance, lots of green space, snowclearing, walking, hiking, biking trails, that kind of stuff, and of course the lake, which we think is a major attraction to the property.
"Where we're at right now, we've got estimates from SaskPower and SaskEnergy for servicing the properties. We have a preliminary survey from Midwest Surveys. We have it rezoned in the RM and we are in early discussions with Community Planning. We have been in discussions with Associated Engineering. They will be doing a lot of work with us. We're also working with South Prairie Design. It looks like we will have a spec home built there."
Beckett brought letters of support from the Moosomin Economic Development Committee, Carmen Hamilton, the Community Builders Alliance, and Pipestone Developers, backing his plans.
"We're getting good support that we're communicating with and talking to," Beckett told council members. "To have a development like this we need all the utilities. For the water we have three options. We could make everyone drill a well, or we could treat the water and send it out or we can try to get town water. Of course town water is the preferred option. It's a matter of whether it's feasible to accomplish. With that many properties we're looking at a revenue base of between $25,000 and $30,000 a year in water revenue."
Council members discussed whether there is adequate water pressure to extend a line to the site one kilometre north of Moosomin.
"We were given seven recommendations to improve the water pressure, and we are on number two of seven," said Councillor Murray Gray.
Councillor Chris Davidson pointed out that once the new water plant is completed there will be more water pressure as pressure will be provided by pumps, not gravity from the water tower.
Council suggested that Beckett meet with MPE Engineering, which was meeting with the town Thursday to discuss the water system and steps the town is taking to improve water pressure, to determine what would be required to provide water to the new development.
The town helped arrange a meeting with MPE during their visit to Moosomin to get the answers.
Extra campsites set up for provincial ball weekend
Moosomin recreation director Mike Schwean told town council additional campsites had to be set up at Bradley Park to meet the demand for the provincial ball weekend this past weekend. "We have teams from all over," Schwean said. "There are teams from Regina and Saskatoon. All our campsites were booked, so we put in temporary campsites, and those are almost full."
He said plans were coming together well for the provincial ball weekend. "It's going to be a big weekend. There are eight slo-pitch teams, eight masters teams and eight peewee teams. We'll have a social Friday night, opening ceremonies Friday night. A lot of those teams are staying for the weekend, so it should be a good weekend for the community."
Tweet