---
Moosomin youth named Sask Junior Citizen of the Year
May 1, 2023, 7:56 am
Kevin Weedmark
---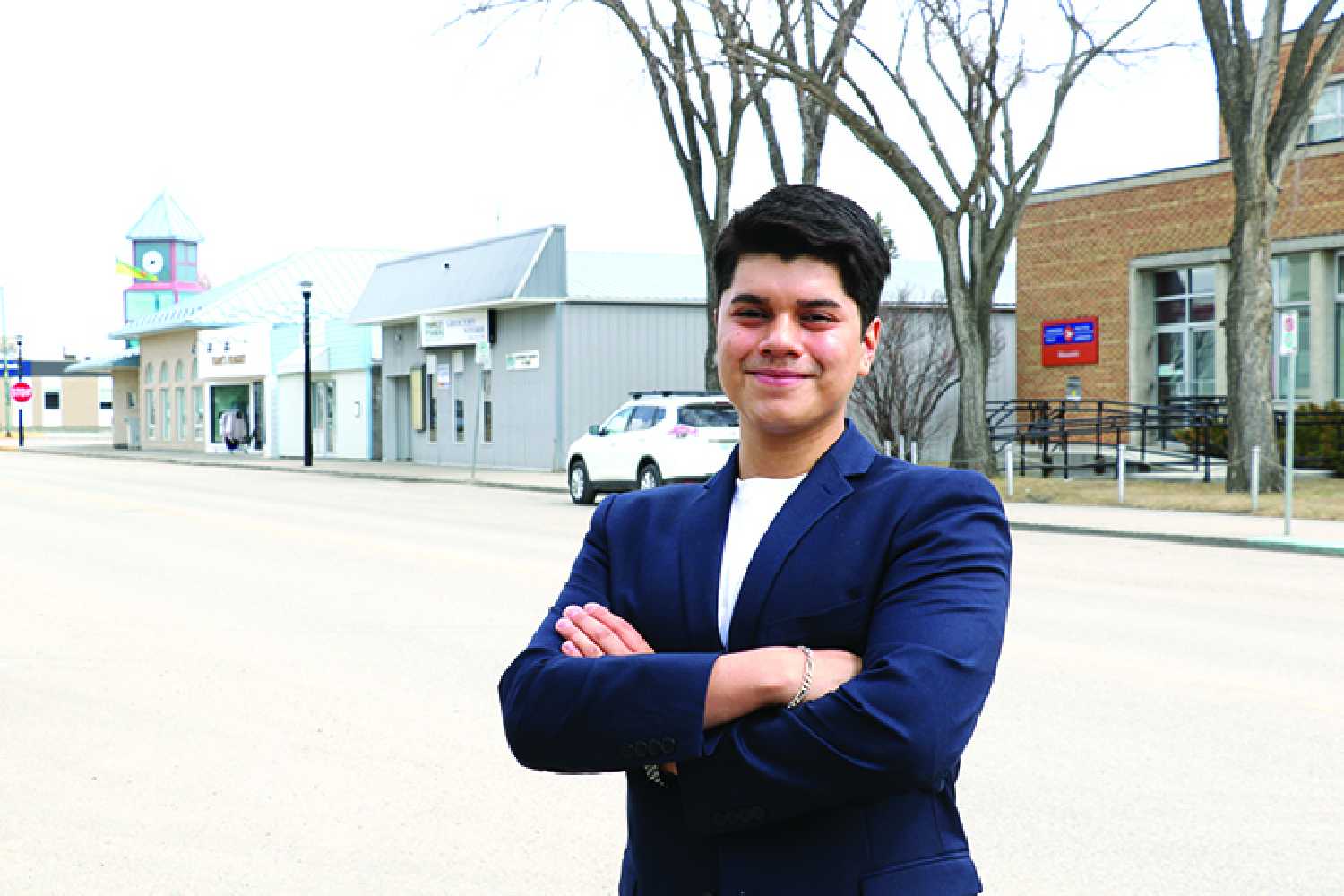 Victor Santos Cardoza of Moosomin has been named one of Saskatchewan's Junior Citizens of the Year for 2023. He will receive the honor from Lieutenant-Governor Russ Mirasty at Government House May 25. Along with the honor, he will receive a $3,000 bursary. Victor was nominated by Kevin Weedmark.

"I couldn't believe you chose me as a nominee. I personally didn't feel as if I deserved it, but you made it seem as if I were a perfect candidate," said Victor. "So I can't thank you enough and the World-Spectator crew for even considering me.

"I in a million years didn't consider it, but nonetheless I'm grateful and appreciate the opportunity.

He said he was shocked when notified he was one of the four winners, out of hundreds of nominations.

"It came as a shock to me. I was at work when I received the text and I thought 'wow, really, me out of all those people.'

"I guess you could say after everything we've been through this is just another blessing that has come our way."

Victor says he is excited about the ceremony.

"I have a huge invitation list already made. I'm excited to celebrate this milestone.

"It's huge, especially since the whole purpose is to recognize young adults who have been through a lot of hardships. I can say I personally—what my family and I have been through—we've been through a lot, and it's nice to get that recognition and it offers incentives—it doesn't have to be immigrant families or children, it can be anybody—to achieve something greater and shoot for the stars.

"It's unbelievable that blessing after blessing is coming our way. It feels surreal. I never thought that in a million years me and my family would deserve such blessings to come our way. We're hard working people and that's all we are, but it's good to get that recognition still for all the work we've been putting in and all the hardships we have been through.

"It's refreshing that you and everyone else notices that, and to us it's rewarding."

"As soon as he arrived in Moosomin with his family, Victor started taking a leadership role in school. Before his family were Canadian citizens or even permanent residents, Victor joined the Pipestone Air Cadets and became a vital member within that organization," according to his nomination.

"When he was in Grade 10, he became Moosomin's first youth councillor. He attended every Moosomin town council meeting, and always had helpful input, such as suggesting students at the high school could help with the annual town cleanup, with the result that a large number of high school students assisted with the cleanup, making it the most successful ever. That is just one example—at every council meeting he brought up concerns and the youth viewpoint. His active role as youth councillor encouraged other communities in the area to add youth councillor positions to their town councils."

"Victor came to Moosomin with his family about 10 years ago. The family had left Honduras for Canada. They moved to Moosomin and became part of the community. In 2017, the family's refugee claim was rejected and the family was slated for deportation. The community rallied around the family and an extremely rare ministerial order was issued staying the deportation order. The family became permanent residents in 2018, and before a large crowd at the family's citizenship ceremony, Victor Junior spoke on behalf of the family and spoke about their long journey to citizenship."

The nomination cited how Victor has inspired others.

"Victor has done a great job of telling his family's story, of what becoming Canadian citizens this year meant to the family. When his family became Canadian citizens, Victor spoke on their behalf at the citizenship ceremony. He and his family also did many media interviews helping people understand the family's journey and what it meant to them to become Canadian citizens.
"In this way, he has inspired people across the province, and in doing such an excellent job as youth councillor, he has inspired other communities around Moosomin to introduce the position to their councils."

Moosomin Town Councillor Murray Gray wrote a letter of support for Victor's nomination.

As youth councillor, "Victor's values and character helped him become a very important part of our council," Gray wrote. "Due to the circumstances evolving from his families citizenship a few years prior to his appointment Victor had declared that being a youth councillor was the perfect way to repay the community for the efforts in keeping them here in Canada.

"Victor fulfilled his duties right from the beginning with maturity and poise. He would bring legitimate concerns from his peers and engage in conversation to find solutions to these issues. This kind of leadership and representation is commendable for any citizen but to see it from a teenager is just a remarkable feat that makes me so proud to have been involved with.
"Victor's leadership makes him a role model to his peers but also an example of how to be part of a community in such a way as to be genuinely interested in making it a better place to live.

"Victor continues to look for ways to make Moosomin a better place to live. In fact he has stated on numerous occasions that it is his intention to run for councillor in the next municipal election. His honesty, integrity and leaderships skills make him the perfect candidate to represent our community this time as a voting member of council.

"This young man is the epitome of a leader and that fact that he is showing these skills at such a young age is why I wholeheartedly believe that he is the perfect recipient for this award."

Former principal Devona Putland also wrote a letter of support.

"My first experience in knowing Victor Jr. was in his capacity as older brother," she wrote. "He would escort his younger brother to and from school as needed . . . I admired the patience and compassion that Victor exhibited in his brotherly tasks. Through years of teaching, I can attest to sibling rivalries being alive and well, but for Victor, he took the time and care needed for his brother to feel respected and to have independence in his choices. He showed great maturity for an adolescent.

"Victor not only took his family and academic roles seriously, but also took part in sports, drama, school leadership, Cadets, and his family's church. He had the ability to add to each of those activities through his skills and volunteerism. In his high school years, he also became the first junior councillor on the Moosomin Town Council.

"When it was time for the Santos-Cardoza family to go for their permanent residency interview in Saskatoon, I drove them to Saskatoon and accompanied them to their appointment. At the end of the interview when the family realized that permanent residency status was granted, there was a request from Victor Junior to go to a Service Canada office in Saskatoon. His goal was to apply for a Canadian Social Insurance number as soon as possible because he could now hold a real job. He soon after began work at a pizza shop. Being conscious that academics may be overshadowed by too much work, I questioned Victor about his other responsibilities and activities as a student. He assured me he was only working 5 to 8 hours per week because that paid for his clothing and entertainment. As a long time educator, this was a powerful example of work ethic and citizenship in a student that I do not often witness.

"I assisted his family on moving day when they bought their home. That day, teenage Victor worked alongside adults in equal or greater capacity. Since his high school graduation, Victor has begun his practical work towards becoming a carpenter, earning his apprenticeship hours and eventually attending classes to attain journeyman status in his chosen profession.

"This year when the Santos family became Canadian citizens, I was honoured to be part of their special day as well as their journey in attaining that status. Victor Junior expressed his heartfelt thanks for all that was done for them. He told me that because their family had been helped, it would his turn, an honour and duty, to return help. He said to call him any time, and I know if I had a need for help, he'd be one of the first to respond.

"With the above examples, with utmost certainty, I recommend Victor Santos Jr. for Junior Citizen of the Year. His roles within his family, school, and community have all been exemplary and make him a most deserving recipient."

Victor is one of four young people named Junior Citizens of the Year in the province. The other three are Lanea Lafonaine, Sophia Young and Winston Zhao, all of Regina.

The Junior Citizen of the Year Program is sponsored by the Saskatchewan Weekly Newspapers Association and SaskPower.


Tweet