---
SIIT and Nutrien unveil pawâcikêwikamik: Nutrien MakerLodge
September 25, 2023, 3:09 pm
Kevin Weedmark
---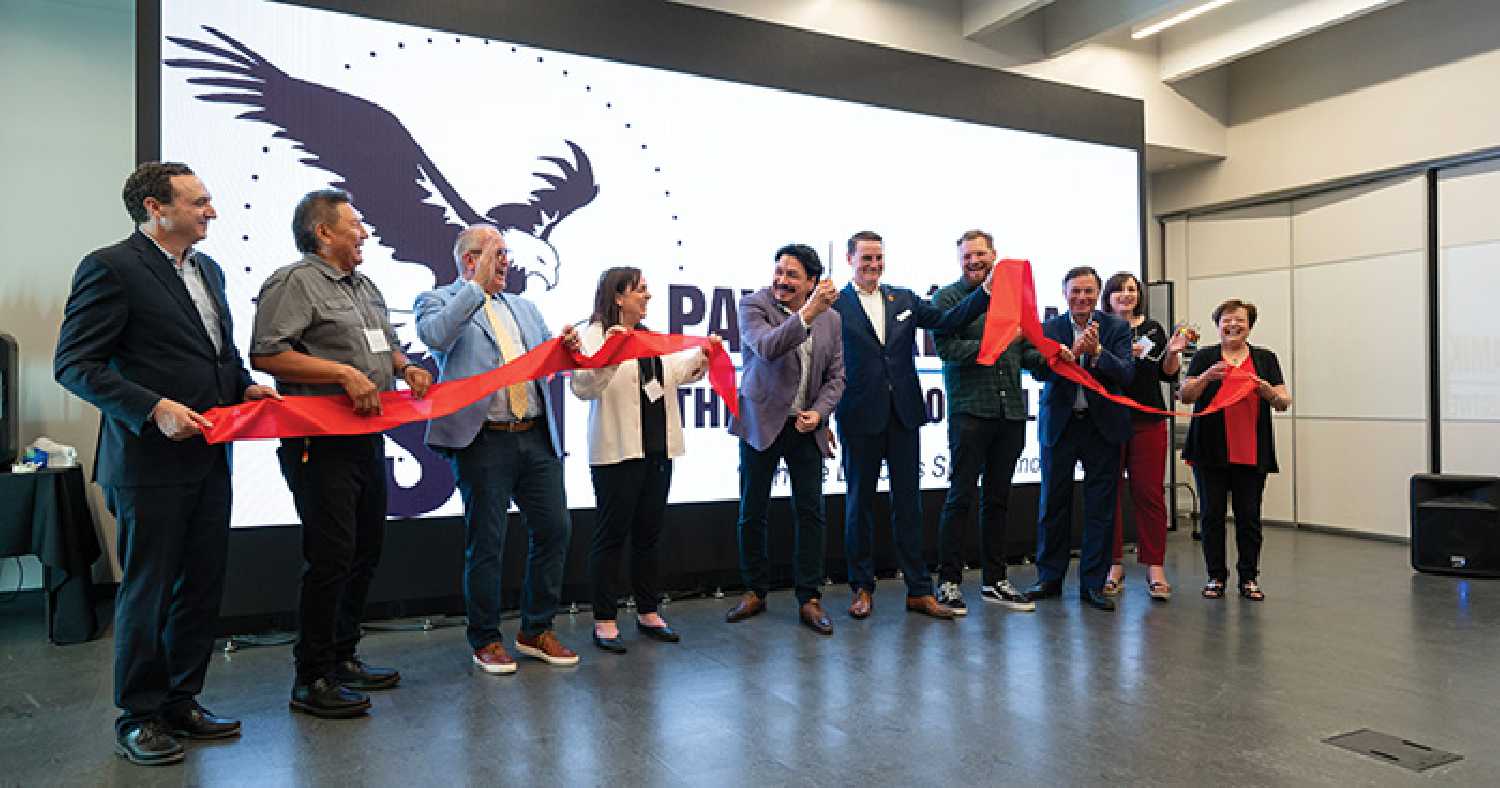 Nutrien and the Saskatchewan Indian Institute of Technologies (SIIT) recently launched the pawâcikêwikamik: Nutrien MakerLodge.

"SIIT and Nutrien have been partners for a very long time. When Nutrien heard there was a physical space that they (SIIT) wanted to create to support Indigenous entrepreneurs and innovation, we knew that was something we wanted to be a part of," says Pam Beaudin, Nutrien Senior Indigenous Relations Manager. "It aligns with our values at Nutrien and supporting our community here in Saskatoon, helping to grow that entrepreneurial spirit within our Indigenous communities."

The MakerLodge will stand as a vibrant hub, with the name "pawâcikêwikamik" which is a Cree word meaning 'a lodge supporting those who dream.' Its mission is to empower Indigenous learners, nurture creativity and strengthen community connections while preserving culture and language. The MakerLodge has already facilitated over 800 training hours, benefiting more than 60 First Nations and making significant strides in fostering First Nation inclusion and leadership in the tech economy.

For Nutrien, this partnership holds additional significance as one of its employees, Brooke Laliberte, Senior Advisor, Indigenous Relations, is a proud graduate of SIIT.

"SIIT played a crucial role in my academic journey, providing access to the Business Administration Program and easing my transition to Edwards School of Business at the University of Saskatchewan for my Bachelor of Commerce," says Brooke. "I then began my journey with Nutrien in 2020 as part of the company's Indigenous Internship Program. Nutrien's investment in SIIT's MakerLodge makes me feel proud to work here. The MakerLodge empowers youth, supporting their growth as future leaders in the technology field, benefiting our communities for generations to come."

Nutrien and SIIT also join forces to empower Indigenous youth by providing access to cutting-edge technology, hands-on learning opportunities and equipping students with state-of-the-art technology to empower young minds, enabling them to become future leaders.

"The partnership with SIIT exemplifies Nutrien's commitment to inclusion and meaningful relationships with Indigenous communities," says Brooke. "Investing in these opportunities and including Indigenous communities in community investment reflects respect for Treaty 4 and Treaty 6 territories and belief in the potential of Indigenous youth to shape a brighter future."



World-Spectator editor Kevin Weedmark had an interview with Nutrien Potash President Chris Reynolds about the MakerLodge. The full interview follows.
Tell me a little about the MakerLodge and how it came to be.
We've had, as a company, a long-standing relationship with SIIT just as we do with a lot of Indigenous organizations and businesses. So when they started to talk about this new space that they wanted to invest in, here and in downtown Saskatoon, it really was just an extension of that relationship that we've had with the organization for many, many years. We've actually got quite a bit of graduate students who have been through the SIIT program and are now working for us. So that was really the genesis of the relationship originally, which is two-pronged: How do we promote the jobs available here at Nutrien and the skill sets that we're looking for, but also look to increase our diversity and increase the number of Indigenous employees to join us? SIIT was the perfect fit for that so that was the original genesis of the relationship and the support of this new space was just a natural extension of that.
How involved has Nutrien been with SIIT in the past?
I think it's along the lines of scholarship programs that we've had. We've been a long time general sponsor of the organization and as I've said, looking at apprenticeships or internships, so letting SIIT know to let their students know of opportunities we have, say for internship programs and making sure that we have access to those to students and let them know about those opportunities. In fact one of our Indigenous Relations Managers, he just works down the corridor from me, he was a recent graduate of SIIT and I think also of our internship program.
Explain what exactly the MakerLodge is.
I was fortunate enough to be there at the opening of the MakerLodge. It's an environment where there's a lot of the latest cutting edge technology that entrepreneurs can access—which might include things like 3D printing, large database computers with a lot of RAM associated with them, which they may not be able to access through their own companies, particularly the ones that are just starting up. But then also associated services where there could be some accounting support, legal support, internet and IT support that these small businesses and entrepreneurs can access in a space that's really dedicated to Indigenous businesses. So when you go down there, I think it has one of the biggest TV screens in all of Saskatoon and also a very impressive couple of 3D printers now, one of which they were using when we were there. I was talking to a young entrepreneur when I was there for the opening and they were in the business of creating Indigenous art and Indigenous crafts and just in terms of how the institute helped them really get off the deck in terms of starting their business—helping promote their business, hear some ideas for advertising and promotion, checking how they're doing on accounting and finance and taxation as you embark and grow as a small business. So just giving all of these entrepreneurs a leg up that they might have to go around to different organizations for to get that support, and here really at the MakerLodge it's a space for innovation and entrepreneurship. The institute in general can provide all of that in a one-stop shop.
Does SIIT have a lot of programs that are geared specifically towards getting people into the mining industry? Are there different streams that students are coming out of there and into employment with Nutrien?
There are different streams, that's a good question, and in fact we just had a meeting this morning with Sask Polytech—for example who have a relationship with SIIT as well and so there's some collaboration going on there, but I believe that there's a number of different streams that they have.
How important is Indigenous engagement to Nutrien?
Extremely important. It's one of our core values—inclusion is one of our core values and it's not just a nice slogan and a nice glossy brochure.
This is something that we have been committed to as Nutrien. You can have some splashy advertisements and billboards and screens at airports but if you're not sitting down with these organizations and listening in terms of where their challenges are, where they need help and support and where the areas of common interest between a company like Nutrien and these Indigenous organizations are, and that takes time. It's not just all about the money, it's about taking the time to listen and to really have a meaningful conversation about what do they need and what are our values and where is that intersection? As an example, we are looking to meaningfully increase the number of Indigenous employees that we have which intersects with an overall need of skilled labour that we have, particularly at mine sites here in the province.
When you think about the demographics of the Indigenous community as one of the fastest growing communities in the province and they're looking for meaningful engagement for their members. So they're asking, how can you help us with training? How can you help us with internships and sponsorships or education and training? Then when that education and training is done, do you have meaningful education that's going to be at the end of these graduations for these folks? This is really, really important to us and that goes from Ken Seitz our CEO, our board, our Executive Leadership Team, right throughout our organization to our mine sites and we're looking at different ways that we can engage with communities too. Meaningful relationships aren't just measured in dollars but measured in impact.
Does Nutrien have specific goals on where you'd like to be on Aboriginal employment for instance, or engagement with Aboriginal businesses?
What we'd like to do is get to the point where our employee population mirrors that of the province. If the Indigenous community is one of the fasted growing communities in the province then we should hopefully be growing at that same pace. So I think today we're at about three to four per cent of our employee population is Indigenous and we'd like that to get up to 14-15 per cent here as a goal in the future.
It's something that I wish we had started a decade or two ago in terms of the initiatives that we're embarking on now because they do take time, but I can tell you that here going forward we are fully to committed to that and I believe we can get there. I don't think we've put a specific timeline on when we can achieve that but achieving that percentage of the population is no different than the way we think about gender, as well, in terms of how do we more closely mirror the communities that we're participating in. How do we mirror that in our employee population? We're not just doing this because it's a nice slogan. We're doing it because it's the right thing to do and then secondarily, study after study has shown that a more diverse company is higher performing and is more profitable. So there's a payback on this as well. Apart from just being the right thing to do and maybe repairing some of the evils of the past, it can make us a stronger and more profitable company—so there are several benefits to this strategy.
How important do you think initiatives like this from companies like Nutrien are to the wider goals of reconciliation?
As a new member to the community, I've been really interested in the history of reconciliation and why we are where we are today in Canada. What I draw upon is my experience in my home country of Australia where there are a lot of similarities in terms of the treatment of Indigenous people when some of these countries were first colonized.
It's almost an exact mirror image, in terms of how the Australian government and religious institutions treated Indigenous communities almost exactly the same. Horrific mistakes and actions were made here and so I think as you read the reconciliation documents and the commitments, business is a big part of that. I think as you think about education, you think about employment, you think about initiatives that are going to make a meaningful impact on these communities, I think Nutrien can play a really big part in that reconciliation. Particularly when you think about our footprint and let's just talk about the province here with our six mine sites, we also have a number of retail sites spread out across the province and we have our global headquarters here in downtown Saskatoon. So our geographic outreach where we border our communities, we can have employees living on reserve and coming to work with a fairly short commute time, to work at some of our sites.
So I think because of that geographic presence and because of that commitment I just spoke about regarding reconciliation and Indigenous engagement, I think that companies like Nutrien can play a huge part in that discussion and a huge part in starting to repair some of the damage that was done many, many years ago.

Does the relationship with SIIT help on the recruitment side of things? How big of an issue is recruitment now and how big of an issue do you expect it to be in the future of keeping those mines fully staffed?
It's a huge challenge, Kevin, and I think that it's a complicated issue I would say. It has a number of facets, one of which is, in our business, just the image of mining as a vocation for young people coming out of school, whether it's Polytech or a college or a university. How do we make that vocation more attractive? Because technology is having an impact on our business and is making it a more safe and attractive place to work than it used to be and I think the image of mining still tends to be that it's dominated by white males, it's people going underground in a dirty environment with picks and shovels and a lot of manual labour—which is unattractive to a more diverse employee base.
The fact is, because of technology today, we have the ability to run mining machines from the surface now, we have the ability to run mining machines from air conditioned offices and we are looking for employees that maybe have a background in computer engineering and information technology. We simply didn't need that skill set 20 years ago. So our needs are changing as a company and we need to make sure that we communicate to the educational institutions of those new skill sets that we need as a company moving forward.
It's a multi-faceted discussion and it involves, engagement with educational institutions here locally, but it also involves communication to the provincial and federal governments in terms of making sure we break down as much as possible any red tape for immigration. As we think about immigration, again, communicating to the government institutions, the skill sets that we're looking for as we assess those people that we want to welcome to Canada and to provinces like Saskatchewan—making sure that they meet the needs of our mining industry.
The other thing that I think you're going to see, as we go through this energy transition and Canada being the home of a number of minerals and products that are going to be needed and that are going to be needed to be mined, there's not just going to be positions within the potash space for these individuals, it's really going to be across mining more broadly. The competition for skilled labour is only going to increase over the next decade.
How does it feel to be part of an initiative like the MakerLodge initiative? Do you feel like you're making an impact and you're making a difference?
I do, and it's not just how we're feeling but the feedback that we're getting from elders in the communities. In fact at the opening ceremony we heard from a number of elders that the impact that SIIT is having, the impact for organizations like STCI who we also support as well, but when you hear feedback that those institutions are having an impact on reserve land in terms of lifting people up out of some economic challenges, it feels really good.
We've got a long way to go. Again we should have started some of these initiatives a couple of decades ago but I do feel like we're making an impact. I do more importantly feel like as a Canadian-based company, it's just part of our community extension, it's part of our community involvement and engagement that we really take very seriously and it's part of our freedom to operate.
If we're not going to be investing in these communities and being meaningful and engaging in these relationships, then people will see straight through a billboard that doesn't have any meaning behind it or any meaningful engagement.
So yeah, we're committed to that and again, it's not just about dollars. I'll highlight as well that we put our name to some of these initiatives and in tandem with that we also promote volunteerism with our employees. We say, "Look we've got this partnership with SIIT, we've got partnerships with STIC and by the way we've got all of these events. You go down to the Friendship Inn and you participate in a backpack event down there."
So we're not just putting our name to these events and these communities and throwing money at it and saying see you later, we'll see you next year. There's follow up to that and it's things like volunteerism that we take really seriously.
Tweet