---
Bromantics coming to Maryfield Auditorium
January 10, 2023, 9:26 am

---

The Bromantics are coming to Maryfield on Saturday, February 4.

Formed in the summer of 2013, The Bromantics are a Saskatchewan six-piece band that performs timeless music from the 50's and 60's.

They have also begun writing original music along the same vein, following similar structures.

With high-energy sax overtop vintage guitar tones accompanied by classic style harmonies, The Bromantics are reviving the era with a youthful energy.

They recently recorded live sessions through Blue Door Studios in collaboration with Nyshe Productions and intend to record a debut EP in the near future.

They have been performing regularly since they formed and are only gaining more momentum.

The contagious genre of music, combined with their high energy stage performances, has succeeded in creating a nostalgic atmosphere and guarantees to have everybody twistin' the night away!

The group is comprised of Gregg Gower on keys, Justin Hauck on drums, Jim Mitchell on bass/vocals, Kurt Gillett on saxophone/vocals, Rob Haakenson on guitar/vocals, and Tim Lynchuk on lead vocals.

From Louis Prima to Ben E. King, and everything in between, the Bromantics pay tribute to the bands that started it all, and perform originals as well.

Lorraine Fidelak, with the Maryfield Auditorium committee, says the show will be a fundraiser to help the auditorium committee do exterior renovations on the building, which needs new siding, windows and doors. She estimates the project will cost the committee around $100,000.

She says the committee thought the Bromantics would be a popular choice for a show.

"We've heard good things about them," she says. "We know they performed in Moosomin a few years ago and we thought they'd be a good band to bring in and raise some money for our exterior. We're trying to raise money to re-side the building and put new doors and windows in.

"We have received some money from the village and through personal donations, but other than that it's up to us to raise the money and we thought this might be a good fundraiser. We are hoping to fill the building."

The Maryfield Auditorium can seat just over 300 people, and Fidelak says it would be great to see the theatre full.

"We are hoping The Bromantics are well enough known that people will come out for it," she says.

"We do have a Youtube clip of them on our Maryfeild Auditorium Facebook page if people want to listen."

There will also be a chance to win some raffle items during the show, and a cold plate supper will be available as part of the ticket price.

There will also be a bar available both upstairs and downstairs.

"We are fully accessible," adds Fidelak. "There is a ramp to the lower hall and a lift to the theatre available (for this with mobility needs)."

So far the auditorium committee has raised around $40,000 toward their exterior renovations, so Fidelak says there is still quite a lot of fundraising that needs to be done to cover the entire cost of the project.

The Bromantics performance is being put on with the help of three sponsors as well—Northern Grit, Viterra, and Moosomin Pharmasave.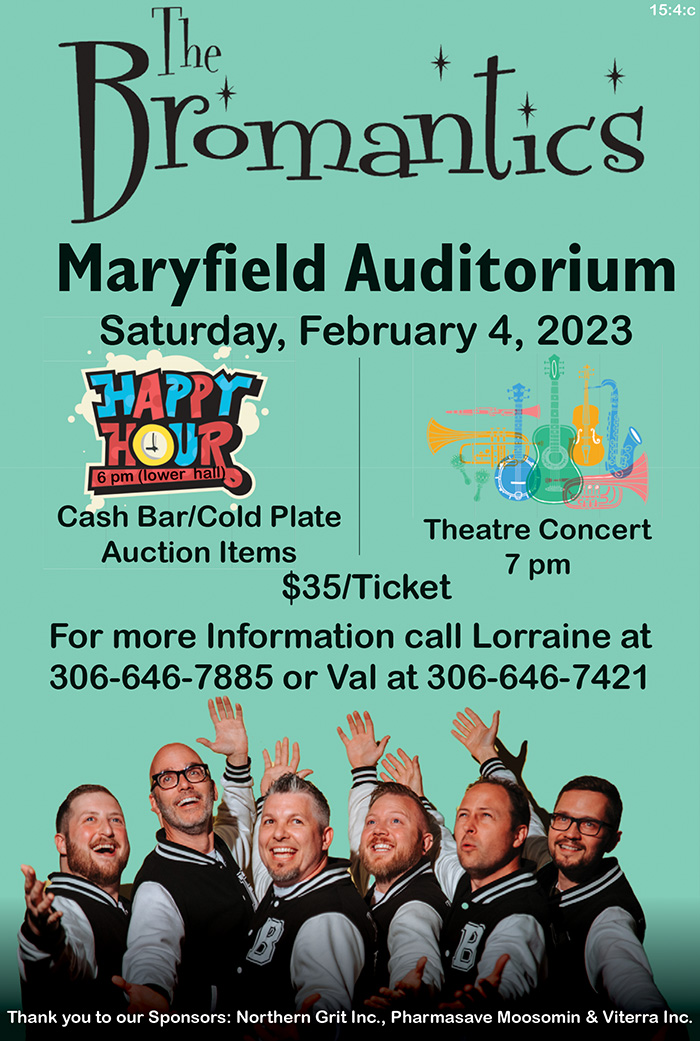 Tweet